This is syndicated content from our parent website: Fupping.com
Whether you're looking for a travel guide to discover a new place, or a book to read about travel, we have you covered.
Here are 18 awesome books to read about travel.
Book recommendation by Bruce Josephs from Travel More for Less
The book helps people to travel the world, seeing and experiencing more for the same or less cost than they otherwise would have spent. it is the quintessential guide to planning and implementing any trip. It brims from cover to cover with tips that will save you money, expand your travel horizons and keep you safe no matter where you want to travel and at what standard you want to do it at.
"Read
Book recommendation by Brett Manders from Behind the Flight Deck Door
Since 9/11, flight decks of modern airliners have become off-limits to the flying public. This is despite the fact every year more people take to the skies than ever before.
Pilot Brett Manders wants to help you become a savvy traveller by providing insider tips, expert knowledge, and an understanding of what goes on behind the scenes to get you up in the air.
All told with a dash of humor, this book will demystify the art of airline travel, address those urban legends, and settle the nerves of any anxious flyers.
Simple, concise explanations cover a multitude of things passengers have asked Brett and his colleagues over the years.
What is a small technical delay?
Can the cabin door be opened mid-flight?
How much do pilots really earn and do they get free flights?
Can you get stuck to the toilet?
Is it still possible to view the flight deck?
"Read
Book recommendation by Dr Michael Brein, the "Travel Psychologist" from The Travel Psychologist
These are the true travel tales of solo women travelers being sexually harassed and assaulted in their travels around the world and what some of them were able to do about it! They are shouting "Me Too!" to you through these pages! No one should be subjected to the despicable, disgusting and degrading behaviors that these women have had to put up with at the hands of men who should be relegated to the dregs of humanity! I've interviewed nearly 2,000 world travelers. I've weaved the best of their 10,000 travel tales into a psychology of travel as revealed by these very telling stories.
"Read
Book recommendation by Dr Michael Brein, "The Travel Psychologist" from The Travel Psychologist
Travel Tales: Michael's Own Best 150 the best of 'Travel Psychologist,' Michael Brein's own personal travel stories in his rich, varied and adventurous travel life that has taken him to more than 125 countries. His travel tales include a selection of his best, worst, funniest, and truly most horrible travel experiences, that, by virtue of their emotional impact on him at the time, whether positive or negative, have now become his most memorable and interesting travel stories today. From his unique perspective of being the world's first and probably only travel psychologist, you'll find Michael Brein's own travel experiences riveting, informative, funny, and entertaining. This is a unique, one-of-a-kind travel book find.
"Read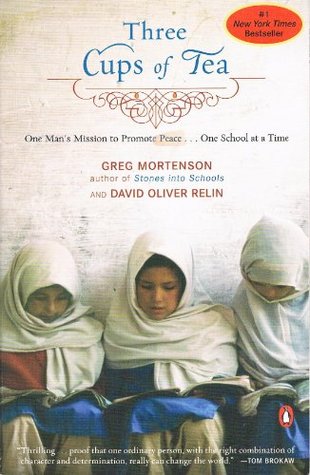 Book recommendation by Josée Perron from You Choose the Way
This book follows the story of Greg Mortenson. After spending some time in Pakistan hiking to the summit of the tallest and most dangerous peaks, Mortenson ends up courageously taking up an even harder challenge. With determination and compassion, he works to built schools to educate young women in impoverished communities in the area.
"Read
Book recommendation by Kelly Hayes-Raitt from How to Become a Housesitter: Insider Tips from the HouseSit Diva
Fun collection of travel stories written by everyday, regular travelers — and several recipes for tasty international dishes that go with the stories! This book inspires me to keep traveling as a housesitter, where I live in others' homes and care for their pets while they travel. During the past decade of full-time travel, I've housesat in London, Paris, Amsterdam, Berlin, throughout Africa, Mexico, Hanoi, Osaka, Singapore — even Ya'an, a Chinese village where I met no other westerner for a week!
"Read
Book recommendation by Reid Bader from TravelBuckle
If traveling in pursuit of one's self is glorious, then traveling in pursuit of waves is divine. William Finnegan travels though is life and the world in this Pulitzer Prize winning autobiography. From Indonesia to Africa to New York, he surfs, he lives, he loves, and he asks questions about the fundamental nature of self and nature.
"Read
Book recommendation by Reid Bader from TravelBuckle
The essential travelogue of one of travel's most epic writer, Robert Byron. The descriptions of the Middle East (including present day Iran and Afghanistan) are some of the most vivid and amazing examples of travel prose ever written. The setting is different than most travel writing today, the timing (1936) is a different world than today, the characters express a personality of circumstance that is utterly foriegn to anything being written today. Read it and be inspired to a place that most are scared to visit today.
"Read
Book recommendation by Janice Holly Booth from the anxious Adventurista
This uniquely engaging travel journal describes four keys to unlocking personal and spiritual fulfillment: solitude, introspection, courage, and commitment. Through a series of compelling travel essays and deeply thoughtful memoirs, Janice Holly Booth draws readers into each adventure—ranging from a solo hike through Northern California to galloping across the fields of Ireland to a short stint with the Circus Arts learning the flying trapeze—and shares her secrets to a fuller life through traveling alone. Step by step, she demonstrates why leaving everything—and everyone—behind for a few days (or more!) is the best path to inner strength, confidence, and true self-knowledge. It's a wonderful how-to for figuring out your next steps in life.
"Read
Book recommendation by Reid Bader from TravelBuckle
The Wall, the Border, Illegal Immigrants, Undocumented Workers – it seems no media outlet is exempt from the political storm that seems to grow more urgent every day. But thank goodness there are great travel books like Keith Bowden's story of traveling the length of the southern border of Texas (and consequently the USA) via the Rio Grande. He shares his insights that are more critical today than when he wrote the entertaining story in 2007.
"Read
Book recommendation by Rosie Bell, Travel Writer from ClubElsewhere.com
Seven Sins for a Life Worth Living by Roger Housden presents a particularly interesting perspective on leisure and travel as a fundamental necessity for all individuals. He specifies that "when you die, God and the angels will hold you accountable for all the pleasures you were allowed in life that you denied yourself". The book and particularly chapter five, "The pleasure of doing nothing useful", does a world of good in helping any anxious minds ease into a freedom mindset – the freedom to gallivant, to breathe, to think, to simply be.
"Read
Book recommendation by Candess Zona-Mendola from MakeFoodSafe
This book gives you a different point of view when it comes to travel. Instead of focusing on where to go, the author prompts you to ask why you want to go there (or anywhere). This book encourages you to enjoy all of travel has to offer – from the journey to the destination and beyond.
"Read
Book recommendation by Lisa Larsen from Select Yachts
The travel guide goes beyond being a fine resource for visitors to the Lower Keys, it is a work of literature that is pleasure to read – even if you're not planning an immediate trip. It includes all the facts, richly embellished by legends, stories histories and whimsical anecdotes.
"Read
#14 2 Years In A Tent by Richard and Laura Pawlowski
Book recommendation by Richard Pawlowski from Venturexpo.com
"What if you had to live in a tent for emergency or financial reasons? And, what if it had to be for a year or more. What would YOU do? Where would you go?
Well, here's how 2 seniors in their 70s did it when they were pushed from their comfortable home of 35 years. They cope by wandering all over the 10 western states of the USA while living in a tent – for TWO YEARS.
Richard and Laura learned true ""minimalism"" and to successfully adapt by OCCUPYING the very best of America's real estate – the National Parks and Monuments. They occupied over 50 campgrounds in 10 states, took solar showers, ate great campfire food, slept under the stars and made many new friends. They grew spiritually, saved money, lost weight (Richard lost 30 pounds), rebalanced their debt."
"Read
Book recommendation by Christine Maier from Christine Maier's Website
Blue Sky Morning not only explores some beautiful and historic places, it shows how travel can help build someone's confidence. Emily follows a childhood dream to travel around the world when her world falls apart. Through her experiences and the people she meets, she is able to rebuild her life.
"Read
Book recommendation by Amy Burkert from GoPetFriendly.com
"From California's Carmel beach to the top of Cadillac Mountain in Maine's Acadia National Park, The Ultimate Pet Friendly Road Trip takes you on a tour of the best America has to offer you and your furry travel companion.
With practical tips and advice, and more than 200 breathtaking photos, you'll feel like you have a personal guide to the top 49 pet friendly attractions in the United States. Use the suggested itineraries provided, or plan your own route to a lifetime of unforgettable experiences with your pet."
"Read
Book recommendation by Capt Tom Bunn LCSW from SOAR Inc.
One person in three is troubled by fear of flying. Of those, half fly with great distress and half don't fly at all. This book opens up the whole world of travel to anxious and fearful fliers.
"Read
#18 World Walk by Steven Newman
Book recommendation by Matt Boyd from Moving.co.nz
The story of Steven Newman, a former freelance journalist who decided at the age of 28 to pack his bag and begin a 4 year long journey around the world on foot. This fascinating tale of adventure follows Steven's epic journey across 21 countries on five continents and becomes a timeless lesson of hope and love through the eyes of a backpacker. Steven Newman had never been out of the country before taking on this incredible trip, for which he had spent 5 years preparing. What follows is an odyssey full of encounters with many different kinds of people all over the world. He allows himself to depend on complete strangers and is rewarded with incredible generosity, though he also has many harrowing experiences including several life-threatening situations. World Walk presents a fundamentally optimistic view of humanity and inspires the reader to see that people are the same wherever we may go. The intimacy and vulnerability of his journey, walking on foot through all of it, makes this book completely unforgettable.