This post contains affiliate links. Affiliate disclosure: As an Amazon Associate, we may earn commissions from qualifying purchases from Amazon.com and other Amazon websites.
Credit cards are amazing for small and big businesses wanting to save money over time. As well as travel insurance and free reign to spend abroad, credit cards help keep business and personal spending separate.
They also will help you visualize spending.
Compare the best deals down below with the 5 most recommendable credit cards that are specific to business use.
#1

The Marriott Bonvoy Business American Express Card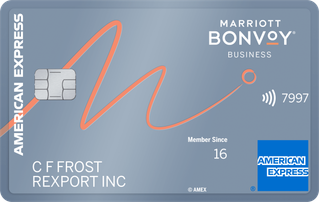 The industry expert recommending this product
The Marriott Bonvoy Business Card is ideal for business owners who regularly stay in hotels on the road. Benefits include a welcome bonus of 75,000 Marriott Bonvoy points, 6X Marriott Bonvoy points at participating Marriott Bonvoy hotels, complimentary Marriott Bonvoy Silver Elite Status, and a free hotel night every year after the first year.
With an annual fee of just $125, this card is a no-brainer for any business owner who stays in hotels at least once per year.
#2

The Business Platinum Card from American Express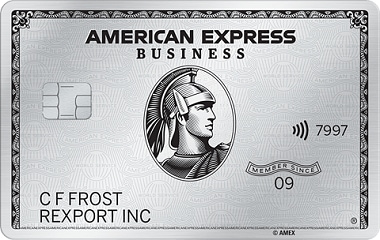 The industry expert recommending this product
This was recommended by
The Business Platinum Card is best suited for business owners who are heavy travelers and who can take advantage of the card's many features.
With benefits that include one year of global platinum access from WeWork, a welcome bonus of up to 100,000 points, a 5x points earning rate on travel, and a 35% points discount on flight redemptions, you truly can't go wrong with the Business Platinum Card from American Express.
#3

Capital One® Venture® Rewards Credit Card
The industry expert recommending this product
This was recommended by
Edith Muthoni
from 
Learnbonds
I am business finance and investment coach, and every time one of my clients has asked for the best credit card for their business travel expenses, I have recommended Capital One's venture rewards credit card. This, for a number of good reasons.
Firstly, I like their 50,000 miles bonus once you spend $3,000 within the first three months that I consider lower than the industry average of a minimum $4,000. I also like their ongoing promotion that grants users 10x miles for expenses and purchases on thousands of partner hotels across the globe.
But more importantly, I like their no-foreign transaction fee policy and the fact that you can easily and freely transfer your miles to over 12 different travel loyalty programs. Not to mention that they won't charge an annual fee for the first year.
#4

Platinum Delta Skymiles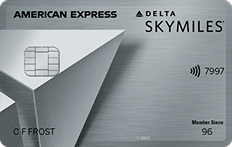 The industry expert recommending this product
As a travel blogger, having a convenient way to pay for flights, hotels and activities in foreign countries is a must. One of the major reasons that the Platinum Delta Skymiles really stands out is that there are no foreign transaction fees on purchases abroad.
So you never have to worry about additional charges that can quickly add up. In addition to generous Skymiles earnings, you can also get a MQM boost once you hit a certain spend level which counts towards frequent flyer status. You can get a companion ticket free every year and other perks like free checked bags and extra miles on Delta purchases which come in handy when flying with my family. All in all, the card has been a great choice for me.
#5

Brex Card
The industry expert recommending this product
the Brex card is a corporate card for startups and e-commerce sites that prioritizes the rewards on travel. On rideshare, you get 7x points, on general travel it's 4x, and on dining, it's 3x. It's a fantastic card, but requires a $100,000 minimum bank account balance to open, and is geared exclusively towards startups.
---
The recommendations of products and books within this article where sourced from industry experts. Their names and websites are listed below.
Who contributed to this article?