This post contains affiliate links. Affiliate disclosure: As an Amazon Associate, we may earn commissions from qualifying purchases from Amazon.com and other Amazon websites.
This article showcases our top picks for the best travel bags for mums with toddlers. We reached out to industry leaders and experts who have contributed the suggestions within this article (they have been credited for their contributions below).
We are keen to hear your feedback on all of our content and our comment section is a moderated space to express your thoughts and feelings related (or not) to this article This list is in no particular order.
This product was recommended by Mariah French from MariahFrench
This diaper bag features a double decker design, which can split the bag into two parts: top and bottom. That makes it perfect for traveling with all the different compartments and pockets. It's also completely waterproof with padded shoulder straps so you can travel in any weather without hurting yourself!
---
This product was recommended by Heather Hoke from Embracing Chaos with Love
I think the Fordicher Brand Foldable Travel Duffle Bag is a must have for any mom with kids. This bag has a very large capacity which is perfect for all those extras like favorite stuffed animals and blankets that have to be brought along for toddlers. When not in use you can fold it down into it's own pocket for storage. They are extremely durable and some of the styles are even waterproof. All the patterns are really cute and they are always coming out with new ones. I was able to get a Disney print they came out with about 1 year ago. I recommend these to any mom traveling with kids, or even for themselves. They are so affordable too, so you can easily get multiple and it takes no room to store them. I always pack an extra when traveling in case we need extra room for souvenirs. These bags are great!
---
This product was recommended by Melanie Musson from CarInsuranceCompanies
Moms of toddlers need a bag that can carry things that small children need but also have enough room to handle their own necessities. This bag has a side pocket that's just right for a child's bottle or cup. There's a front pocket that can hold a couple of diapers and wipes. Inside the bag is a spacious compartment for clothes and small toys. There are also more pockets to help keep things organized. It has a convenient and comfortable shoulder strap for when moms need their hands free, and the fabric is beautiful and durable.
---
This product was recommended by Lisa Quinn from ExploraDiva
I LOVE this bag!! Roomy for diapers and all the other baby goodies. It has a charger for electronics, straps to hook onto a stroller or luggage cart with and a strong zipper. Best yet- it is water/spill proof!
---
This product was recommended by Lana Blanc from The Blanc House
This amazing weekender checks all of the necessary boxes for a mom that's traveling with a toddler: zippered compartments – check, large slip pockets – check – sturdy handles – check, detachable crossbody strap – check, sturdy and durable – check. If that isn't enough this incredible bag is also sustainable and made of 100% cotton without any harmful chemical coatings.
---
This product was recommended by Lana Blanc from The Blanc House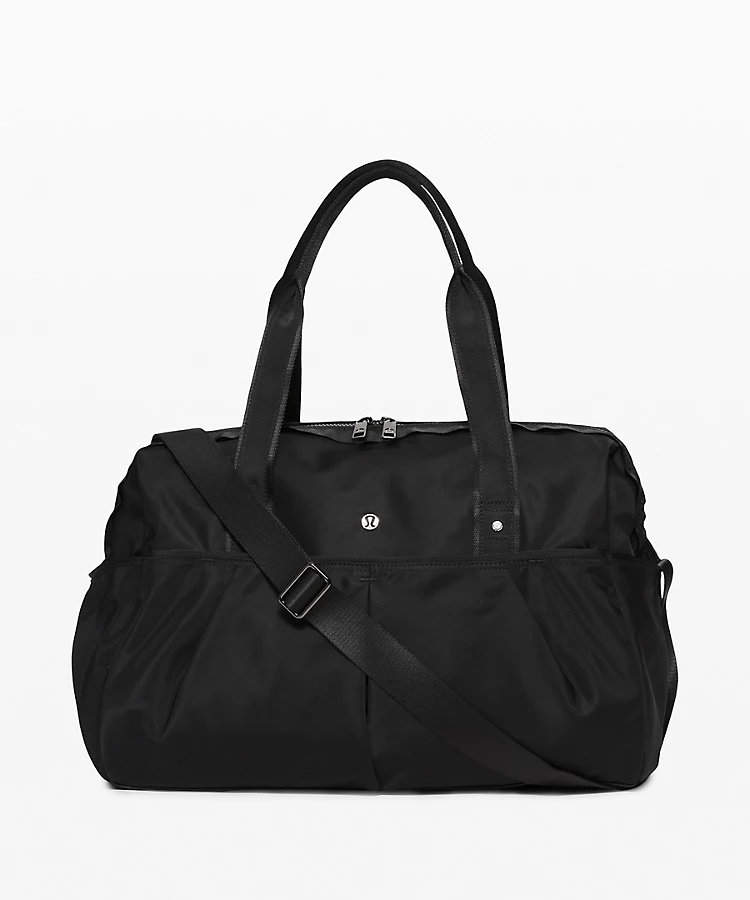 While this bag was intended for a busy yogi on the move, it actually serves as a fantastic travel mom bag! The straps for a yoga mat are perfect for holding a coat or blanket (because it's all about the layers, amirite?) And the separate compartment for your sweaty stuff is actually code for anything that's been pooped on, peed on, covered in food, snot, liquids, slime, or tears ;-). Lastly, (and most importantly) the fabric is water-repellent and easy to wipe clean.
---
This product was recommended by Shelly Peel from Social Mum
If you're the type of mom who carries everything except the kitchen sink, then this is a bag that can suit you. The bag also doubles up as a stroller, enabling you to carry your little one as you move around. It also comes with divider panels that allow you to separate clothes and shoes when packing.
---
This product was recommended by Beth McCallum from Oh So Spotless
This stylish bag is very functional and roomy enough to hold all the essentials. It has one main compartment for general items like blankets, toys and snacks. Next, you'll find a diaper organizer section. If your toddler is potty-trained you can keep spare clothes in here. Lastly, there is an easy-access section for things like your phone and wallet, as well as an insulated section for bottles. This spacious bag is perfect for traveling — you can fit everything you need and carry it on your back for extra comfort. Plus, if you need to do some work, there's a padded laptop sleeve! The bag is gender-neutral, too, so you can hand it over to someone else in the family without them getting strange looks.
---
This product was recommended by Jennifer Willy from Etia
Mancro Store's Diaper Backpack is perfectly suited for every mom or dad as it has many pockets (inside pockets, side pockets, etc). The backpack comes with a changing pad, the 2 stroller straps can fix the bag to stroller for on-the-go convenience. It is more than a diaper bag; you can also use it as backpack or you can hang on the stroller as well.
---
This product was recommended by Jennifer Willy from Etia
Built-in detachable USB cable design, great convenience for charging your electronic devices via connecting your own power bank. It is a large Backpack Generous enough to accommodate the magazine, 15 computer, tablet, glasses, wallet, keys, earphone, power bank, etc.
---