This post contains affiliate links. Affiliate disclosure: As an Amazon Associate, we may earn commissions from qualifying purchases from Amazon.com and other Amazon websites.
Giving a gift to a guy might be hard. I mean, when it's a girl you just make sure it's pretty, right? But when you are giving something to your buddy? We've found out throughout the years that the answer is rather simple, really.
When giving to a guy make sure the thing is useful, like, really handy in most situations he gets stuck at regularly. That's a universal truth that applies to anything you get for men, even travel accessories. Find out which are the best travel accessories for men…
#1

Nomader Collapsible Water Bottle
The uniquely portable Nomader® Collapsible Water Bottle makes it easy to stay hydrated while traveling. Designed with a flexible BPA-free silicone body, the TSA-compliant Nomader® bottle can be folded-up or collapsed flat to save on space, yet it's as comfortable to drink from as a hard-sided bottle.
This innovative, eco-friendly travel water bottle features a patented leakproof cap, an ergonomic carry strap, and a wide mouth for easy cleaning. Affordably priced at $24.95 and available in a variety of stylish colors, Nomader® bottles are the perfect travel accessory for men. As an added bonus, Nomader® water bottles are backed by a lifetime warranty.
#2

Solo New York Duane Hybrid Briefcase Backpack
Designed with the man on the go in mind, the Duane Hybrid is a perfectly sized backpack with tons of handy pockets and a special feature – tuck the straps away in the hideaway back pocket and you have yourself a handy briefcase – all in one. It also has a 16.6 laptop sleeve and was named the top-selling laptop backpack in the United States by NPD Group.
#3

Rockwell Genuine Leather Dopp Kit
Made with genuine leather, this dopp kit won't stink when it gets wet. Crafted with durable stitching and internal pockets to separate razors and grooming essentials, this is perfect for on-the-go man who wants to carry his grooming routine with him in style.
#4

Ravean 12v C6 Heated Jacket System
One great travel accessory for men (and women, as well), especially when visiting cold weather climates, is the Ravean 12v C6 heated jacket system – which keeps people warm where they need it most, set to warm your back, chest, and pockets, featuring low, medium and high temperature controls – providing heat for up to six hours. The jacket is not only light and breathable, but made of water-resistant material and is 100 percent machine washable. Its heats for up to six hours.
#5

Leatherman Tread LT Bracelet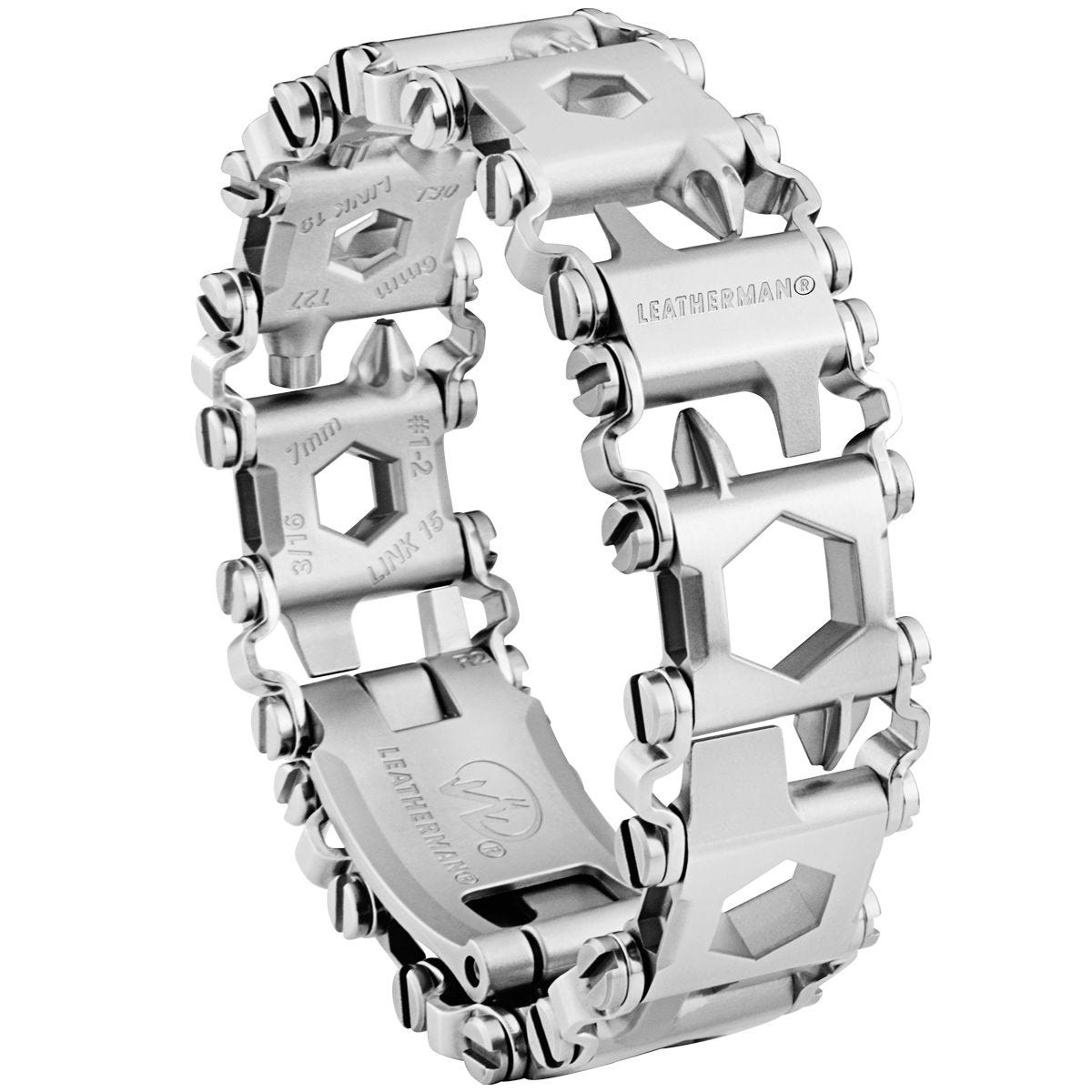 Leatherman Tread is a travel-friendly wearable multi-tool. Made of durable 17-4 stainless steel, it features 29 fully customizable tools and comes with 25-year manufacturer's warranty. Not only functional but stylish and surprisingly lightweight, this hit product from Leatherman is a perfect gift for every man!
#6

Organic Basics Silvertech 2.0
Basic clothing products (tees, boxers, socks) using silvertech technology to repel bacteria. Can be used for several days in a row without any smell or irritation.
Is environment-friendly, as much of the pollution in the lifetime of clothes comes from washing it, which can be reduced due to the silvertech technology. Silvertech has nothing to do with nano silver, which can be harmful to your body and contaminate water. Ideal for travellers packing light, as they are able to pack less clothes and still be fresh.
#7

Adventurist Classic Backpack
The Adventurist Classic backpack is made with water-resistant 1000D Polyester, so it can hold up through any adventure. It is high quality, fashionable, and affordable (at $65 ), and has been recommended by the Travel Channel, Forbes, Mashable, USA Today, Disney, ABC, CBS, and more.
#8

Royce New York Duffel Bag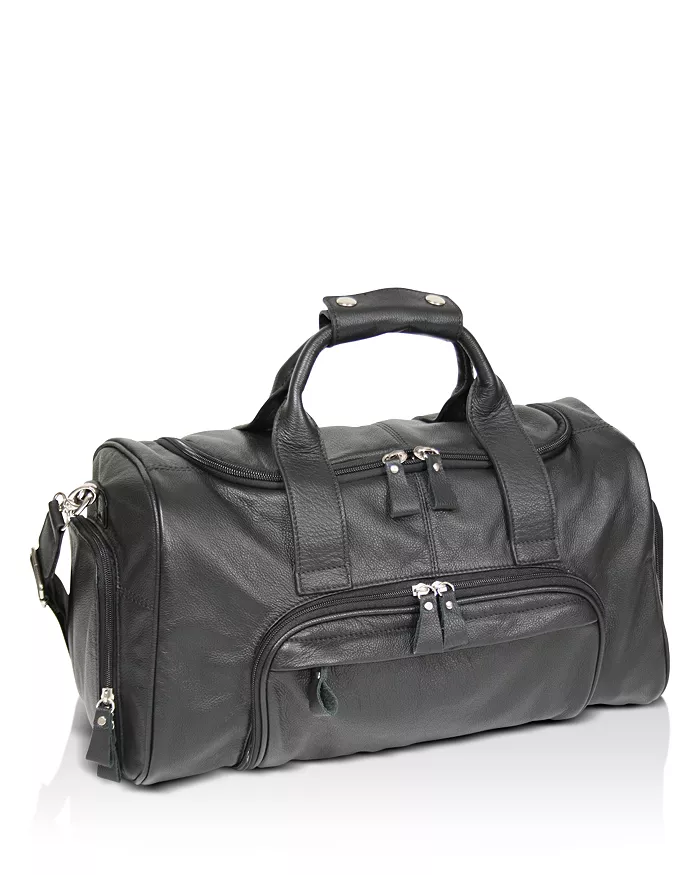 A good duffel bag is not only lightweight but also waterproof. It makes you pack less, is easy to carry and has lots of small compartments to keep your things tidy and organised. And it fits both in under the seat and in the overhead storage!
#9

Bose Noise Cancelling Headphones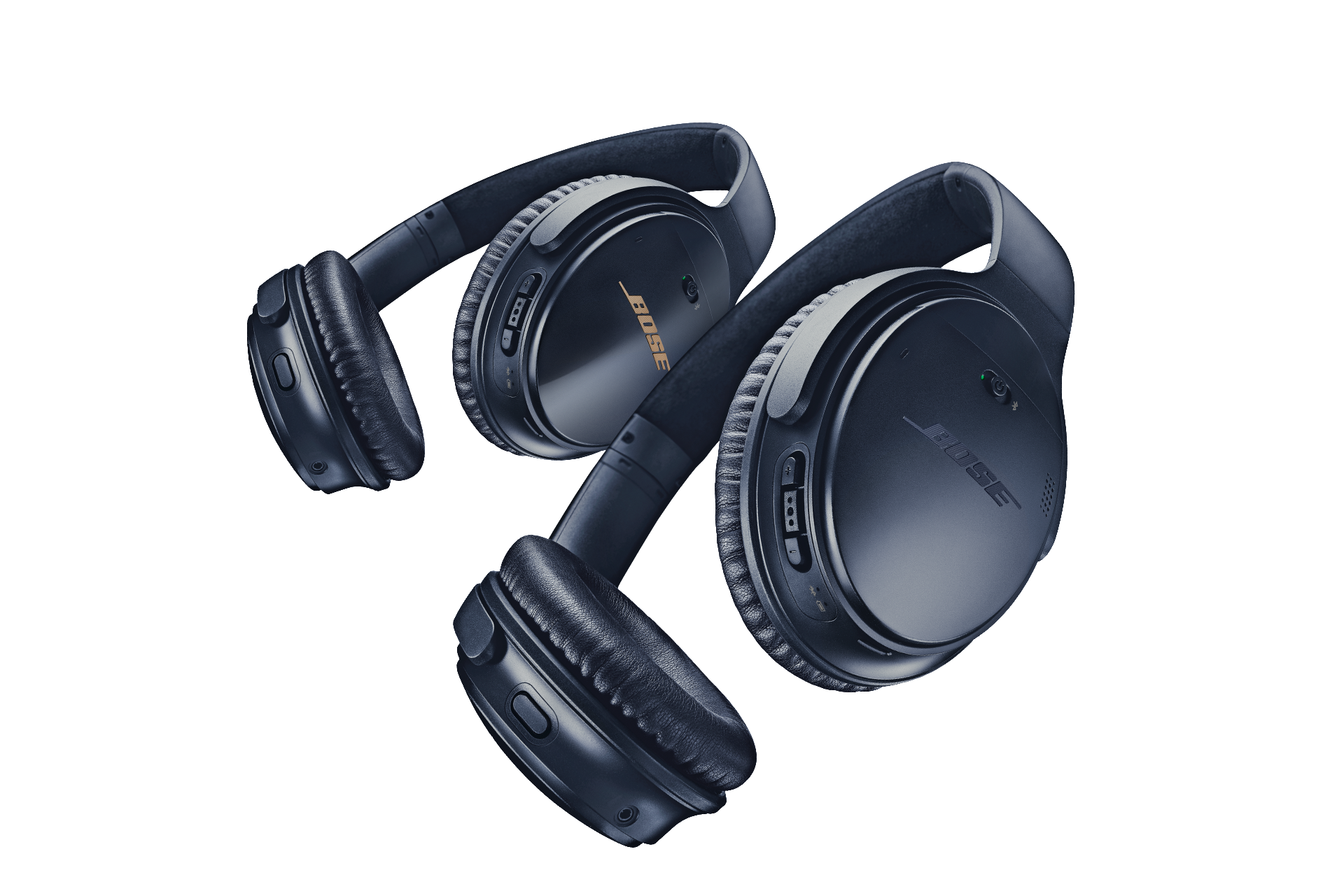 Shut out that crying baby on row 35D, Bose's noise cancelling headphones are an essential travel accessory, especially on long flights. Their features include top sound quality for your movies and music, 20 hour battery life, wireless connection to Amazon Alexa, Google and other Bose headphones (so two people can listen to the same thing together and a selection of colours to choose from.
#10

Shirt Protection Trekker Case
Save time ironing yourself! Save money on hotel ironing service! Whether you are traveling for work or leisure, this is useful and effective in ensuring your shirts are crease-free on your next date or board meeting.
#11

World Travel Adapter Kit by Ceptics
This all-in-one adapter, equipped for over 100 countries and ensures surge protection caused by different voltages, is an essential for every traveller!
#12

Tweezerman Grooming Kit
The Tweezerman Grooming Kit includes 4 everyday essentials – tweezer, scissors, clipper and nail tool. It excludes any 'extra' items to keeps the kit compact, easy to care and useful.
#13

One Eleven Solar Watches | The SWII
Have you ever had your watch battery die while traveling? Looking for a timepiece or field watch that looks good, is waterproof and can take you from office to beach or adventure? Launched in 2016, all the watches are solar-powered and power a battery in the watch for up to 10 years. After that, you simply send in the watch to One Eleven to replace the battery.
#14

Aeropress Coffee Maker
The Aeropress is a single-cup maker which brews a cup in about two minutes from beginning to end (that includes heating water, grinding, blooming, extraction, and the minimal clean-up). It's an amazing travel coffee maker that's both low cost and high quality.
#15

VIDA Thunder Passport Case
Jet-set in style with a genuine leather passport case featuring hand-designed prints and chocolate brown lining.
#16

VIDA Brazil Luggage Tag
Stand out everywhere from boarding to baggage claim with a custom-printed VIDA luggage accent tag. Crafted from smooth leather, this tag features an antiqued metal buckle and a covered ID window.
#17

The Airhook Air Travel Cup and Electronics Device Holder
The Airhook 2.0 is a two-in-one solution for airplane travel comfort: a stable drink holder and a secure mount for an electronics device. Designed to elevate the level of convenience by allowing for maximum legroom, The Airhook uses the tray table in its vertical and locked position as an anchor, rather than horizontally across your lap as a platform. No longer sacrifice space with the folding down trays!
---
The recommendations of products and books within this article where sourced from industry experts. Their names and websites are listed below.
Who contributed to this article?