This post contains affiliate links. Affiliate disclosure: As an Amazon Associate, we may earn commissions from qualifying purchases from Amazon.com and other Amazon websites.
… And it's not just an extra pair of socks. Let's be clear, men have very basic needs to get around, no expensive care is needed for them compared to women and children, so its pretty clear that their traveling needs are pretty light too.
But don't be careless here, the right gift could help him out a ton when he's on the road, and he's gonna love you for it. See what's the best travel gifts you can get to your boyfriend.
#1

Travis Touch Smart Pocket Translator
The Travis Touch Translator is the latest and best travel translator on the market. It is a nifty pocket-sized gadget that understands and translates over 100 languages around the world using advanced Artificial Intelligence software. It is small and compact making it easy to carry around.
There are two types of voice translation services on the gadget: Voice recognition and text translation. You talk to Travis Touch in one of the many recognized languages, and Travis will translate it and give you your translated sentence verbally in the language you require – or show it as a text translation – or both -depending on the language. Language barriers will become a thing of the past when traveling with this gadget.
#2

Nomader Collapsible Water Bottle
The uniquely portable Nomader® Collapsible Water Bottle makes it easy to stay hydrated while traveling, eliminating the need for expensive, single-use plastic water bottles. Designed with a flexible BPA-free silicone body, the Nomader® can be rolled-up or collapsed flat to save on space, yet it's as comfortable to drink from as a hard-sided bottle.
This innovative, TSA-approved travel water bottle features a patented leakproof cap, an ergonomic carry strap, and a wide mouth for easy cleaning. As an added bonus, Nomader® bottles are backed by a lifetime warranty. Priced at $24.95 and available in a variety of stylish colors, Nomader bottles make the the perfect gift item for a boyfriend who loves to travel.
#3

The Lei'd Back One
A tropical shirt that packs well is a must-have for the traveling guy. Get him in the tropical spirit with this 100% rayon shirt in a regulaxed fit. This fresh versatile design can add a little fun to his wardrobe in any climate. Complete with 'coconuttons' and a sunglasses loop.
#4

The Napple Swim Trunks
A good reliable swim trunk is always needed. These mid-length swim trunks are made of super soft n' stretchy polyester blend fabric for leisure, performance and comfort. Triple-stitched for durability and strength.
#5

ClearShave 3-in-1 Formula
MËNAJI is the indie brand changing the dynamic of the men's skincare industry, a market and trend that is growing at warp speed. The line of products is of the best quality specific to a man's needs, revolutionizing the concept men have toward grooming and helping them to look better in the age of selfies and sharing profiles online. Currently niche skincare brands are having their moment and MËNAJI is the most advanced in this category.
#6

Travel Enthusiast Airplane Necklace – Custom Engraved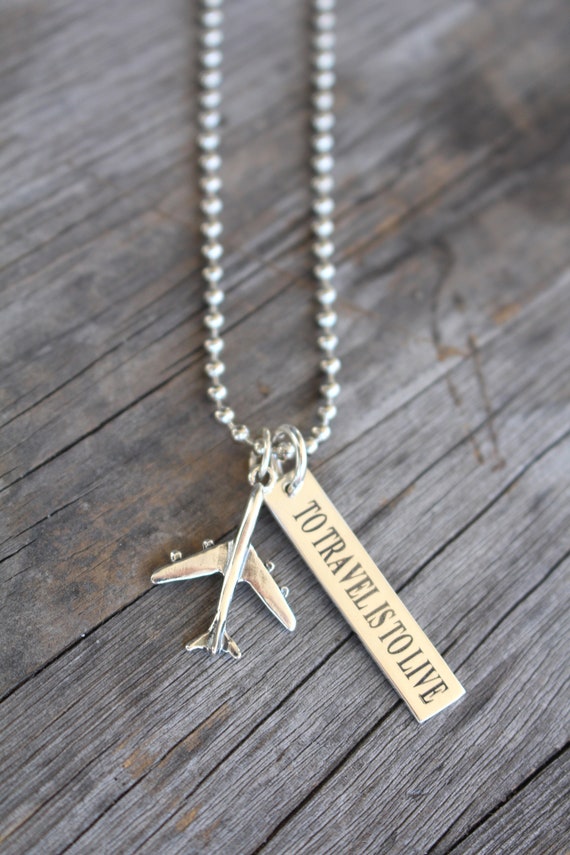 Great custom engraved / personalized gift for the travel enthusiastic boyfriend. Front and back of the pendant can be custom engraved with YOUR words. So it makes a unique and very personal gift for the recipient. All 925 sterling silver. Handcrafted in Los Angeles.
#7

Triple Header Maxi 6ft Woven USB Cable
"Got things? This mega long cord charges all the things.
Got Apple gadgets and Android devices? This 3-tipped cable creates a charging hotspot for them all. Perfect for families, gatherings & offices. Just use the connector that's right for the gadget at hand. Charge your iPad, iPhone (did you notice this cord is MFi certified by Apple?), your uncle's old Android device. Then your BFF's shiny new Android. Throw in your neighbor's eReader. Back to the iPad. See? All the things!
Cord allows both charging (from device to wall charger) & data connection (from device to computer). At the super-long length of 6′, this cable will even reach hard-to-access outlets behind your bed & under that pesky hotel side table."
#8

Dry Spell Water Defender Bag
This handy water defender bag is the perfect phone protection for attending sports outings, relaxing at the pool, or playing at the beach. Sturdy locks clamp your device safely inside & shield it from the elements. The clear window allows you to keep on texting, reading, or taking photos all the while.
You may find this hard to believe, but the Dry Spell also floats. Yes, that's right. Floats. On. The. Top. Of. The. Water. No fear of your coveted phone ending up at the bottom of the lake.
This new & improved model is even floatier than before! Super dense, buoyant foam integrated into the Dry Spell keeps even heavier phones from sinking to a watery burial at sea. This new style went snorkeling in Mexico with our team recently & produced some very cool video (take a look below!) A new adjustable strap makes for added comfort & versatility.
#9

Rounderbum Basic Padded Boxer Brief – Men's Shapewear
Rounderbums original design gives more gluteal volume and definition, adapting perfectly to every body shape. Its design is practical, discreet and comfortable. It can be used as everyday underwear, for extreme sports plus it's great for sitting down for long periods of time, making it the perfect undergarment during travel.
#10

Open Road Sustainable Leather Passport Cover
The Open Road Sustainable Leather Passport Cover will inspire him for your next trip together and keep his passport safe. This stylish passport cover is hand-constructed of ethically-sourced vegetable tanned leather using techniques that have been passed down by generations. Made by Fair Trade artisans in India, you'll love that it does good as much as he'll love it looks good!
#11

NewLyfe Microfiber Beach Towel
Looking for a travel gift with a difference for your boyfriend who loves the beach?
Small, light and under $20 this is no ordinary travel beach towel! Quick dry, compact, lightweight, sand free and packed in it's own bonus water resistant carry bag it's the perfect travel essential!
Suede Microfiber is thinner than standard microfiber & cotton so when rolled up it's lightweight & compact making it super easy to pack and carry. Rolled out it's an extra large beach towel that's big enough to lay on & even wrap around you. The high tech fabric hang dries 5 x faster & repels sand better than anything you have used before and with vibrant cabana stripes and a luxuriously silky soft suede feel it's a travel towel with style.
#12

Agazzi backpack
The Agazzi Backpack features 4 different models such as The Stile, Lumi, Liberty and Pro. Each design is handcrafted with accurate precision and offer many different features to suit your everyday lifestyle and commute.
These features include
Anti-Theft Fingerprint Lock – this allows you to lock both the main compartment and the computer compartment securing your valuable items and giving you peace of mind in crowded places.
External and Internal lighting – external lighting, operated by a wireless remote control, so whether you are cycling or walking in the dark you will always be safe on the road, whilst innovative internal lighting illuminates the main compartment, enabling you to easily and conveniently find your items in the dark.
Charge on The Go – a concealed "charge on the go" system comprising of a dedicated and protective power bank pocket and pass through channels, ensures you will never run out of battery power and always stay connected and productive. The Agazzi Backpack also includes a computer compartment, main compartment and 15 other dedicated pockets to protect and organize your belongings.
#13

Happy Times Hammock Shop
Imagine taking a hammock with you anywhere you go? The Happy Times hammock is compact, relatively lightweight and easy to set up – and most importantly, it's super comfortable once you're in it. It's the perfect gift for the travelling backpacker, camper, hiker or sports enthusiast. Imagine lying in this after a long day cycling, boating or even in the yard after a hard day at work.
#14

Sweater to Neck Pillow
Flight Fillow turns any sweater or hoodie into a travel pillow giving you all of the benefits without any of the hassle. It fits in your pocket, is easy to wash, and is the fraction of the price of the standard bulky neck pillow.
This is great for both short and long flights, as well as backpacking since Flight Fillow is light weight and easy to pack. You simply roll up your hoodie or jacket and put it into the Flight Fillow to use as a neck pillow. Alternatively, you can tuck in the arms of the sweater/hoodie to use Flight Fillow as a traditional pillow!
#15

Leather Travel Hanging Toiletry Bag For Men
From the Contributor: We have leather wallets, toiletry kits, and koozies at the moment but more products coming soon. Our products are top quality and fashionable and great gifts for husbands, boyfriends, dads, sons, etc. They are made of top grain leather and will last a long time to come.
---
The recommendations of products and books within this article where sourced from industry experts. Their names and websites are listed below.
Who contributed to this article?