This post contains affiliate links. Affiliate disclosure: As an Amazon Associate, we may earn commissions from qualifying purchases from Amazon.com and other Amazon websites.
Businessman, on your hectic heavy scheduled life of entrepreneur-ing, what you need is to give yourself a break, not one from chasing business, but one from the little annoying hiccups you constantly find on your life on the road.
How to do that? Sometimes it is a easy as getting yourself something that might come handy later, something like some of the best gadgets for business travel listed on here.
#1

abode Essentials Starter Kit
Traveling for work over a long weekend or for a week? abode offers on-demand professional monitoring for 3-days or 7-days so that if something goes wrong while you're away and you're unable to access your phone, you're still covered.
With abode's robust automation engine, CUE, users can set custom rules right from their smartphone to run their automation devices wherever and whenever, like adjusting a thermostat when they leave for the day or start to head home. The system can send a notification right to your mobile phone when a motion sensor is tripped, or there's been an instance of unauthorized access providing sense of ease and comfort while away on business.
#2

WiFi Display Dongle Adapter for TV Stick
We have to do a lot of presentations on the road, and too often we find that the room we are expected to present in is not properly equipped. This casting device allows us to present anything from anywhere as long as there is a WiFi connection, including high-quality video and audio.
#3

J-Pillow Travel Pillow
Created by a former flight attendant, the J-pillow Travel Pillow offers a unique 3-way support system, which helps travelers get the best rest possible.
The unique shape fills the gap between the head and shoulders to support the neck and keep the head upright (and to avoid nodding) when falling asleep.
#4

Scrubba Air Sleeve
Don't fret about your tech on the way to work with the help of the Scrubba Air Sleeve. With a soft shell, water resistant exterior and weatherproof wrap around zippers, you won't have to worry about your laptop or tablet being bumped, knocked or dropped as you run to catch the last train home.
If your commute is tiring you out, simply grab out your Air Sleeve, inflate it and you've got a comfortable travel pillow to help you get some shut eye on the way home, or maybe sneak a quick nap on the way to work. Recently awarded first-prize for the Smarter Travel 2018 Editor's Choice Awards Packing Accessories, the air sleeve is perfect product for all the tech professionals out there.
#5

Eustachi Eustachian Tube Exerciser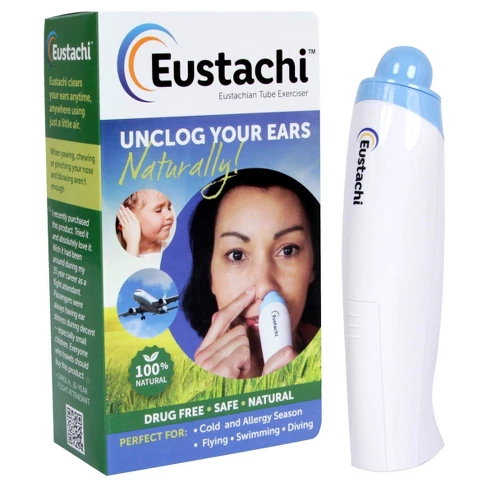 Eustachi is a Eustachian tube exerciser that works with the body's natural process of swallowing. Whether you know it or not, every time you swallow and yawn you are actually exercising your ears. More specifically, your Eustachian tubes.
These exercises are the body's natural process for equalizing the air pressure behind our eardrums. Eustachi helps you exercise your Eustachian tubes, as you swallow, using a little air delivered through your nose.
#6

The Neck Hammock Portable Cervical Traction Device
Neck Hammock, an essential gadget for business travel. From long plane rides to squeaky hotel beds to hours spent hunched over a laptop- nothing can upset an important business trip like horrible neck pain.
#7

Stenomask, privacy microphone
Perfect for making private phone calls or dictating voice notes, texts or emails in busy and crowded situations such airports and airplanes. When using this revolutionary microphone your voice cannot be overheard by others. It also simultaneously eliminates all background noise.
It works precisely the same way as the world's premiere sound booths except in pocket-sized form, guaranteeing absolute voice privacy and a crystal-clear sound signal while simultaneously eliminating all background noise. Compatible with laptops, tablets and phones. Talk in private anywhere!
#8

Tessan Portable Power Outlet Strip
The biggest problem I face in most hotels I've been to is the location of the power outlet. Having an international power adapter is one thing. Finding multiple power outlets that I can easily connect to from the desk seems to be a much bigger problem than it should be.
This power outlet strip has been a life saver in that respect because it allows me to easily charge all my devices without having to look for multiple power outlets in the hotel room.
#9

Skyroam Solis: Mobile WiFi Hotspot & Power Bank
Personal Contribution: Whenever I conduct travel outside of the office, l never forget my Portable WiFi Hotspot & Power Bank by Skyroam. This 4G LTE enabled portable hub with an embedded power bank means I no longer need to worry about foreign SIM cards or roaming charges when travelling for business. It is all the connectivity I need in my pocket.
#10

SleepPhones AcousticSheep Wireless Bluetooth Headphones
They are extremely thin speakers in a soft comfortable headband that are wireless and stay put while sleeping. They are especially perfect while on a plane or sleeping in a new, unknown environment. The SleepPhones® Wireless retails for $99.95 and would be a great fit for somone wanting to find time to unwind in the midst of the hectic demands of business travel.
SleepPhones® are ideal for not just sleeping, but also meditating, chilling out to white noise or nature sounds, or catching up on a good book or podcast. Because they are not big bulky headphones, SleepPhones® are perfect for side sleepers as well.
#11

Sony Digital Paper DPT-CP1
Digital Paper is the ultimate tool for business people on the go. Digital Paper combines the simplicity of reading and writing on real paper with the convenience of a digital solution for your workflow. For those that read extensively, take comprehensive notes Digital Paper is a perfect fit. Digital Paper is lightweight, has long lasting battery and allows users to carry all their paperwork with them digitally.
#12

Morpher Folding Helmet
With the understanding that the typical e-scooter rider isn't going to carry around a cumbersome helmet on the off chance they may need it, Morpher's inventor, Jeff Woolf, created the world's first foldable helmet that can easily toted in backpacks, purses, briefcases, messenger bags – even some roomier clutches.
It's especially convenient with how micromobility has rapidly grown across the world. Morpher couples the convenience we crave with the safety we need, so the next time an impromptu e-scooter session is on the agenda, the ER won't be.
#13

Zdoze nod2.0 Sleep Upright Travel Pillow
Nod2.0 is a compact solution for business travelers and getting great sleep on the go.
Take it with you in your handbag, backpack or briefcase, it's the size of an iPhone!
While most traditional travel pillows add bulky layers around the neck, Nod2.0's patented design stabilizes the weight of the head by clipping to the rear of the seat back, allowing you to fully rest your head and neck while seated upright.
Nod2.0 works on all seat types for all height passengers and most importantly, doesn't interfere with others around you.
---
The recommendations of products and books within this article where sourced from industry experts. Their names and websites are listed below.
Who contributed to this article?