This post contains affiliate links. Affiliate disclosure: As an Amazon Associate, we may earn commissions from qualifying purchases from Amazon.com and other Amazon websites.
It's difficult to know what you're looking for when choosing your summer sunglasses. Luckily, we've picked out the best shades that mix style, convenience and protection for your eyes. Get choosing!
#1

Blake Kuwahara Eyewear
Blake Kuwahara fuses an artful aesthetic with everyday function. With a doctorate in optometry from UC Berkeley, Kuwahara launched his eponymous label in 2014. The latest styles include a range of round and oval silhouettes complemented by larger 70's inspired shapes.
#2

Piwear 2pir Suns Sunglasses
Pi Wear (yes, named for 3.14159) is a new charitable brand of round, full-rim sunglasses that was designed to transform the conscious eyewear industry.. The brand rethinks the one-for-one business model. For every one pair of Pi Wear eyeglasses or sunglasses purchased, Eyeglasses.com pays for one eye surgery in rural India that cures blindness caused by cataracts, opening doors to education and work opportunities for the poor.
Sold at a fraction of the cost of comparable designs and available in 10 color variations, Pi Wear is such a powerful brand that its customers cause the blind to see.
#3

Rheos Anhingas Floating Polarized Sunglasses
As the makers of floating sunglasses, we believe summer is the best time of the year! With the first day of summer right around the corner, floating sunglasses are a must-have item for your beach bag! We are the only eyewear company that focuses exclusively on floating technology and offers a wide range of style options for both men and women, which is why we're trusted by major retailers including Dillard's and Nordstrom. All frames are affordable at just $50.
#4

Foster Grant Sunglasses
Until I tried Foster Grant Sunglasses last year, I had never worn a pair that both fit AND I liked the look of. These sunglasses are a fashion statement and a way to protect your eyes from the glaring sun at the beach.
I have four pairs and I'm purchasing this green and gold pair today. One of my favorite things about these is that I don't have to worry about popping them into my bag since the lenses are scratch and impact resistant. Adjustable nose pads make this a perfect pair for any shaped face.
#5

Polarised Sunglasses: Profile – Squ-blk
These sunglasses are the perfect gift for the avid beach-goer thanks to its meticulous craftsmanship, robust construction and fully UVA, UVB protective, polarised sun lenses. Ships worldwide, complete with bespoke lens cloth and sleek hard-case, ready for any beach adventures this summer.
#6

Beach Gal Women's Sunglasses
These sunglasses have a uv400 protection, they are unbreakable, are sporty, and come in different colors. Just a awesome pair to own for the summer.
#7

Slope lenses – Horizon 1 sunglasses
The Slope lenses feature attractive gradients that converge in the center, the dramatic lines creating a look that is powerful and sophisticated. Think of the character Neo and his sunglasses in The Matrix movie trilogy.
#8

Mesa lenses – Horizon 1 sunglasses
The Mesa lenses arc over the frame's rim, providing extra eye protection and a flattering silhouette with a streamlined upper edge that makes the wearer look like they're moving, even when standing still.
#9

Unique Metal Full Frame Oval Sunglasses
These sunglasses are SUPER trendy. They are metal full-frame oval sunglasses with a steampunk flare. You are sure to stand out when you wear these sunglasses to the beach or elsewhere! How could you resist them? If all of this wasn't enough – they are on sale for $8! What more do you need to know?
#10

Bella Slim Oval Sunglasses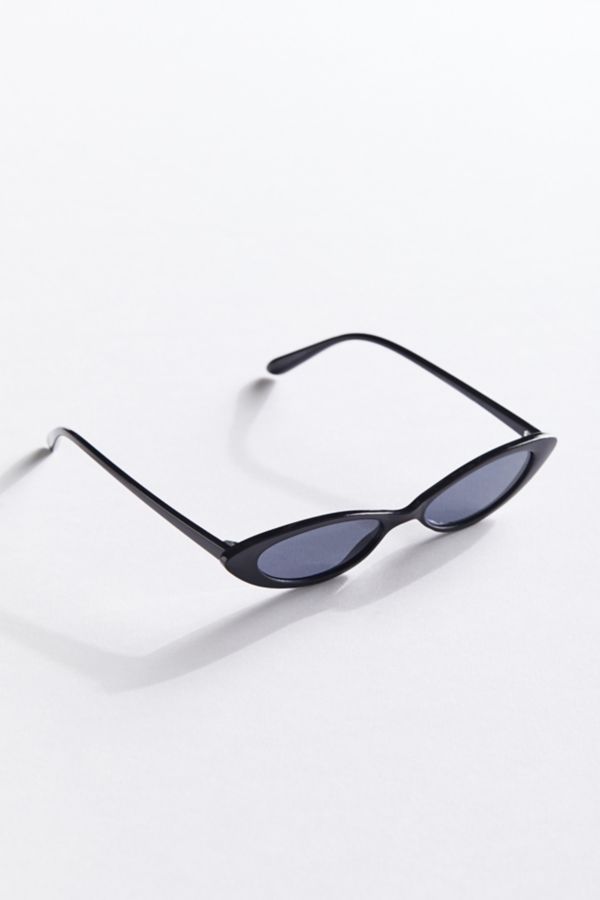 How can you not love these super slim oval sunglasses? They come in a signature black which means they go with EVERYTHING! A few other features these shades possess are: a matte plastic frame with pointed edge construction, a molded nose bridge providing long-wear comfort, and color-tinted lenses with 100% UV protection. Oh did I mention they are only $14? .
#11

Premium Round Sunglasses 1133525

I am a sucker for round glasses. As a woman with an oval/diamond shaped face, they compliment me so well.This coupled with the fact that I need prescription glasses is the reason why I've decided to feature these sunglasses from Zenni. Not only are they under $40 bucks – you can add your prescription to these shades to make them both functional and fashionable.
#12

Harper Square Sunglasses
With max UV 400 protection against UVA and UVB rays, throwback shape and a $9.99 price point, you can't beat these shades for the beach.
#13

Spencer Round Aviators
Our Spencer sunglasses have reflective blue and green tinted lenses and max UV 400 protection against UVA and UVB rays to keep your eyes protected from those rays.
#14

Olivia Cat Eye Sunglasses
With max UV 400 protection against UVA and UVB rays and a $9.99 price point, you can afford to get a little catty on the beach this summer.
---
The recommendations of products and books within this article where sourced from industry experts. Their names and websites are listed below.
Who contributed to this article?