This post contains affiliate links. Affiliate disclosure: As an Amazon Associate, we may earn commissions from qualifying purchases from Amazon.com and other Amazon websites.
Traveling can be stressful so you want to make sure that your items are safely tucked away in a compact bag that will be easy to carry around during your trip. Below are bags that not only look good but are practical, will ensure that you can take all of your essentials with you and provide enough space for some beautiful souvenirs.
#1

Genuine Leather Travel Duffel
Whether it's a business trip or a long journey to somewhere far, this Leather Shoulder Bag For Men is what you need to carry your important items in one place. Made of genuine leather and comes with multi pockets and capacities for large items like laptops, clothing and books.
#2

Carry On Travel Backpack
This travel back is a high-quality product that will give you the best experience throughout the journey. It is not too big and not too small for traveling and have a nice space. It is lightweight and has various features such as multiple compartments, separate space for a laptop, adjustable straps, easy to hang on the back. A beautiful bag at a nice price.
#3

Samsonite Silhouette Xv Hardside Spinner
The Silhouette Xv Hardside is a high-quality and stylish bag that has a number of features for the regular traveler. Coming in the two most classic colors (black and twilight blue), you won't have to worry about your baggage showing its age. In addition to the dark colors to hide any scuff marks, it is made of strong polycarbonate, making it resistant to scratches. The handle is cushioned, for better grip and comfort while hauling it from Point A to Point B.
It is also wider than the average grip so that it is softer on the hands and it is adjustable so that you can pull the bag more comfortably around the airport.
The wheels are part of the Tru-Trac wheel system. This means that they are simple to maneuver and reliable so that you won't be stuck with a wheel that doesn't roll. The Silhouette Xv also has a TSA lock to provide access for agents, but prevent access to the bag by people you don't want to open it. Perfect for leisure or a business traveler, the interior is spacious enough to accommodate all of the necessities for long or shorter trips.
There is no wasted space, making it easier for you to make the most out of the entire case. With mesh netting that you can zip closed to help keep your clothes from moving during your flight. The back portion has the mesh instead of a cross-over harness. This ensures not only that your clothes can't shift too much, but they won't have lines on them from being held down by a couple of straps. The top portion is divided into several sections. To the back is a section where you can keep additional belongings. At the bottom of the interior is a casing for toiletry bags with a special covering to keep water or leaks from spilling onto your clothing.
There is additional netting for anything else that you want to keep separated and simple to find.
#4

Rick Steves' Rolling Backpack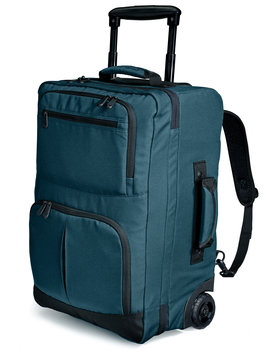 Who wouldn't have the best bag for Europe? Rick Steves, Europe Travel expert. After trying to drag a rolling carry-on up stairs to an Amsterdam hotel, I switched to Rick Steves' Rolling Backpack. As roomy as any carry-on, with cleverly constructed pockets to organize items for ready accessibility. Easily converts from backpack to wheeled carryon.
On my most recent trip I carried it a mile to the nearest bus, through rough back streets with no sidewalks, then tucked the straps away to wheel it once on smooth pavement. Easy to lift to upper racks in trains and airplanes at less than 6 pounds. Plus a pleasant plum color pops it out of the pack of black. Order direct from Rick Steves Europe store and skip the middle-man. Durable and well made.
#5

Black Moon Vegan Tote by Sports Chic
New from Sports Chic – the Vegan Tote is made with high quality, UV protected waterproof and easy to clean faux leather and includes four insulated pockets for easy access to hot or cold drinks and other essentials like sunglasses and keys.
There's also plenty of room! The Sports Chic Tote can easily carry a yoga mat and has a padded compartment that can fit two tennis rackets, or a 14" laptop. The interior is made with a waterproof antimicrobial lining and has deep pockets for even more storage. Available in a variety of fun colors including: Sunset Pink, Sunrise Blue, Titanium, Bronze, Pewter, Black, and Midnight Blue.
#6

The SIX: A Carry-on You Effortlessly Push Forward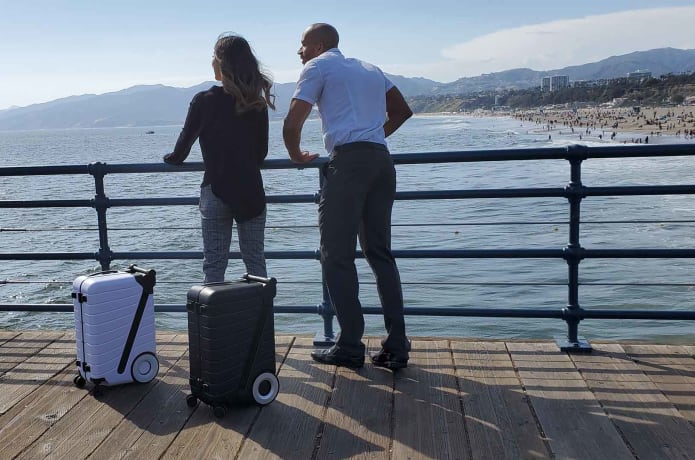 The SIX was created for you, the modern traveler. G-RO's unique take on 4-wheel luggage is the result of unparalleled innovation, incorporating the highest principles of industrial design, engineering and material science. After years of multidisciplinary research and hundreds of thousands of miles of travel, G-RO developed the concept of 'push' luggage.
With the new push configuration, the user's body weight acts as a counterbalance, requiring zero additional energy to roll the bag. It makes maneuvering through crowded places, and navigating through narrow airplane aisles, as easy as pushing a baby stroller.
#7

Outdoor Master Sling Bag – Crossbody Backpack for Women and Men
The slingback was perfect for my needs to use daily while traveling throughout Europe. It's light and small enough but actually holds a lot while being both masculine and feminine. The bag was just big enough to hold my iPad, when needed, in the largest compartment. If has five different zippers to differentiate your necessities. In the strap, there is a hidden zipper to hide some cash.
Within some of the larger zippered compartments, there are sleeves within to hold papers or my passport without getting lost. The slingback strap clasp swaps from hanging on your left or right while offering a vented mesh back to keep you cool. I appreciate the comfortable strap is wide enough that it doesn't dig into your shoulder and is perfect for daily travel use and expands when you buy souvenirs.
#8

The Beauty Traveler -deluxe
Bye bye messing hotel room counters! The Beauty Traveler Deluxe is your personal traveling beauty counter. With its compact, foldable components, this beauty organizer is easy to take on the go and ensure all of your personal care and beauty products are organized when you unpack. This product is great especially in small hotel bathrooms as the sturdy tray can be carried from room to room and the Deluxe comes with a travel mirror so you can get ready anywhere! Each of the 3 pop up boxes are stair-stepped to hold mascaras, brushes, lipsticks and more.
#9

Hynes Eagle Travel Backpack (40L)
Traveling Europe with a suitcase can be a hassle. The Hynes Eagle Travel Backpack is perfect for those looking to travel around Europe easily without worrying about stringent luggage requirements on budget airlines or carrying heavy suitcases up several flights of stairs. I used this backpack to travel to three countries in two weeks and loved my experience with it. It holds plenty of clothes and shoes (and even has room for souvenir shopping) and the straps around the pack are very helpful at compressing the bag once it's packed.
The padded straps are comfortable for carrying and the added chest and waist straps are helpful for walking longer distances. I also really enjoyed the cushioned side handle for carrying the bag like a duffel when needed. This bag fits perfectly in the overhead compartments of budget airlines like Ryanair which is an added plus. I highly recommend it for any European trip.
#10

Eagle Creek Exploration Series Tarmac 2-Wheel Rolling Duffel Bag
This suitcase is the perfect bag for your trip to Europe. The exterior is very durable, the wheels hold up over ice, snow, gravel, steep steps, cobblestone, rocks – everything you could possibly think of. It has a nice exterior clip to strap on your jacket while wheeling through the airport, it has a good slot for your laptop or tablet, it fits in the overhead of even the tiny airplanes – the ones that usually make you curb check your bag, it is very lightweight – even when this thing is packed to the brim, and it's no problem to get around with – airplanes, trains, taxis, etc., Lastly, it expands slightly for those extra souvenirs you picked up while traveling! It really ticks all of the boxes and I have tried a lot of different bags!
Tried/tested and loved! It's really the perfect bag for international travel. They do make a model in this line that is called International travel model but I think it's too small and not practical for most people.
#11

Heritage Leather Duffle Bag
It's the perfect candidate for a trip across Europe. Made of our signature full-grain leather, it can stand up to any adventure that lies ahead. Inside, there's plenty of room for clothes, tech, and other travel essentials. The Heritage Duffle is the perfect size to grab-and-go.
#12

Hynes Eagle 38L Flight Approved Weekender Carry on Backpack
It's a carry-on bag which makes for smooth traveling, less concern about lost luggage. I had plenty of room for 7 days worth of clothes and extra room to bring items back with me. The Customer Reviews sold me and I have been very happy with this purchase.
#13

 

The Lauren: Black
The Lauren, inspired by fashion icon Lauren Hutton, is a durable and versatile bag that quickly and easily converts from a backpack to a tote bag. This bag allows women to easily carry all their essentials while conquering 9-5 days, weekend adventures but never having compromise an active lifestyle along the way. The patented design is tailor-made for women with a fully adjustable harness and straps that can be tucked away in secret compartments, and multiple pockets inside and out for organizational efficiency. Available in leather or a lightweight vegan version, The Lauren Sport, is a laptop bag, backpack and purse all in one.
---
The recommendations of products and books within this article where sourced from industry experts. Their names and websites are listed below.
Who contributed to this article?