This post contains affiliate links. Affiliate disclosure: As an Amazon Associate, we may earn commissions from qualifying purchases from Amazon.com and other Amazon websites.
This article showcases our top picks for the best tactical duffle bags. We reached out to industry leaders and experts who have contributed the suggestions within this article (they have been credited for their contributions below).
We are keen to hear your feedback on all of our content and our comment section is a moderated space to express your thoughts and feelings related (or not) to this article This list is in no particular order.
This product was recommended by Mark Perlman from TheDealExperts
If you are looking for an affordable tactical duffle bag, this military tactical duffle bag from Amazon is reasonably priced at $26.99. It comes in a variety of colors and camouflage patterns to suit your needs. It's made of water resistant 600 Denier vinyl, so it can withstand the elements. It has multiple separate side compartments to keep you organized, as well. This is a great bag for someone on a budget testing the water with tactical products. The seller also offers full refunds if you do not like the product.
---
This product was recommended by Lukas from Military 1st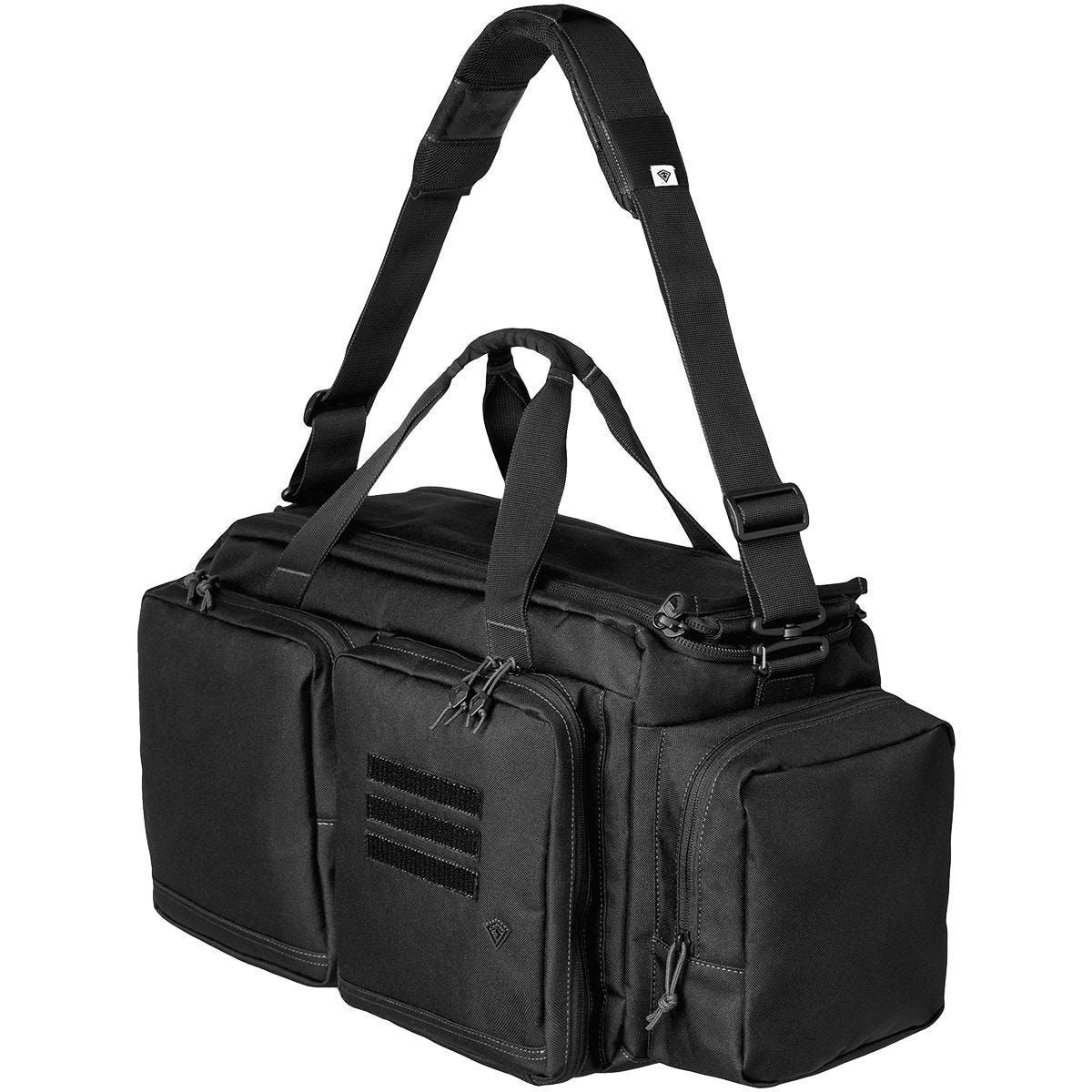 First Tactical Recoil is a 40.5L duffle bag made of 600D Polyester, with a reinforced bottom with moulded feet, genuine YKK zippers and Duraflex hardware. It comes with a lockable and padded main compartment with reconfigurable padded dividers and whooping 13 internal pockets. There are six external pockets including large zipped document pocket at the back and two large side pockets, multiple sleeves and key holder. Side MOLLE panel allows for optional attachments. The bag features removable and adjustable tactical swivel shoulder strap with non-slip padded pad and reinforced and padded carry handles for easy carry. Further, it has luggage handle attachment strap on the back and front Loop panel for patches or IDs. Inside the main compartment, there is a padded stand-alone pull out carrier with soft inner lining.
---
This product was recommended by Marc Bromhall from Beginner Surf Gear
We like this bag in particular because it has an assortment of different compartments and it also has a number of molle loops on it which enables one to attach additional pockets onto it. It also has several velcro patches for placing badges on which align well with its military grading.
---
This product was recommended by Sean Harris from Swing Coaches
This duffel bag is the ultimate of all duffel bags, it comes with a 'no matter what' guarantee which means a full lifetime of use. Initially, it's a mid-range expense but a total life investment, it comes with a 2 wheel roller with a handle, there is a protection/ dust bag for travel purposes, separate compartments for dirty clothes, shoes, and whatever gear you need to fit in. It comes in a few different color and size options, the large duffel is perfect for my regular and golfing clothes, the shoe compartment is perfect especially at the end of my vacation when they need a good clean.
---
This product was recommended by Lisa Arlington from Giftsnerd LLC
It's spacious & it's easy to carry! This Rolling Duffle bag serves as a great companion to store all your travel essentials in an organized way. It comes with a zipper closure and compartments for easy accessibility. The Rolling Duffle Bag has a polyester lining, which makes it long-lasting and durable. Aso, it's flexible, ensuring it to fit easily into small spaces, and the drag feature is designed for the 'no carrying' aspect. All in all, it is an excellent investment.
---
This product was recommended by Sarah Jimmens from planetShoes
It's handy & it's trendy! An easy way to store all your essentials, be it a hiking trip with your friends or a gym run – this serves the purpose quite well. It comes with three front pockets secured and a zipper for easy closure. Also, the shoulder strap is adjustable as per your will. And it's pretty spacious, which makes it a must-have. Available in three colors with varying prices, choose what suits you the best!
---