This post contains affiliate links. Affiliate disclosure: As an Amazon Associate, we may earn commissions from qualifying purchases from Amazon.com and other Amazon websites.
This article showcases our top picks for the
Best Walking Poles For Seniors
. We reached out to industry leaders and experts who have contributed the suggestions within this article (they have been credited for their contributions below). We are keen to hear your feedback on all of our content and our comment section is a moderated space to express your thoughts and feelings related (or not) to this article 
This list is in no particular order.
This product was recommended by Catriona Jasica from Top Vouchers Code
The BAFX hiking poles are perfect for beginners and experts alike. The poles come with an anti-shock feature that helps to reduce jolts each time the pole hits the ground.
---
This product was recommended by Farhan Advani from BuyHerePayHere
This Amazon's choice award-winning walking cane provides the best support and balance for seniors. It has the highest rating for walking canes due to its robust, super comfortable, adjustable, and stylish design.
---
This product was recommended by Meg Marrs from Safer Senior Care
This is the one walking cane I always recommend. The 4 non-scratch rubberized quad-tipped base allows the cane to stand independently, and the base pivots to keep flat on any surface. This lightweight cane is made from heavy-duty aluminum, has five adjustable heights, is foldable, and comes with a handy travel bag. I actually used one a while ago when I injured my leg, and it is a really great cane that is perfect for seniors and anyone recovering from injury. I was never worried about slipping and found that the fact that the cane can stand on its own was an extremely handy feature.
---
This product was recommended by Martin Sheerin from Light Up My Photos
I have a neurological disorder, Friedreick's Ataxia (FA), that affects my balance and co-ordination. I have tried several versions of walking poles and have ended up with these TrailBuddy Hiking Poles. (1) They are made of aluminum. The main choice in walking poles is between carbon and aluminum. While carbon is a tad lighter it is also a lot more brittle. The extra strength and security of aluminum cuts down on the fear of the carbon snapping, especially when I'm away from home. (2) The handles have a cork grip which adds to my sense of security. The cork molds more to the shape of my hands, over time, and also absorbs hand sweat, which helps. (3) Comes with two sets of rubber tips – these rubber tips wear out unbelievably quickly!
---
This product was recommended by Lukas from Military 1st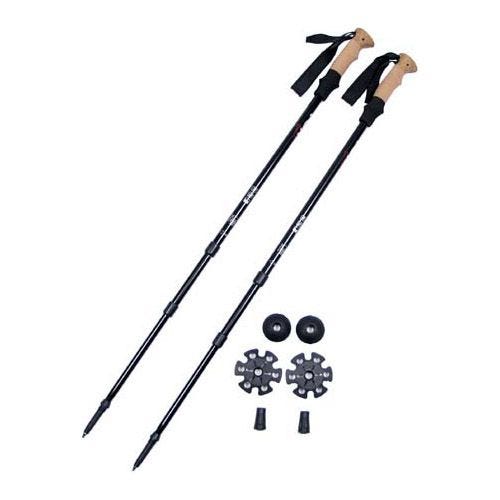 Discover Fox Outdoor durable telescopic trekking sticks constructed of lightweight aluminum alloy. They feature an anti-shock mechanism that efficiently absorbs kinetic energy and decreases the strain on joints. They also have an ergonomic easy-grip cork handle with an adjustable wrist loop supporting an arm. Further, each pole has a Tungsten tip with an interchangeable basket to stop it from sinking into soft soil or sand. Easy to adjust and store, Fox Outdoor walking sticks come with a convenient carrier bag.
---
This product was recommended by Yuuna Morishita from The Japanese Way
The best walking poles for seniors when suffering from back/leg/knees issues. They are easy to adjust, support the legs and body very well. Also, they're great for hiking, you can send them for a friend who recently had an accident or for a hiking geek friend.
---
This product was recommended by Sandra S. from AbsoluteDoha
These are amazing poles to support body and balance for seniors. The poles are strong, supportive, and help the body to keep balance when walking or hiking. Just the perfect poles for seniors.
---