This post contains affiliate links. Affiliate disclosure: As an Amazon Associate, we may earn commissions from qualifying purchases from Amazon.com and other Amazon websites.
This article showcases our top picks for the
Best Walking And Running Shoes
. We reached out to industry leaders and experts who have contributed the suggestions within this article (they have been credited for their contributions below). We are keen to hear your feedback on all of our content and our comment section is a moderated space to express your thoughts and feelings related (or not) to this article 
This list is in no particular order.
This product was recommended by Brad McCartney from BikeHikeSafari
The Merrell Moab 2 hiking shoes are a super comfortable pair of shoes that comes in both waterproof and non waterproof versions. Unless hiking in wet conditions the non waterproof 'Vent' version is a better option as it is much more breathable than most hiking shoes. This breathability helps prevent excess sweating and heat build up in the feet that can be a leading cause of blisters. The Merrell Moab 2 is one of the most popular hiking shoes for long distance hikers on the Pacific Crest Trail or Appalachian Trail. These shoes are best suited to hikers with normal to wide feet. They are very durable and should last over 1000 miles on hiking trails. Overall, they are one of the strongest hiking shoes on the market and one of the Best Lightweight Hiking Shoes for both easy trails and serious hiking trails.
---
This product was recommended by Luke Kowalski from Coffee Pursuits
I love that they are light as a feather and perfectly cushioned. I literally can't feel having them on my feet. They look really great too. The only downside is that it could have been more breathable, however at this price it's a real bargain and really good value for money.
---
This product was recommended by Jordan Duncan from Silverdale Sport & Spine
The Brooks Ghost 13 is a neutral shoe, great for most foot types. It provides just enough cushioning without being too heavy and rigid. It is a very breathable shoe, so your feet won't overheat. The Brooks Ghost 13 is a very balanced shoe, allowing for excellent comfort during walking and running.
---
This product was recommended by Jordan Duncan from Silverdale Sport & Spine
The Asics Gel Contend 6 provides a great combination of comfort and support whether you're on the road, track, or trail. Being a neutral shoe, it is not overly cushioned and is fairly lightweight. It has a breathable mesh, which provides airflow and keeps your feet comfortable and cool. In addition, the Gel Contend 6 is reasonably priced and very durable.
---
This product was recommended by Michelle Bagnato from Bliss from Balance
They are extremely comfortable, particularly if you have slightly wide feet (and are also made in some great colors in wide width). I've gone through more than 3 pairs of them in the last few years from training for various races. They not only seem to last forever but are great walking shoes after their running days are done. They look good, feel good, are durable, and are a great value for their price.
---
This product was recommended by Steve Johnson from Boot Mood Foot
The Gel Kayano series is near-legendary in the runners' community, and model 25 of this long-running range is the pinnacle of comfort and stability. Its success comes down to the use of the Impact Guidance System–IGS–a trademark of ASICS' design. This revolutionary system enhances a runner's natural gait and improves each stride's efficiency, starting with the toe-off and ending with the heel strike. These innovations ensure that your shoes' breathability is greatly improved, without compromising on style or comfort.
---
This product was recommended by Steve Johnson from Boot Mood Foot
The Altra Women's Escalante 1.5 is an excellent choice and is one of the best running shoes. An engineered knit system on the exterior, along with the rubber sole at the base, helps keep these shoes in prime condition after numerous uses. This is an ideal feature when picking the best shoes for running. There's plenty of versatility here, too, since you can use this shoe for a wide range of physical activities, especially road running, cross-training and gym training.
---
This product was recommended by Darryl Higgins from Athlete Desk
As a fitness expert, I can't stress enough how important it is to use the best walking and running shoes. This can have a great impact on your body which also affects the development of your whole body. As for me, the best walking and running shoes are from Adidas which is the Ultraboost 2021. You can get all the benefits of good running and walking shoes from these pairs. Aside from its lightweight, the comfort of wearing these shoes is superb and these are the best all-around shoes for me.
---
This product was recommended by Andy Nguyen from OhWeCook
These shoes are good for walking and running on the road, since purchasing these shoes, I have hardly had any issues with my feet or lower back. The support in this shoe is excellent. I highly recommend these shoes and they are bright when going for early morning or late evening walks.
---
This product was recommended by Jack Miller from How I Get Rid Of
First off, it's a ten on stylish points. This pair, in my opinion, automatically elevates your casual look by a few notches. Next, comfort. It feels like a very soft sneaker. I've walked for hours on this shoe whenever I'm in cities like New York or Florence, and never felt any ache.
---
This product was recommended by Jack Miller from How I Get Rid Of
I've never encountered a running shoe this light and soft upon impact to the ground. I don't even do as much running as many hobbyists, but I've never been so satisfied with a product. It makes me feel safe and less apprehensive about tripping over. It's not the coolest looking pair of kicks, but it does get the job done.
---
This product was recommended by Jeslin Tan from Good Noise Music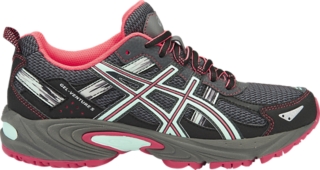 These are great for supporting weak knees and it has great arch support. There is comfortable room in the toe area, not too big and just nice. They did not cause me any discomfort or pain so far even after wearing it the whole day. I have a few running shoes but I found myself kept wearing these for running and to work. I wear these 6 days a week. The price is reasonable too. Love these shoes!
---