This post contains affiliate links. Affiliate disclosure: As an Amazon Associate, we may earn commissions from qualifying purchases from Amazon.com and other Amazon websites.
This article showcases our top picks for the
Best Travel High Chair For toddlers
. We reached out to industry leaders and experts who have contributed the suggestions within this article (they have been credited for their contributions below). We are keen to hear your feedback on all of our content and our comment section is a moderated space to express your thoughts and feelings related (or not) to this article 
This list is in no particular order.
This product was recommended by Lisa Alemi from Move Mama Move
As a mom of two toddlers, the Inglesina Fast Table Chair has been my go-to travel high chair for years. It is amazing for a number of reasons: it folds flats to easily fit in a suitcase or bag, it's machine washable, it attaches to most tables, it can hold a child up to 37#, and it has a storage pockets where we can keep bibs, placemats, and toys. This high chair has traveled the world with us and is easily one of the best and most used purchases we have made.
---
This product was recommended by Kristina from All About Momma
My favorite travel high chair is Hiccapop Omniboost Travel Booster Seat . I have used this travel high chair for both my boys and love it. It is perfect for all my tips whether it is hiking up a mountain, at the beach or visiting friends and family. The travel highchair can attach to a chair or be used on its own on the ground. The chair comes with a detachable tray to eat off of and a convenient carrying bag. I often use this high chair at home in the backyard as well. It is a great chair for outside picnics to keep toddlers contained or a seating option by the pool. I have taken this highchair on airplanes, car trips and up and down mountains. The travel highchair takes seconds to set up and put away and is lightweight.
---
This product was recommended by Rachel Leland from Turner PR
Finally, a beautiful high chair that can be pulled up to your table or your kitchen counter! BEABA's European-made Up & Down High Chair has a 6-position height, giving parents the ability to feed your baby at any height table, counter, bar or island! Designed and made in France, our high chair has a contemporary look and is made with quality materials giving your home a touch of chic! The Up & Down High Chair has a three-point safety harness and can be used for babies and toddlers from 6-36 mo and up to 33 pounds. It contains a removable tray & footrest as well as a stain-resistant seat cushion that can either be wiped clean or thrown in the wash.
---
This product was recommended by Kieran Knight from Fitness Home HQ
This portable high chair is travel-friendly. It comes in five different colors so your kid can choose whatever color he wants. It also has an adjustable and removable tray which your kid can use during feeding time. The tray, as well as the chair itself, is easy to clean, just wipe it with a damp cloth. The foldable design makes it easy to store and bring when traveling so this is the perfect buddy during vacations and camping trips.
---
This product was recommended by Pranali Patel from Empiricalmama
I love Inglesina fast table travel highchair and have used it for my toddlers. The chair is easy to attach to any table using a clamp system. The seat padding is sufficient for the baby's comfort, and the lifted backrest comes in handy when the baby dozes off after a meal. It also has a back pocket to store baby essentials when traveling. The wipe-clean feature is fabric is lifesaving when you are traveling. The chair folds flat and can be easily accommodated in your luggage when traveling.
---
This product was recommended by Jonathan Tian from Mobitrix
This travel-friendly high chair is adjustable for toddlers and weaning babies who can't reach a table. This is a dishwasher safe and seatback booster seat, which are removable and come with a super-handy strap to carry it carefully. The booster straps can be kept into the most kitchen and dining chairs, has a snap-on cover, and additionally, you can eliminate the top tray to reveal a profound open tray below. It has a built-in sippy cup holder, which is its biggest pro.
---
This product was recommended by Jonathan Tian from Mobitrix
Parents often recommend this lightweight tabletop high chair for toddlers due to its portability. The tray of this highchair is dishwasher proof, and the fabric slides out of the frame, facilitating quick cleaning. The fabric of this product folds towards the bar, which comes with a storage bag. Therefore, it's one of the few travel-friendly highchairs for toddlers that come up with a tray. Its hooks to the table are perfectly suitable for children maximum of 37 lbs..
---
This product was recommended by Stephen Curry from CocoSign
I'm recommending the Regalo My chair as the best travel high chair for toddlers for its unique features and functionality. The chair is a 2-in-1 seat with an all-steel frame and strong stitches. It is simple to fold and lightweight making it restful for travel. Your baby will love its large removable tray, which offers a convenient playing space. The best part is that it has a nylon bottom and ventilated wall mesh, allowing for easy cleaning to stay fresh while supporting the baby.
---
This product was recommended by Stephen Curry from CocoSign
My next suggestion is a Summer deluxe comfort folding travel high seat. It has a 3-point restraint system that aids in securing the booster to the chair. The ultra-compact folding design allows for easy storage and makes it highly portable. The seat pad can be cleaned in a washing machine without being torn, giving it a longer lifespan. With a 2-level height adjustment, the booster seat is suitable for a growing child and will come in handy for traveling moms.
---
This product was recommended by Steven Walker from Spylix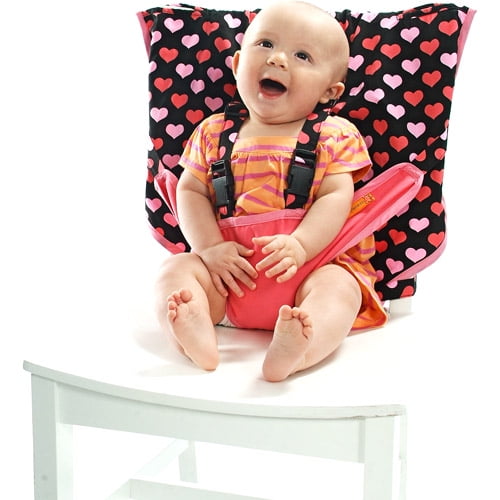 The My Little Seat is a fabric travel high chair that folds up like a diaper. It weighs about 0.5 lb. There's a 5-point harness on the My Little Seat foldable baby high chair. This seat is safe for babies just learning to eat at the table. But never leave your baby unattended. This portable folding high chair is machine washable. Its recommended for 6-30 months baby and up to 35 lbs.
---
This product was recommended by Ryan Yount from LuckLuckGo
The one thing that stands out with this highchair is that it works indoors and outdoors, making it a must-have for parents. It comes with an innovative fold and pop design that is very easy and convenient to set up. This high chair is easy to wash when things get messy with toddlers. Its fabric is easy to remove, and they are machine washable. Moreover, the highchair comes with a removable tray with cup holders that are dishwasher safe.
---
This product was recommended by Ryan Yount from LuckLuckGo
This is an easily settable portable chair that parents can carry while traveling with their kids. It's suitable for babies from approximately three months to 75 lbs. The highchair comes with a patent design in its fabrics which lifts to reveal two holes through which a growing baby would slide the legs to feel more comfortable. Moreover, the product is highly versatile for outdoor activities such as camping, beach, and sporting events with unique safety mechanisms.
---
This product was recommended by Martin Seeley from MattressNextDay
A high travel chair is beneficial for someone with a baby or a toddler. As a founder, when buying something like this product, you must ensure its features such as ease of set-up, safety features, and overall portability. And this product I mentioned above has 2-level height adjustment for your growing child. I totally recommend this because of its Ultra-compact folding design for storage and portability with its removable machine-washable seat pad great for your baby.
---
This product was recommended by Olivia Tan from CocoFax
You will love this chair! If you are thinking of the type of chair to take along with you on trips and even in restaurants. This chair is the perfect one for you. It's lightweight and easy to set up and put away anywhere you want. It was also nice to know that the child was sitting on his terms, which helped keep kids healthy all trip.
---
This product was recommended by Sally Stevens from FastPeopleSearch
This seat is perfect for long travels because it's super light and compact. It's equally easy to carry as it is to pack when the baby is not using it. In my case, this seat has been a joy to use because it comes with two straps that enable safe strapping when you don't want the baby to move around. While the seat doesn't come with a tray like others, it comes with multiple storage pockets on the sides to level up for the lacking tray. Generally, the seat is comfortable and strong for an active todler. Moreover, it also comes at a bargain compared to other high seats.
---
This product was recommended by Daniela Sawyer from FindPeopleFast
In the flick of a finger, the portable high chair transforms a regular chair into a high chair! It's simple to use, light, and small. Machine washable and long-lasting. Fits any chair with a seat back up to 21 inches wide. It comes with three adjustable harness straps for children aged six months and up.
---
This product was recommended by Daniela Sawyer from FindPeopleFast
This baby chair comprises two parts; the chair's height can be adjusted from 24.8 to 38.8 inches to suit your needs—extra strong structure for firm support and smooth cushions, made of BPA-free food-grade plastic.
---
This product was recommended by Sara Tyler from Born to Travel
Too many restaurants don't have their own high chairs when traveling internationally, especially off the beaten track. I bought this foldable high chair when my daughter was a baby. We started using it when she was 8 months old. I remember the first time was in Mexico City, in a restaurant overlooking the zocalo, in a cheap taco buffet. At the time, I was a single mom, traveling with my daughter full-time. So, this was a lifesaver because it was small and light. I had to carry all of our luggage myself, plus my daughter, or push her in the stroller. Either way, we didn't have room for room stuff that took up a lot of space. I continued to use this through her toddler years because it kept her in the seat, at get togethers, as well as restaurants. It easily fits on the back of any chair.
---
This product was recommended by Shiv Gupta from Incrementors
This compact booster chair and camping high chair comes with a changeable tray and a carry bag. It opens in seconds and may be used standing on the ground or with straps (provided) to connect it to a chair, transforming it into a booster seat for the table – ideal for camping, picnics at the beach, and so on. The portable high chair tray is an extra advantage. The pop-up function is simple to operate and may be utilised both indoors and outdoors. This chair is suitable for children aged 6 months to 4 years and weighing up to 37 pounds.
---