This post contains affiliate links. Affiliate disclosure: As an Amazon Associate, we may earn commissions from qualifying purchases from Amazon.com and other Amazon websites.
This article showcases our top picks for the Best Tactical Laser. We reached out to industry leaders and experts who have contributed the suggestions within this article (they have been credited for their contributions below).
We are keen to hear your feedback on all of our content and our comment section is a moderated space to express your thoughts and feelings related (or not) to this article This list is in no particular order.
This product was recommended by John Peterson from Safe Drive Gear
For anyone looking for a powerful, brightest beam red laser and with 100-lumen white light, CMR-205 Rail Master Pro is your must-have piece! It's easy to install and activate. It got over 2 hours of battery life and compatible with most rifles and pistols.
---
This product was recommended by John Luther from Atlantic Survival Gear
After analyzing different highly-rated tactical lasers I came to the conclusion that this airsoft model is the best overall. It's made by the combat veteran owned company Tacticon, which means that it was designed by someone who knows a thing or two about tactical scenarios.
This means that the BattleBeam V1G green laser sight is made to last, while also being very compact and lightweight. On top of that you're also getting a magnetically charged, fast charging battery so that you don't waste excessive time on recharging your tactical laser while in a sticky situation.
Pros:
* Compatible with any firearm that has a picatinny or weaver rail
* Highly-accurate sight adjustment
* Durable and lightweight
* Lifetime warranty
Cons:
* Might not be optimal for daytime use
---
This product was recommended by Timothy Hackett from Airsoft Core
As someone who has spent decades with firearms and training you NEED a weapon mounted light and laser. This product does both and has easy to reach ambidextrous controls even for people with short fingers. Combining your flashlight and laser together is extremely smart and keeps your weapon compact. I've stress tested both the light and laser in self defense combat scenarios involving grappling and striking and so needing to have dummy proof controls is paramount to success.
---
This product was recommended by Jack Oller from Crimson Trace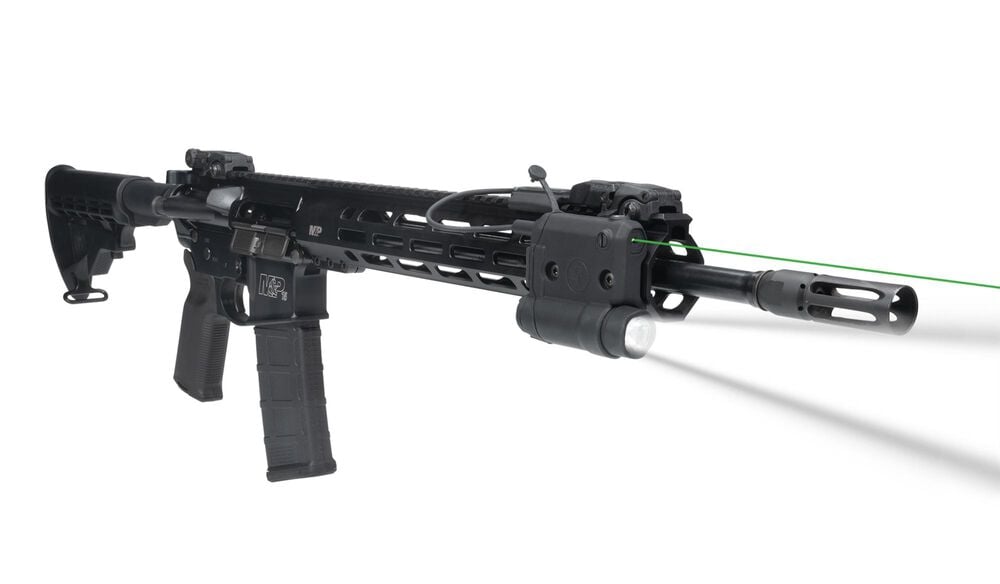 The CRM-301 Rail Master Pro is one of Crimson Trace's newest offerings, arriving fully in all retail outlets this summer. The laser sight + tactical light system provides up to 1,000 lumens and a powerful green laser for precision targeting in variable lighting conditions. It fits standard AR-type modern sporting rifles with Picatinny or M-Lok rails. The CRM-301 comes with a removable battery with 6 hours of runtime, allowing your unit to be left mounted and the battery charged separately with a micro-USB charger. It is also user programmable and may be operated with the included removable pressure pad or tail-cap. At under $300, the CRM-301 Rail Master Pro offers robust power, performance, and versatility at an unmatched price.
---