This post contains affiliate links. Affiliate disclosure: As an Amazon Associate, we may earn commissions from qualifying purchases from Amazon.com and other Amazon websites.
This article showcases our top picks for the Best Tactical Headlamp. We reached out to industry leaders and experts who have contributed the suggestions within this article (they have been credited for their contributions below).
We are keen to hear your feedback on all of our content and our comment section is a moderated space to express your thoughts and feelings related (or not) to this article This list is in no particular order.
This product was recommended by Natalie Mollinet from CodeWord
Lander's Kiva Headlamp is versatile and sustainable. It works for everythings from hiking, biking to taking a walk around the neighborhood at night. It has a 40 hour battery life and is rechargeable with no extra wires needed to keep it going.
---
This product was recommended by Lukas from Military 1st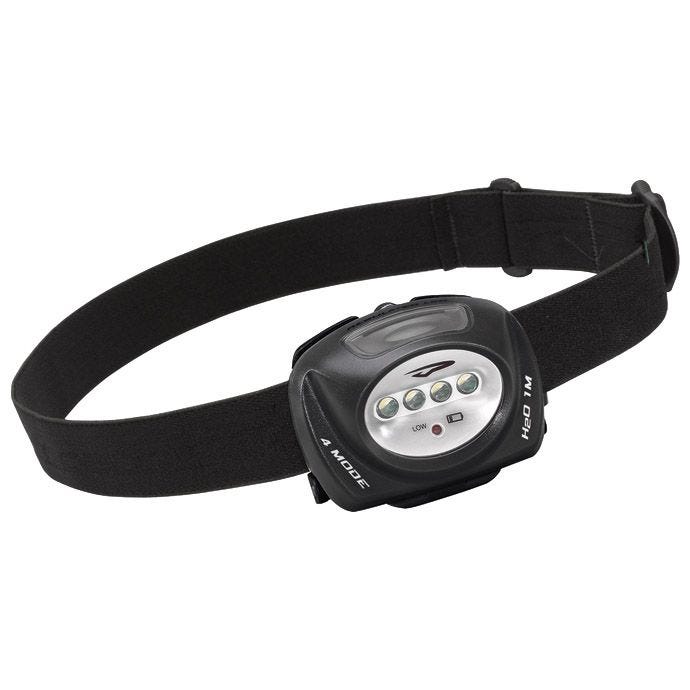 Guarded by a waterproof, pivoting housing, Industrial Quad Headlamp from Princeton Tec is ideal for tactical operators. Powered by 3x AAA alkaline batteries (included), it weighs just 96g, has four Ultrabright regulated LEDs and provides 78-lumen brightness and burn time of up to 110 hours. This excellent headlamp has four modes, including high to low and flash, wide beam pattern and a beam length of up to 50m. Moreover, it features useful battery power meter and Heatsink technology which prevents overheating. UL Safety Rating Approved.
---
This product was recommended by Alexander Knobloch from BowAddicted
The right tactical headlamp should be easy to use, lightweight, and durable as well. That's why we highly recommend the Black Diamond Spot 325. The Spot 325 is a low profile lamp with variable lighting modes. With the Black Diamond, a dimmed light as low as 6 lumens up to 320 lumens in proximity mode is easily achievable. The lamp has a rating of IPX 8, which means it's waterproof for up to 30 minutes, even if it's 3.5 feet underwater. Key features: waterproof, three light modes (6, 160, and 325 lumens), lightweight, max burn time of up to 200 hours, durable, The Black Diamond Spot 35 headlamp is the perfect light for hiking, camping, or hunting, without getting in your way.
---
This product was recommended by Brian Conghalie from My Open Country
The light fits comfortably and is light enough to wear for long periods during my hikes. Rechargeable, Compact multi-beam headlamp with red lighting, designed for all outdoor activities. 450 lumen. It adapts easily to all lighting requirements, the 3 light settings are good for multiple situations and the red light is a nice touch to avoid blinding others. The head can be adjusted up and down. This is done to direct the light where you need it most. Comes with the Core USB-rechargeable battery. Simply my favorite choice, massively recommended.
---
This product was recommended by Phil Watson from Barbecue Grill Review
Very lightweight with a small form factor that doesn't get in my way, which I like. I like how I can swivel the light to put the beam directly at what I'm working on. All in all, this is a really good light for the money, take special care not to drop it and carefully open the battery door. If I break the third, I still order another, that's how much I've become attached to this light.
---
This product was recommended by Phil Watson from Barbecue Grill Review
That's my favorite one Petzl is one of the most reliable brands, I have been using it for 3 years now and still loving it. Very functional and light weighted makes it very comfortable when wearing for a long time during work. And this one gives you 3 brightness settings for the white light and 2 settings for the red light.
---
This product was recommended by Tal Shelef from CondoWizard
Princeton Tec has a one size fits all strap made of elastic fabric that is easy to stretch, hassle free and comfortable to wear. I like its lightweight feature as it weighs around 3.4 ounces only. It has three interchangeable lens colors and four lighting modes (one is red flash for emergency mode). It's also very durable which sucks power from 3AAA batteries so it will be a great buy.
---
This product was recommended by Bertie Cowan from Effortless Outdoors
This headlamp packs awesome lighting power with four different modes to choose from. It is powered by three high-quality power batteries, but can also be charged with a USB cable. It's also useful as a power bank for when you need to charge your devices. Importantly, it is heatproof and waterproof, making it just about the perfect headlamp for any type of outdoor activity.
---
This product was recommended by Mark Porter from Torch Spot
The Nightstick FORTEM Helmet-Mounted Dual Light comes with two lamps and different lighting levels: one is a 250 lumens flashlight and a 115 lumens floodlight. You can use or both depending on the situation. The product is sturdily-built, easy-to-use, and provides an amazing degree of illumination, cutting through dust and smoke. It's equipped with a green, rear-facing LED so that others can quickly identify and follow you. This is certified by the National Fire Protection Association and ATEX, which speaks volumes of its dependability and quality.
---
This product was recommended by James Black from Wilderness Redefined
As a regular mountain hiker/biker and nighttime runner, this headlamp is versatile enough for all my night time needs. Ultra-compact and lightweight, a snug fit and more than enough illumination, with a good rechargeable battery life, it more than fits the bill and a bargain price.
---