This post contains affiliate links. Affiliate disclosure: As an Amazon Associate, we may earn commissions from qualifying purchases from Amazon.com and other Amazon websites.
This article showcases our top picks for the [KEYWORDS]. We reached out to industry leaders and experts who have contributed the suggestions within this article (they have been credited for their contributions below).
We are keen to hear your feedback on all of our content and our comment section is a moderated space to express your thoughts and feelings related (or not) to this article This list is in no particular order.
This product was recommended by Mark Wilcox from Camping Forge
I love that it's lightweight, has several pockets including a laptop sleeve if you want to use it to carry your laptop or tablet. And on the front it has MOLLE loops which makes it easy to attach more gear including anything that is designed to connect to MOLLE.
---
This product was recommended by Paul Simpson from Primal Survivor
We like this bag because it is very discreet, it looks like a schoolbag, but don't let that fool you. The pack is really sturdy and has a lot of integrated features which make it suitable for a tactical EDC pack. The key feature is the handgun storage compartment along the back. It takes some practice to reach there but, once you get the hang of it, you'll be able to access your handgun very quickly. In summary we like it because: – Very discreet – does not draw unwanted attention – Quality construction for durability – Handgun compartment – Lots of pockets for organization
---
This product was recommended by Chris from Survival and Prepper
In order for a bag to be considered EDC it has to be small enough that you can carry it with you in most scenarios' additionally it needs to have an unassuming look. The 5.11 Rush12 Small Molle Ruck meets both of these requirements while still providing a very durable option for all of those items you may need each day. Manufactured by 5.11 you know it's a name that you can trust and this model maintains that level of quality. The Rush 12 is manufactured from 1050D Nylon and features padded shoulder straps that are securely attached to the bag. This is far superior to some of the other designs which only have portions of the straps that are padded and then connected by a thin piece of webbing. Despite the smaller size this EDC bag features 16 individualized compartments allowing plenty of places to separate and store your gear. Despite this pockets and the fact that it does have Molle webbing there is not a ridiculous amount of buckles and straps all over the exterior. Available in several colors to include black, coyote tan and a grey and black combo you can sport this bag in nearly any environment to include an office or gym without immediately sticking out like you would if carrying around a camo patterned bag commonly used for tactical scenarios. Overall this is my number 1 pick for a EDC bag that allows me to carry plenty of gear in an inconspicuous manner.
---
This product was recommended by Lukas from Military 1st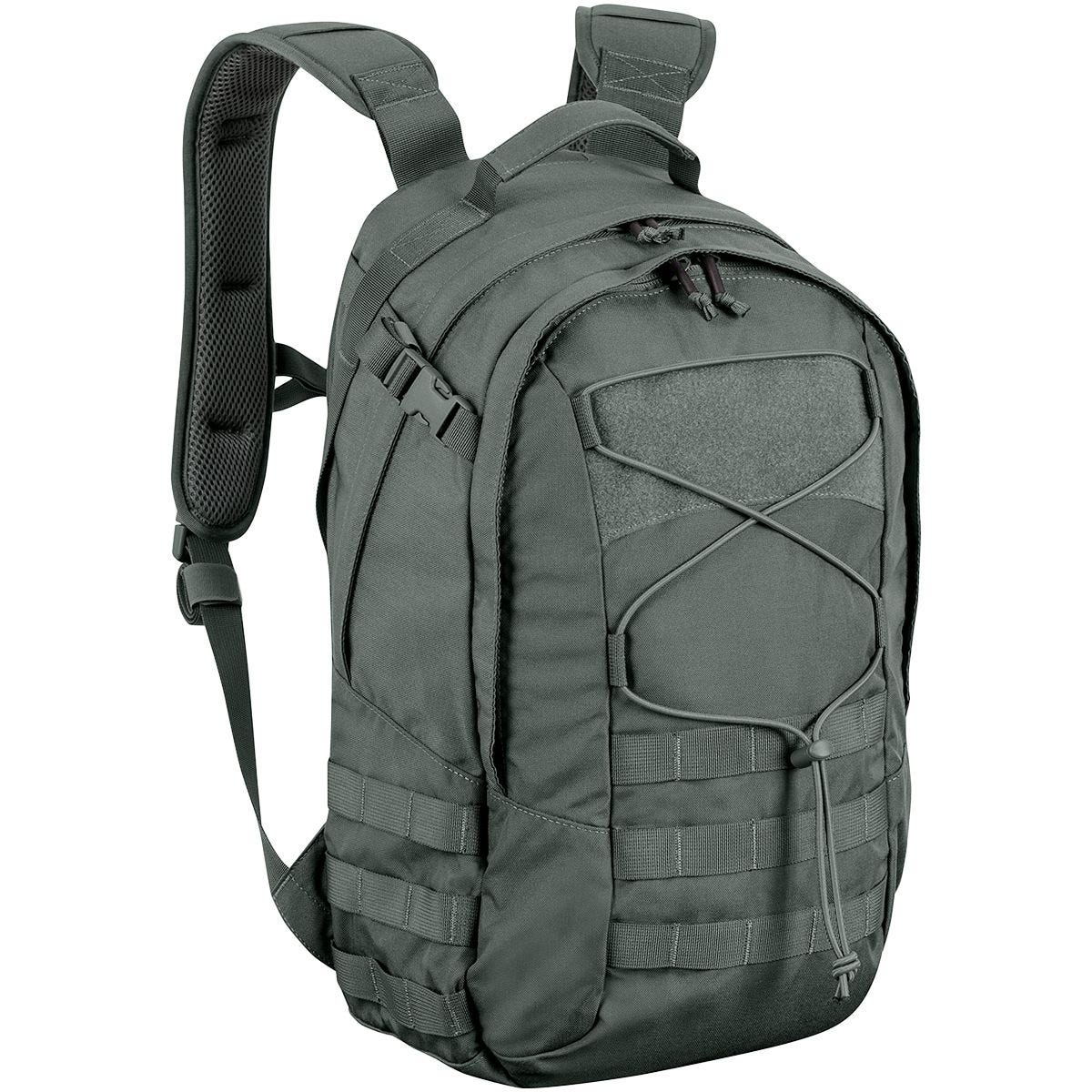 EDC Pack from Helikon is an all-purpose tactical backpack designed for demanding individuals looking for a versatile Every-Day Carry solution. It's made of durable yet lightweight 500D Cordura with Polyvinylchloride coating for added flexibility and water resistance. It has approx. 21L capacity. There is a spacious main compartment, customisable Loop-lined front pocket, two micromesh side pockets and hydration bladder-compatible back section. Multiple loops and D-Rings, bungee cord and MOLLE webbing allow attaching extra equipment. The pack comes with padded, stiffened and ergonomically shaped back enhancing airflow, adjustable and padded shoulder straps with sternum strap, removable hip belt and strong padded grab handle. Large Loop patch on the front is perfect for IDs, tags or morale patches. Part of Helikon Urban Line, this multifunctional backpack is ideal for everyday use and security, military or LE personnel.
---
This product was recommended by Brian Conghalie from My Open Country
I like this backpack for its large size of 22 liters which is suitable for loads of stuff to fit in. Made with 1000D Cordura nylon and so much modularity, it's practically a Transformer. With a full clamshell opening, easy access to all my gear. It's very comfortable. I may recommend purchasing a MOLLE pouch/accessory which mates perfectly with the backpack if needed. Perfectly suited for urban EDC, day hiking, travel, or any activity that requires free movement Tech Specs Material: Cordura® Fabric Weight: 56.00 oz Military Spec Dimensions: 12″ x 22″ x 5″ Capacity: 21.30 LITERS Made in the USA
---
This product was recommended by Lianne Sanders from Total Shape
As an avid fan of travelling, hiking and trekking, I greatly recommend this backpack as it is very versatile. One of the top selling points of this backpack for me is that it can be extended to carry additional pouches and gear! It's a one bag fits all, easily adapting to any kind of activity you may want to do.
---
This product was recommended by Muhammad Mateen Khan from PureVPN
The Hazard 4 Pillbox camera backpack was designed to keep expensive optics like camera lenses safe. Still, the molded foam shell's semi-rigid structure allows for extra protection for whatever you choose to put inside. The unique look of the backpack is an added plus as well. The interior is lined with Velcro to allow for further configurability, which is especially useful if you use smaller pouches to organize your gear when you travel.
---
This product was recommended by James Black from Wilderness Redefined
As a huge wilderness fan, I spend a lot of time hiking and camping around the mountains, lochs, and islands of my native Scotland. My main requirements in a backpack are lightweight, waterproofing (it rains a lot here!), plenty of pockets and compartments (including for electronic equipment) space, and durability. I don't mind paying a premium for quality and the MYSTERY RANCH 2 Day Assault fits the bill perfectly.
---