This post contains affiliate links. Affiliate disclosure: As an Amazon Associate, we may earn commissions from qualifying purchases from Amazon.com and other Amazon websites.
This article showcases our top picks for the
Best Stroller To Travel With
. We reached out to industry leaders and experts who have contributed the suggestions within this article (they have been credited for their contributions below). We are keen to hear your feedback on all of our content and our comment section is a moderated space to express your thoughts and feelings related (or not) to this article 
This list is in no particular order.
This product was recommended by Maddy McLean from GoodBuy Gear
With two kids, traveling around can be tough. The Joovy Caboose Too Graphite Sit Stand Double Stroller helps make parent's lives easier since it features a front seat that can recline or be converted for an infant car seat and a full-size removable rear seat made for kids six-months and up. Additionally, it has a rear stand-on platform and a bench seat in the back for that big kid who doesn't want to sit down anymore. Each seat is secured with a five-point harness and has a large movable canopy to help protect against the elements. There's a snack tray in the front and the sturdy steel frame will make sure everyone is safe. Parents love the easy one handed fold, the amazing storage and the machine washable seats.
---
This product was recommended by Martha Villaroman from Go Places With Kids
Portable and lightweight, the gb Pockit is the perfect stroller for travel. This compact stroller weighs in at just under 10 pounds and folds up small enough to fit into the overhead compartment on a plane or a large backpack. It also has a reclining seat, making it easy for napping on the go! We've traveled all over the world with our gb Pockit and have always found it convenient to pack and transport. And we get so many comments from people see how compact it folds up!
---
This product was recommended by David Scott from Top Reviews
This stroller is fantastic! We have used it at hiking trails with ease; its hand-operated swivel and brake controls make it easy to maneuver through narrow spaces and even crowded areas. The multi-position reclining seat with the large extendable canopy provides shade as your child rests or relaxes during your outings. And the one-hand fold function makes it simple to conveniently store this lightweight stroller in a closet or trunk.
---
This product was recommended by David Scott from Top Reviews
Its made with aircraft-grade aluminum, making it lighter compared to its predecessor. It features a large storage basket with an easy-to-access zip compartment and parent organizer. The reclining seat with a mesh backrest and the oversized canopy provide improved ventilation. This is by far the ultimate all-terrain stroller we have used, along with all of the basics such as hand-controlled front swivel and brakes and easy compact fold.
---
This product was recommended by Jonathan Tian from Mobitrix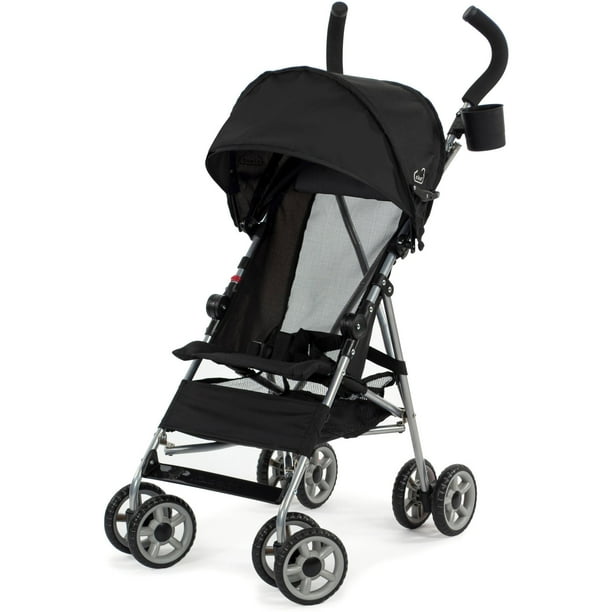 This is a trimmed-down version of the Kolcraft cloud plus stroller, consisting of fewer whistles and bells. Also, this stroller is sturdy, travel-friendly, and highly affordable. It weighs only 9.5 pounds and can easily be folded up and carried when you need to. You still have some handy storage with a parent cup holder and an efficient storage basket underneath the seat. In brief, this stroller is ideal for those parents who already have an everyday stroller but requires an inexpensive one.
---
This product was recommended by Jonathan Tian from Mobitrix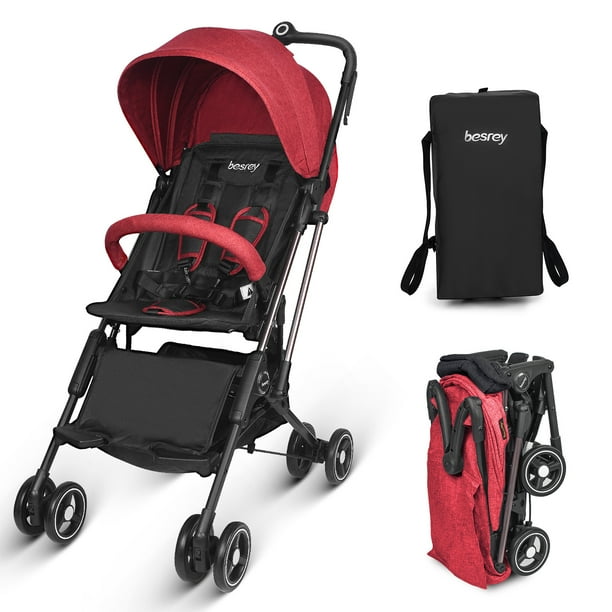 This stroller is perfect for families who frequently fly. It can fit appropriately in any plane or train overhead bin. Its two-step folding design makes it unique to pack up into itself. Therefore, once folded, it can sit upright on its wheels and is powerful enough to sit on, which is extremely handy while waiting in an airport lounge. The biggest pros of buying this stroller are it comes with a rain cover and has a peekaboo canopy.
---
This product was recommended by Alina Clark from CocoDoc
Finding a stroller that works great with everyday usage, while also acing the infrequent traveling episodes with a baby has been a challenge for me. For everyday usage, you need a stroller that's sturdy and comfy, while traveling requires a stroller that's superlight to enable single-handed handling, while also being comfy since traveling with kids can become fussy sometimes. This baby stroller has been amazing in every sense. It has enough spring and toughness for those daily walks to the grocery store on one hand. On the other, it's equally grat for using in tight-space environments. Before buying it, I had a lot of issues while traveling with my baby, but that's not the case anymore.
---
This product was recommended by Steven Walker from Spylix
Looking to pay for a luxury and travel-friendly stroller? Babyzen YOYO2 is the best to go for. The easy one-hand fold draws this 13.6-pound stroller folded to 20.5 x 17.3 x 7.1 inches dimensions. Ideal for 0 +, 6+ babies, and up to more than 40 pounds. It can also easily accommodate a newborn car seat with the help of car seat adapters. It comes with a 3 tier panel canopy for sun protection. It is a one-hand fold.
---
This product was recommended by Steven Walker from Spylix
A compact, sturdy and lightweight stroller also includes a good travel bag. It is recommended for a six months baby. The weight of the stroller is around 9.5 pounds. It is the best buddy if you are looking for travel-friendly strollers. It comes with a small sun visor and ultra two-step folding method.
---
This product was recommended by Steven Walker from Spylix
Looking for a stroller with good storage, Kolcraft Cloud Plus is the best pick on an affordable budget. Weighing just under 12 lbs, Kolcraft Cloud Plus is a sturdy stroller that spotlights an easy one-hand fold and a ton of roomy storage. It also comes with an extra-large storage basket and two removable snack trays for both child and parent with 2 cup holders. A massive pocket for storage is the most preferable and highlighted feature here..
---
This product was recommended by Ryan Yount from LuckLuckGo
Get peace of mind with this stroller that keeps your baby properly protected during your travels. It features a 5-point harness, full-cover extendable UPF 50+ canopy, rain cover, and a roll-up window allowing you to see your little treasure. You will find it convenient for travel because it is as light as a feather and comes with a spacious storage compartment. The troller folds to a compact size that fits anywhere from an airplane luggage compartment, car trunk, or car seat. The coolest part is it has a convenient carry handle; it is easy to open and has a one-touch foot brake to face challenges that life throws your way easily. Babies and toddlers enjoy the premium comfort of the reclining backrest and adjustable rest leg, ideal for exploring or taking a nap. Users will like how it moves smoothly in different terrains due to the multi-point suspension and durable wheels.
---
This product was recommended by Darren Hazan from DarrenHazan
Firstly, it is the lightest on the market whilst still being rigid and durable. This makes it great for walking on cobbled, or uneven streets when abroad. This is also extremely important as when collapsed, you can walk around with it on your shoulder using the shoulder strap! Considering this is a fully functioning pram this feature is invaluable. Jumping on and off trains and buses or going up escalators. It just folds up and can be slung on your shoulder! This brings me to how easy it is to fold and unfold This can be essentially done with one hand! This is the easiest fold and unfold mechanism I have experienced and is a lifesaver when you need to get going or pack up quickly and fuss-free!
---
This product was recommended by Daniela Sawyer from FindPeopleFast
This Car Seat Luggage Belt transforms any rolling luggage (handbag or suitcase) into an ultra-portable travel option for any car seat with a top tether. In a matter of seconds, you may attach or detach the Car Seat from your luggage. Fold the strap and put it wherever when not in use because it is light and takes up little room.
---
This product was recommended by Daniela Sawyer from FindPeopleFast
A folded stroller will fit in any airline overhead bin or the trunk of your automobile. Front twin wheels that rotate 360 degrees for a smooth and secure ride. ASTM and CPSC requirements are met. The front wheels are equipped with a bump-free suspension system. The advanced net fabric shields your child from UV rays and sun rays. The linkage secures your stroller at shopping malls and other public places.
---
This product was recommended by Shiv Gupta from Incrementors
This black and bubble gum pink stroller includes a steel frame and huge tyre, a 5 point harness, and can accommodate children weighing up to 50 pounds. It has a spacious storage basket and a parent tray for packing supplies for the entire family, and the bicycle-style tyre are ready to take on any surface. You may be confident that you're getting a decent value with over 5,600 five-star ratings on Amazon.
---
This product was recommended by Ryan Garrison from Sound Home Buyer
It is one of the best strollers for traveling. It's reliable and durable. It has a removable seat. It has a smart fold design, which makes this stroller easy to use. It is built with high-quality materials. It has large wheels with a large pocket with 2 organizer pockets. It is very easy to clean. It takes only 20 minutes to set up the stroller. If you are looking to buy a stroller while traveling, I will recommend the Chicco Bravo Trio. You can do this from Amazon.
---