This post contains affiliate links. Affiliate disclosure: As an Amazon Associate, we may earn commissions from qualifying purchases from Amazon.com and other Amazon websites.
This article showcases our top picks for the
Best Outdoor Jacket
. We reached out to industry leaders and experts who have contributed the suggestions within this article (they have been credited for their contributions below). We are keen to hear your feedback on all of our content and our comment section is a moderated space to express your thoughts and feelings related (or not) to this article 
This list is in no particular order.
This product was recommended by Luka Juretic from BuzzLogic
Whenever I got enough time I go either hiking or fishing. For both of these activities the Montane Pac Plus XT one that can be bought from Amazon is incredible. Completely waterproof, soft on the inside, with enough pockets to carry any amount of fishing bait or enough water for you to make a lake it is a perfect fit for anyone looking for a jacket.
---
This product was recommended by Kelena Lee from Written By Kel
I practically LIVE in my Women's Bugaboo II Fleece Interchange Jacket from the brand Columbia during the winter. The best part about this winter jacket is that it has it's own fleece jacket inside that you can remove if you want to and just where outer shell OR where the fleece jacket only. It has Omni-Heat thermal reflectives inside which is what keeps help contributes to keeping you warm.
---
This product was recommended by Tim Connon from ParamountQuote
I have this jacket personally and have loved it for years it hasnt even gotten a hole or anything I recommend this sturdy jacket for outdoors.
---
This product was recommended by John Muehl from Fieldsheer
This jacket is Bluetooth-based and uses a specialized MW Connect smartphone app to control the heat. In addition, it offers easy wireless pairing, solid construction, long battery life, and the thinnest heating panels on the market. Plus, the MW Connect app allows the user to adjust the heat to any of four heating levels. It's lightweight, breathable, and machine washable.
---
This product was recommended by Dale Shetler from Fishing Refined
I've owned dozens of outdoor jackets over the past decade but none have proven to be as versatile as the Arc'teryx Atom LT. The Atom is extremely soft and is widely available in various sizes for both men and women. It is surprisingly warm yet very breathable which is why it is good for practically every situation. It is the only jacket I'll use through all four seasons. You have plenty of pocket space and after 3 years of heavy use, I haven't managed to wear down my first Atom LT. I can highly recommend it.
---
This product was recommended by Subho Manna from Centurous
I am a big fan of Carhartt. I own several pieces of their clothing and have been wearing them for years. They are made with quality materials, like this jacket which is extremely warm and comfortable to wear when you're out in the cold weather. It's great to throw on as an extra layer or just use it when you need something more than what your regular clothes provide (like if it's really cold outside).
---
This product was recommended by Serenge Daniel from True People Search Fast
This men's outdoor full-sleeve jacket is made from 100% polyester and has a durable water-repellant finish to protect the user from rain and snow. The fully breathable polyester mesh lining provides maximum comfort and allows free air movement to keep you dry and cool. It has a matte face wind-breaking outer cover to protect you from windy conditions. In addition, it offers zipper closure and an adjustable funnel hood. It is one of the best outdoor jackets for hiking, mountaineering, cycling, and running. This jacket is available in multiple colors.
---
This product was recommended by Serenge Daniel from True People Search Fast
This stylish Burband outdoor jacket is made from 100% polyester and has an elastic closure. So, you need not contend with uncomfortable zippers. The soft and fashionable material makes this jacket a beautiful one to wear. Men, women, and children can wear this jacket to protect themselves from nature's elements like rain, wind, and snow. The cushioned interiors provide the perfect warmth, whereas the waterproof exterior does not allow water droplets to stick to the surface. Besides, the breathable fabric ensures free air movement to keep you cool and dry.
---
This product was recommended by Serenge Daniel from True People Search Fast
The Dwar Men's casual outdoor jacket is available in multiple colors. It has a 100% cotton lining, whereas the jacket is made from 100% polyester. The zipper closure and shoulder straps look elegant and deliver a military-like feel to the garment. The jacket has multiple pockets on the front and two inner pockets. It does not contain any hood, but the long sleeves, shoulder strap, and active front yoke with a snap button make this outdoor jacket look attractive.
---
This product was recommended by Brandon Wilkes from The Big Phone Store
There are a lot of outdoor jackets on the market, but the best one is the Columbia Men's Watertight II Jacket. This jacket is perfect for any outdoor activity, whether you're hiking, camping, or just spending time in the great outdoors. It's made with a waterproof and breathable fabric, so you'll stay dry and comfortable no matter what the weather is like. Plus, it has a lot of features that other jackets don't have, like an adjustable hood and zippered pockets. If you're looking for the perfect outdoor jacket, the Columbia Men's Watertight II Jacket is the one for you.
---
This product was recommended by Matthew Osborn from Legionary
It's lightweight, weatherproof and durable, and extremely comfortable. It's also warm, breathable, has more pockets than ninety-nine percent of the human race will ever need, and is available in Henry Ford's favorite color, black. It's the one color suits all jacket for every outside occasion.
---
This product was recommended by Chris Myles from Golf Cart Go
If you're looking for a jacket that will see you through a round of golf in the rain, then you need to get something like this Men's waterproof jacket. It's heavy-duty enough to keep you warm and dry, but light enough to not impact your activity in any way.
---
This product was recommended by Kathleen Ahmmed from US Car Junker
The North Face Men's Apex Flex Futurelight Jacket is made using a highly-waterproof and breathable fabric that delivers a far greater comfort than a traditional hardshell that often tends to feel stiff and uncomfortable. This in turn makes it a great choice for use in activities like hiking and cycling. Aside from that, it also comes with everything you would typically expect from a waterproof jacket like sealed seams, Velcro wrist cuffs, a fully adjustable hood, hand-warmer pockets, an internal front zip storm flap to protect against strong winds, as well as an internal zippered pocket that can help you to store any valuables. Plus as an extra bonus, it also comes available in two different colourways; black and grey.
---
This product was recommended by Jason Dempsey from Home City Living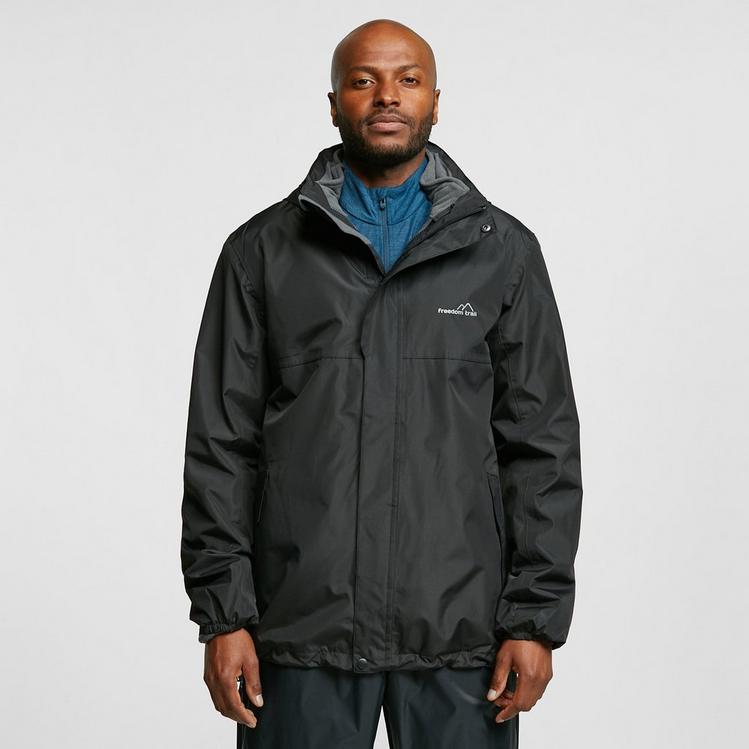 I travel around the world a lot, so it was important to me to find a jacket that would be able to travel with me. This jacket is very reasonably priced, considering that it's 3 different jackets in one. You can either choose to wear the outer jacket for rain in warmer climates, the fleece in the cold, or both when it's cold and raining – perfect, no matter where you're traveling.
---
This product was recommended by Camilla Henderson from FastPaydayLoans
This outdoor jacket offers a stylish intake for men on the go. The outer material is made from polyester which makes it waterproof. The inside is made of cotton, making it comfortable to wear. It has a durable zipper in front and several pockets all over, including zippered pockets to secure valuables while actively moving. The hood is attached to protect your head in case there is sudden rain or snow. You can wear this while enjoying various outdoor and sports activities such as hiking, snowboarding, skiing, running, and others. There are also various styles and colors to choose from to better fit your style!
---
This product was recommended by Camilla Henderson from FastPaydayLoans
This one is for the ladies out there. This sleek cut water-proof jacket offers both beauty and simplicity. It has two zippered hand pockets where you can put your phone and listen to music while doing a broad range of tasks outside. You may also opt to hide your valuables in the two embedded pockets lined inside the jacket. It has a retractable hood that you can hide and take out depending on the weather. The store offers an array of color combinations that will surely fit any preferred style of the ladies. Choose from dark pigments to bright neon colors, whichever you want from their 42 color variations!
---
This product was recommended by Jessica Lauren Vine from RV Idiots
It's warm, it's comfortable and it's light, which is the trifecta that any jacket you're going to wear needs to beat the rain, wind, and snow. And contrary to what Hood Crew claims, it isn't just for men, anyone who wants to can wear it.
---
This product was recommended by Kevin Harris from NANBF
I bought myself this jacket (in fluorescent green, at my girlfriend's insistence I stay safe) when I started to cycle to work, and have found it to be absolutely perfect for all kinds of outdoors activities, including everything from inner city commuting in the morning, and longer weekend rides, to 6-hour hikes round the national parks with my girlfriend and our dog. It is particularly good when there is a bit of a nip in the air, or when the weather is inclement.
---
This product was recommended by Emily Simarski from RAGDOLL PR
Made for absolute comfort and legendary style, this is a must-have jacket as the weather cools off. Featuring faux leather elbow pads and made of the softest sherpa fabric available, this stunning piece will keep you fashionably warm all winter.
---
This product was recommended by Ashish Arora from TeacherOn
This jacket is the perfect fit for my requirements. I was looking for something which I could wear to my college. Bomber Jackets are in trend, and they look stylish when you wear them. I was searching for a jacket specifically in black color as it is my favorite color, especially when it comes to clothing. I loved the combination of black/orange and decided to buy it immediately. Not only the looks, but the jacket is also quite pocket friendly. I managed to buy it for less than $50. I highly recommend this jacket to all men, and I am sure you will love it too.
---
This product was recommended by Shane Paarman from Awesome Stuff 365
This jacket is completely waterproof and windproof, making it ideal for the harsh weather of the winter season, and it's also made with heat-retaining material, so it's sure to keep you warm and comfortable. I personally love that this jacket can be used for different purposes and that it has adjustable cuffs. If you buy it from Amazon, it is available in different colors and designs too, so you can choose your favorite.
---
This product was recommended by Billy Parker from GiftDelivery
This is the best jacket that is specially designed for outdoor activities. It is available in different vibrant colors and standard sizes. Its breathable material will help you to feel comfortable even during exercises. It's hood will also keep your head warm in the chilly winters.
---