This post contains affiliate links. Affiliate disclosure: As an Amazon Associate, we may earn commissions from qualifying purchases from Amazon.com and other Amazon websites.
This article showcases our top picks for the
Best Glamping Beds
. We reached out to industry leaders and experts who have contributed the suggestions within this article (they have been credited for their contributions below). We are keen to hear your feedback on all of our content and our comment section is a moderated space to express your thoughts and feelings related (or not) to this article 
This list is in no particular order.
This product was recommended by May Flanagan from Global Green Family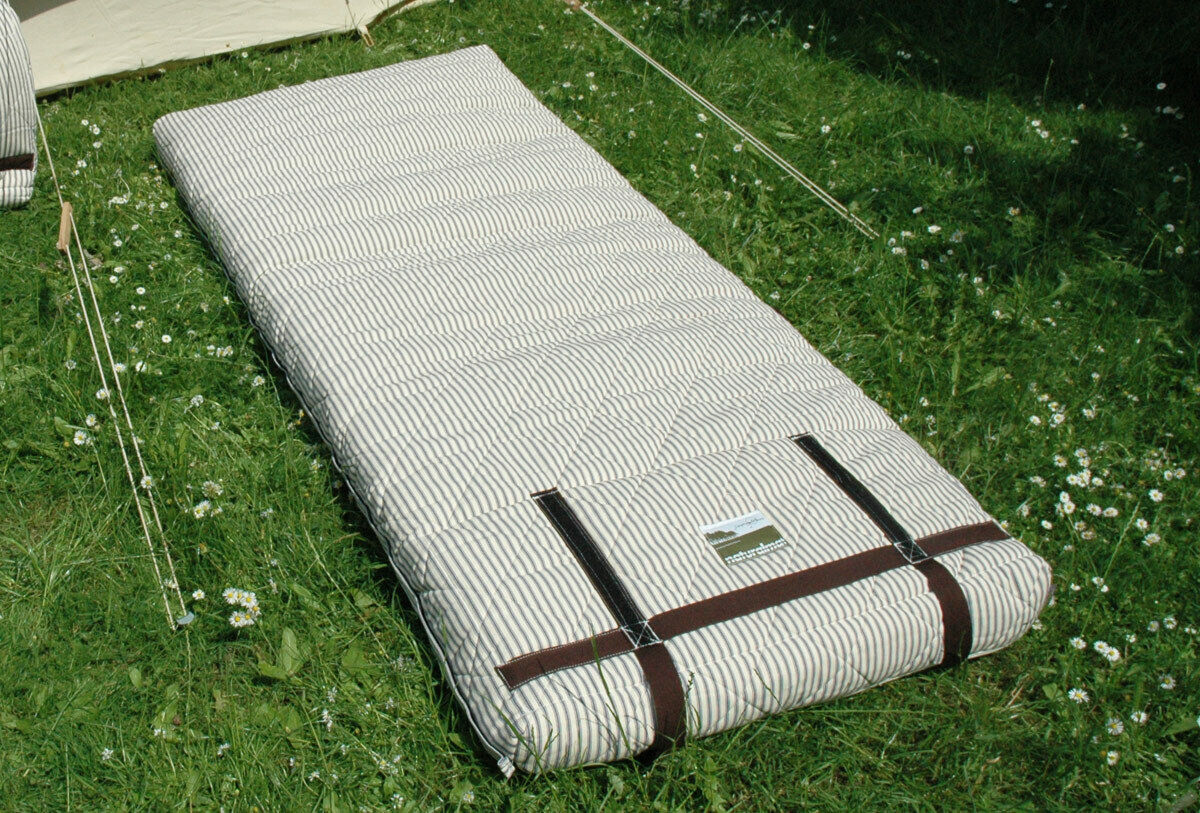 When it comes to glamping, there's an eco-friendly bed that I can highly suggest. This particular glamping bed is the Camping with Soul Naturalmat mattress. This glamping bed is a cozy, portable, and organic roll-up mattress that's specifically designed for outdoor activities and anything related to camping. Every Camping with Soul Naturalmat mattress is hand-made by artisans in sustainable facilities in Devon, United Kingdom. Plus, each Camping with Soul Naturalmat has a recycled shredded denim core which is surrounded by organic lambswool for comfort and insulation. The lambswool used in these mattresses are sourced from Soil Associate certified organic farms in the United Kingdom. What's also great about this eco-bed is that the organic wool that they use is washed clean using river water, which is then filtered, and returned back to the river with zero environmental impact. Since it's expected that camping involves pesky insects, this eco-friendly bed is infused with a natural anti-bug solution during its final wash. The anti-bug solution that they use is also organic as it is derived from lavender, eucalyptus, and lemon essential oils. With its quality and eco-credentials, the Camping with Soul Naturalmat mattress is truly one of the best glamping beds out there.
---
This product was recommended by Steve Johnson from Boot Mood Foot
This luxurious airbed comes in a carry-bag and has an internal electric pump so it's a breeze to set up. The quality is exceptional, so well designed you can even tuck in fitted sheets as it has a double layered construction. When you have made the bed you would not think for a moment that it is an air mattress. All in all an awesome buy!
---
This product was recommended by Piyushi Dhir from Help and Wellness
This queen-sized camping cot is the perfect bed for glamping. It comes equipped with an air mattress, side tables, and a battery-operated pump. The air bed comes with a leak-proof system that ensures your mattress does not deflate overnight. It also has an advanced coil construction system that offers great support. There are definitely three stand-out features for me. The first is the detractable side tables. This just means more storage space in your car and a place to keep your lantern and phone at night. The air mattress is waterproof and finally, the camping cot is elevated off the floor. This is the ideal glamping bed for anyone.
---
This product was recommended by Leo Young from Optimized Family
This queen-sized air mattress from Coleman is the ideal bed to enjoy your glamping experience. The mattress is comfortable, so you will get a good night's rest. It is also durable and comes with a plush top which makes it great for indoor and outdoor use. You will need electricity to pump up this air mattress, however, it inflates this queen-size bed in under three minutes. You do not need an air pump as this air bed comes with a fully installed built-in pump for quick inflation and deflation. It is a solid choice for the price, and it is a great way to avoid sleeping on the ground.
---