This post contains affiliate links. Affiliate disclosure: As an Amazon Associate, we may earn commissions from qualifying purchases from Amazon.com and other Amazon websites.
This article showcases our top picks for the
Best Baby Food For Travel
. We reached out to industry leaders and experts who have contributed the suggestions within this article (they have been credited for their contributions below). We are keen to hear your feedback on all of our content and our comment section is a moderated space to express your thoughts and feelings related (or not) to this article 
This list is in no particular order.
This product was recommended by Nancy Arulraj from All Natural Mothering
The next best thing to homemade baby food is to buy organic baby pouches. we love peter rabbit organic pouches because they are made of 100% certified organic ingredients. They do not contain any added artificial flavors or sugar. One thing I love about these pouches is that these purees are thicker than other purees we have tried which makes them a convenient, mess free snack while travelling.
---
This product was recommended by Burak Ozdemir from Alarm Journal
When traveling, convenience should be your top priority when choosing which food to bring for your baby. And this is what Plum Organics has to offer. It comes with BPA-free pouches that are very convenient for on-the-go feeding.. You just need to squeeze the pouch's contents into a spoon and you can already feed your baby anytime. What I love the most about Plum Organics is that their baby foods are certified organic, non-GMO and more importantly, don't contain added sugar.
---
This product was recommended by Alina Clark from CocoDoc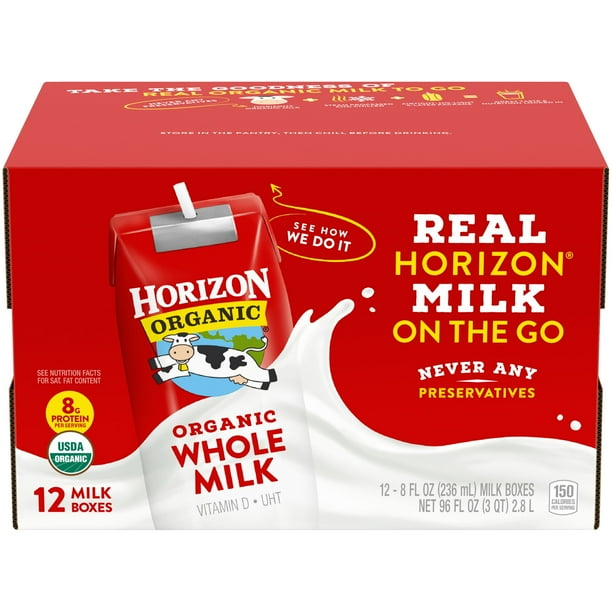 Take the organic goodness of Horizon milk on-the-go with Horizon Organic Whole Milk Boxes. Great as a lunchbox stuffer or snack, these single-serve milk boxes offer a wholesome alternative to juice boxes. Each organic milk box provides many nutrients, including vitamin A, vitamin D, and 8 grams of protein. Good healthy milk organic so overall healthy for kids during traveling.
---
This product was recommended by Benjy Katchen from Wahi
Pouches: these pouches are a little smaller than some of the others, but they have an awesome range of flavors, which means that your baby is getting all of the goodness that they need. I really like the fact that they are in foil pouches so they can be resealed for later use. I love the pouches from Plump as they are a great way to feed your baby on the go, and the fact that they come in different flavors is a great way to ensure that your baby is getting a mixture of tastes, which will help them as they get older.
---
This product was recommended by Lynda Fairly from Numlooker
Organic is the 2nd part of the Gerber also known as Gerber organic 2nd food. Gerbe organic consists of a variety of fruits and veggies for the baby that prevent the kid from feeling hunger while traveling. The product contains a variety of tastes and ingredients so that the baby can have new flavors to please the taste. There are a variety of ingredients used in making the products that are indicated on the back of the product.
---
This product was recommended by Lynda Fairly from Numlooker
Spoon one is one of the smart feeding items available in the market. It is a certified organic product consisting of a total of 7 packets that are enough to carry for travel so that the baby would not feel hunger and the parents would not be liable to buy food items for the baby while traveling. The product helps the baby to grow as it consists of food items such as peanuts, egg, cow milk, tree nuts, wheat, shellfish, fish, and soy.
---
This product was recommended by Chiara Gomiero from Handy Wine Guide
These organic pouches, for 6+ months babies, are a great way to introduce them to simple and organic fruits and vegetables. They are certified USDA organic and made with non-GMO ingredients. They are so convenient and easy to carry around that I don't just use them when traveling but nearly every day I go out.
---
This product was recommended by Chiara Gomiero from Handy Wine Guide
This is another great alternative solution when traveling. This organic sweet potato and chicken dinner, 4 oz, is for state 2 or 6+ months old baby.. It's USDA-Certified Organic and made with non-GMO ingredients, packed with BPA-free, it has no artificial flavors, colors, or preservatives. They are very easy to carry around and you can fit them in any purse.
---
This product was recommended by Phillip Villegas from Three Pedal Mafia
Delicious. Yummy. This is a great vegan healthy pick to keep in your automobile in case of an emergency. It's a great addition to your toddlers lunch. Clearly, this is intended for children under the age of three. They aren't as sweet because they don't have any added sugars (sweeteners). What's on the label is exactly what you'll get! The plus point is it's organic, and the package sizes are typically larger than average. They're great for road trips, packed lunches, and as a snack for your kids when you are lazy or busy to prepare a plate of vegetables. One thing to note is that the contents of the packets are a little thicker than others, which is a good thing because, unlike other of the more liquid-y pouches, they do not explode all over the car when you open them.
---
This product was recommended by Rousseau Vestal from Find The Aisle
Because every bite counts, this is the lowest sugar baby food on the market, with no added sugars or sweet fruits. Made with organic avocado oil or organic olive oil for vital fatty acids that aid with nutrient absorption and brain development, this product is designed to match the macronutrients of breast milk. 8 pouches of ethically farmed animal baby food purees come from small American family farms that practise regenerative agriculture, including free range chicken, pasture bred turkey, and grass fed beef. The ideal savoury blends provide the maximum protein and fat content per pouch, ensuring that your child gets the most nourishment each bite.
---
This product was recommended by Steven Walker from Spylix
Feeding your infant while traveling might be too stressful for you. This baby food is the ideal answer to all of your concerns regarding your child while traveling. Highly healthy, delicious, and satisfying.
---
This product was recommended by Steven Walker from Spylix
This is a fantastic option for mothers worried about their babies' health. You have various options when you're at home, but not when you're away. Try this pureed veggie bunnie on your next vacation. Now You can enjoy the trip without worrying about your younger one's hunger.
---
This product was recommended by Nikki Webster from Brit On The Move
There's many a time you need something to grab and go. The next best thing to homemade baby food is organic ready to go and Serenity Kids Baby Food is the way to go. Ethically sourced meats made from grass-fed beef, free-range chicken, pasture raised turkey, and grass fed bison, plus our organic savory veggie flavors made from organic sweet potato, squashes, roots, and butternut squash with spinach. They are also packaged in compact to go pouches, making them even more convenient.
---
This product was recommended by Ryan Yount from LuckLuckGo
Tofu is the best protein diet and perfect for baby food in travel. It is a soft diet, easy to ready for a light meal. Babies need food that is light, soft, and nutrient-rich. This nutrient-dense food has three main components: soymilk, soy protein, and calcium chloride. You can just cut it into slices, pan fries it for two minutes, cool it, and then pack it for you. It's organic, natural, and easy to take on travel. The perfect texture for the baby, no crumbly mess, and offers lots of calcium and protein!
---
This product was recommended by Shiv Gupta from Incrementors
This variety pack is made with natural fruit and vegetables and has age-appropriate textures and nutrients. It contains no added sugars, salts, or starches, as well as no artificial flavors or colors. These fruits and vegetables were cultivated with our Clean Field Farming standards, which ensures that our purees are not only nutritious but also wholesome and safe for every baby belly. Gerber 2nd Foods baby food recipes introduce newborns to a range of flavors and ingredient combinations, which is vital for assisting them in accepting new sensations.
---
This product was recommended by Victoria Taylor from Best Case Parenting
Organic Fiber and Protein that comes in different flavors and a travel-friendly packaging that is spill and leak proof. In addition, the company uses organic and fresh ingredients grown and processed according to standards addressing soil and water quality, among other major factors.
---