This post contains affiliate links. Affiliate disclosure: As an Amazon Associate, we may earn commissions from qualifying purchases from Amazon.com and other Amazon websites.
This article showcases our top picks for the best tactical ear protection products. We reached out to industry leaders and experts who have contributed the suggestions within this article (they have been credited for their contributions below).
We are keen to hear your feedback on all of our content and our comment section is a moderated space to express your thoughts and feelings related (or not) to this article This list is in no particular order.
This product was recommended by Jeremy Ong from HUSTLR
This product is just RIGHT for ear protection. The headset is well padded, the glasses are comfortable with a protective sleeve also, all the earplugs are packaged individually. It has all the needed features to block the sounds and yet still very comfortable to wear.
---
This product was recommended by Chris Henderson from Survival And Prepper
When considering tactical hearing protection it is important to note that your considerations are somewhat different than considering which hearing protection is best on the range. In order for tactical hearing protection to be effective you must be wearing it when it becomes necessary. You won't have time to stop and insert the earplugs when things begin to go south. This is why it is important that your choice in hearing protection be both comfortable enough to wear for long periods of time and that it allows you to hear normal sounds. My preferred choice for hearing in everything except range activities is the Surefire Sonic Defenders. These earplugs can provide up to a 28db reduction in volume levels if the filter caps are inserted or allow you to hear normal sounds with a slightly lower reduction of high volume sounds if the filter caps are removed. The filter caps are attached to the ear buds and can be quickly put back in place with a single finger. The slim design and low profile allow you to wear them comfortably with hats, head phones or other head gear to include helmets. This makes them an ideal choice for tactical environments.
---
This product was recommended by Trey Lewis from HVAC Training Shop
I use this pair of Walkers Behind the Neck Bluetooth Hearing Enhancers. While they are targeted towards hunters, I find that they work just as well on the job site and pretty much everywhere else. When I'm working in mechanical rooms, they do an excellent job of blocking out all the noise from pumps and fans. They also have a noise-canceling feature, so I don't need to take them out to have a conversation with a coworker. They also work well for travel. I have fallen asleep many times on the airplane while wearing these earbuds. They come with three different sizes of foam tips, so you can swap them out if your ears are bigger or smaller. My favorite feature is its Bluetooth connectivity. Using Bluetooth, I can use them to take phone calls and listen to music. So there is really no reason to take them off during the day.
---
This product was recommended by Bertie Cowan from Effortless Outdoors
I purchased these earmuffs for days out shooting and fell in love with them at first sight. They are really sturdy but are compact enough to fit easily into my range bag. They are comfortable with lots of padding and easy adjustments. Two microphones mean you get the same sound reduction performance regardless of what side the sound comes from. The noise reduction rating is 25 decibels, and whilst wearing them you can still hear normal conversations. I found they had all the features of a higher-priced earmuff and would purchase them again in the future.
---
This product was recommended by Lukas from Military 1st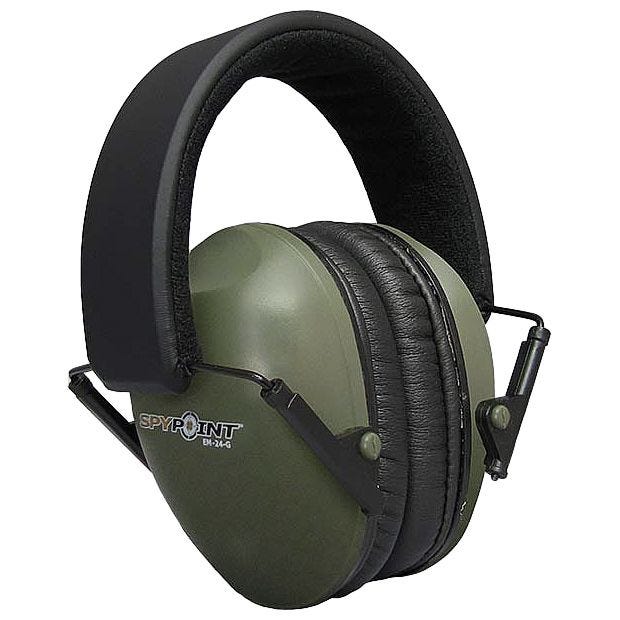 Lightweight, compact and portable SpyPoint Ear Muffs EM-24 offer hearing protection of 21dB. They have ergonomic cup design and are made of flexible cushioning that easily adapts around the ear while adjustable padded headband maintains a comfortable seal. Foldable construction means their ear muffs can be easily stored inside your range bag without taking much space.
---
This product was recommended by Vans Pat from Gifting Area
The 3M Peltor Tactical Sport Earmuff is an ergonomic tactical ear protection which offers all-day comfort. It is powered by 2 AAA batteries and it has a noise reduction rating of 20dB. These earmuffs are also equipped with audio jack support which makes it usable with MP3 players and phones. A smart digital chip technology which is designed to muffle consecutive loud noise is also present in this earmuff.
---
This product was recommended by Mark Stephenson from How To Shoe
My best recommendation would be this product! Perfect earplugs ever made. Perfect fitting too! Very comfortable to wear. And what's even more impressive is it can be re-molded.
---
This product was recommended by Jennifer Willy from Etia
Rebel Tactical Premium Ear Muffs to silence your world in a movement. Our earmuffs provide the best ear protection and cover the ear with a soft ear con. The gun ear muffs noise protection made of Padded headband for a comfortable fit & Soft PVC Ear Pads. Easy to pack and carry anywhere.
---
This product was recommended by Jennifer Willy from Etia
Howard Leight by Honeywell has a built-in directional microphone amplify range commands and other ambient sounds to a safe 82 dB, providing more natural listening and enhanced communication.
---
This product was recommended by Jennifer Willy from Etia
Coyote's Shooting Earmuffs are very cool-looking earmuffs, in which we use a new internal chip, after studying the current problems of earmuffs on the market in the US, we improved our product. And designed with stereo sound, the sound heard through internal amplifiers is very stereo, realistic, and clear, and can also identify the location of the sound.
---