This post contains affiliate links. Affiliate disclosure: As an Amazon Associate, we may earn commissions from qualifying purchases from Amazon.com and other Amazon websites.
There are a lot of things you'll wish you took with you once you're well on your way to your destination. From phone chargers to that favorite pair of slippers for bed, and finally that darn toothbrush you were using, now making it necessary to buy another one you would've not needed otherwise.
But putting behind some extreme cases, like forgetting your driver's license when going out of state, there are few things you can forget to take that truly ruin your journey. Now, about things that you can take with you to improve your travel? That's another story because there are lots of accessories that come in handy when going the distance for fun, here are some.
#1

Tile Pro with Replaceable Battery
The Tile Pro is the perfect travel accessory for anyone, from the once-per-year cruise vacationer to the no-nonsense backpacker. A small square which can easily fit in the palm of your hand, you just attach it to anything important and you can track its GPS coordinates from your phone. They're quite cheap, so you can get a couple: one for your backpack, one that goes in your wallet, etc. And, get a 4-pack for even better savings. Great peace of mind for just a few dollars.
#2

All-new Kindle Paperwhite
Personal Recommendation: There's a lot of downtime with traveling, and you might as well do something entertaining while waiting to get on your flights or during them. I prefer to use my Kindle over my phone because it's much easier on the eyes and the battery lasts a very long time.
Plus I often need my phone to be charged when I get to my destination and it's not always easy to find places to charge it so I prefer not to waste battery by using it a whole lot when I don't have to.
#3

GR III Digital Compact Camera
Personal Recommendation: I'm a photographer, so obviously, this is more important to me than many people, but I like to document my travels with a camera that's much higher quality than any smartphone will give me.
#4

Lily & Drew Carry On Weekender
You can take this bag anywhere. It's big enough to hold all the things you need for a weekend getaway, but still small enough to use as a carry-on bag. It's light enough so you won't be exhausted lugging it around the airport … or around the world.
With a price tag of under $70 it's affordable and it's also well made. It's available in a variety of colors and comes from a company based in Texas. But what really sold me on this bag is then endless number of pockets to help keep you organized. I really love the quick-access pocket on the front that is just large enough to hold a cell phone, your license, and a plane ticket!
#5

Stuffa One Jacket
If you travel a lot and don't want to check baggage, or prefer not to wear a backpack, than the entire product line of Stuffa.
Passengers are never weighed so anything you wear on a plane if fair game. I just bought the Stuffa Odyssey and for any short trips I can't imagine needing any luggage at all.
#6

Aeropress Coffee Maker
If you're a coffee lover and often find yourself disappointed by hotel coffee, take a serious look at getting an Aeropress coffee maker. One of the most travel-friendly coffee makers available, the Aeropress is a low-cost coffee brewer that's similar to a French press because it utilizes a plunger to filter and brew the coffee.
#7

Traveler's Notebook Cover
This handmade leather traveler's notebook cover is the perfect way for the avid traveler to protect their travel journal, important documents and keep little token memories safe that have been collected along the way. It's totally customizable, and available in different sizes and colors.
#8

Adventurist Classic Backpacks
The Adventurist Classic backpack is made with water-resistant 1000D Polyester, so it can hold up through any adventure. It is high quality, fashionable, and affordable (at $65 ), and has been recommended by the Travel Channel, Forbes, Mashable, Woman's Day, Disney, ABC, CBS, and more.
#9

Zoppen Travel Passport Wallet
Personal Recommendation: I've given this as a gift to just about every traveler I know! The wallet costs around $14 USD and is available in 36 colors! The wallet is Rfid blocking and comes with all kinds of slots for credit cards, ATM card, a passport card and your driver's license. There's also a pocket large enough for your passport. The wallet has a spot for tickets, cash, a zippered pocket for change, and even a clip for your keys!
#10

Nomader Collapsible Water Bottle
The uniquely portable Nomader® Collapsible Water Bottle makes it easy to stay hydrated while traveling. Designed with a flexible BPA-free silicone body, the TSA-compliant Nomader® bottle can be folded-up or collapsed flat to save on space, yet it's as comfortable to drink from as a hard-sided bottle.
This innovative, eco-friendly travel water bottle features a patented leakproof cap, an ergonomic carry strap, and a wide mouth for easy cleaning. Affordably priced at under $25 and available in a variety of stylish colors, Nomader® bottles are the perfect travel accessory. As an added bonus, Nomader® water bottles are backed by a lifetime warranty.
#11

Wisport PackBox Set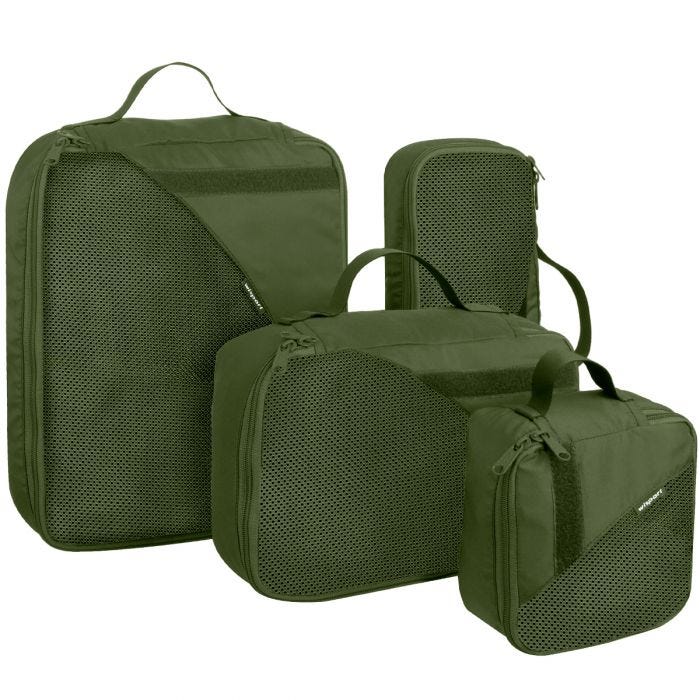 Organizing your stuff when traveling can be a daunting task. Well, not with Wisport PackBox Set on your side. The set consists of four lightweight but heavy-duty rectangular pouches of different sizes, with clamshell openings, robust carry handles, mesh panels and loop straps.
They look sharp and can match the backpack capacity without adding bulk or weight. Moreover, Wisport PackBox pouches are foldable so easy transport or storage when not in use.
#12

Hydro Flask Vacuum Insulated Stainless Steel Water Bottle
Small enough to fit in your purse, gym bag or pack's side pocket, our 21 oz Standard Mouth Bottle is big enough to keep you hydrated from the morning commute to the yoga studio or sunset hike. It's made with durable professional grade stainless steel and TempShield™ insulation that keeps cold water refreshingly cold up to 24 hours – or piping hot up to 12.
An easy-to-carry Flex Cap strap and colorful powder coating makes this bottle even easier to grip. Plus, it's designed to resist condensation, so it will never sweat – meaning contents of your travel bag stay dry even during big swings in outside temperature. Pair it with our handy Sport Cap for convenient on-the-go sipping.
#13

 

Moore & Giles Tech Pocket
The tech pocket is portable peace of mind. Padded with lightweight, durable foam to keep your tablet safe, while an integrated battery allows you to charge devices while on the go.
#14

 

Moore & Giles Booker Cabin Duffel
Built for hassle-free globetrotting, the new Cabin Duffel effortlessly combines form and function for the business or pleasure traveler. Carry solo for an efficient overnight or pair it with our Parker Rolling Suitcase for longer excursions. To make traveling simpler, the Cabin Duffel slips over the handle of our rolling suitcase while discrete exterior pockets keep both your laptop and toiletries easily accessible.
#15

ROQ Silicone Ring
Anyone who owns an expensive piece of jewellery, namely a wedding or engagement ring, knows the fear of traveling with it and potentially misplacing it or having it stolen. Eliminate that fear by wearing a silicone rubber ring instead (epecially helpful to ward off that unwanted attention that sometimes comes with travel to signal you're accounted for).
A ROQ silicone rubber ring is perfect for travel as it's made from 100% medical-grade silicone which is hypoallergenic, non-conductive and safe.
#16

Traveler FootFidget
Perfect to use as an airplane footrest or bus footrest, the Traveler FootFidget® ensures your body remains active while traveling. While other airplane travel accessories may be hard to pack, this unit stores easily in your luggage or can be carried assembled in its own tote bag. The travel foot rest is easy to use and makes your travel experience much more enjoyable.
---
The recommendations of products and books within this article where sourced from industry experts. Their names and websites are listed below.
Who contributed to this article?