This post contains affiliate links. Affiliate disclosure: As an Amazon Associate, we may earn commissions from qualifying purchases from Amazon.com and other Amazon websites.
Where do you store all your goodies, food and drink while enjoying the magical world of Disneyland?
Backpacks are a must if you're going with kids, or even by yourself. They keep everything organised and safe inside. And we have brought the very best backpacks to bring to Disneyland and other fun theme parks, with fun designs and tons of room for cotton candy (just kidding!).
#1

Kattee Professional Canvas SLR DSLR Camera Backpack
It holds a camera in the bottom in a completely separate pouch, and the plastic zipper compartment on the inside is perfect for my annual pass, cash, license, pens, chapstick, etc… This bag looks small, but it really holds a lot of items without feeling too bulky to carry around. I typically have my DSLR camera, multiple chargers, an eyeglasses case, umbrella, wallet, chapstick, sunscreen, and even a light rainjacket sometimes and this bag holds it all!
#2

Piscifun Insulated Cooler Backpack
The backpack is very comfortable to wear and provides you a way to keep drinks and snacks cold while also transporting other things you need like credit cards, Disney cards, water bottles and non cold snacks separately from the things you want to keep cold. It's great for amusement parks, zoo trips, or sporting events).
#3

Pivot Sling Pack
This minimal waist pack has space for your daily essentials in an easy versatile pack. Wear as a sling pack or as a belt. Carry your wallet, keys and phone with space to spare. Perfect for a festival or day out in the city. Made from 70% recycled materials, removing single-use plastics out of waste streams and giving them new life. Made from 6 plastic water bottles.
#4

Pivot Roll Top
Lightweight and versatile, the Pivot Roll Top makes for a great everyday commuter backpack. Reservoir compatible to convert into an easy hike or festival daypack. Weighing in at just 12 oz., there's space for everything you need for a day out in the city, from a secure zippered essentials pocket to an expandable bottle pocket. Made from 50% repurposed materials, removing single-use plastics out of waste streams and giving them new life. Made from 11 plastic water bottles.
#5

Arete 18 Hydration Pack
With its lightweight materials and reversible, double-duty design, the Arête™ 18 is one of the most versatile packs we make. When you're not wearing it, it reverses into an insulated reservoir sleeve—perfect for holding your water supply steady inside a larger pack.
Ready for a quick hike? Just flip it right side out, and you've got room for snacks, layers, essentials, and 1.5 liters of water. Its lightweight materials and packable design also make it an excellent travel bag that won't add bulk to your luggage. We updated this version of the Arête with additional pockets to keep your gear organized, along with a removable sternum strap.
#6

Disney Store The Little Mermaid Backpack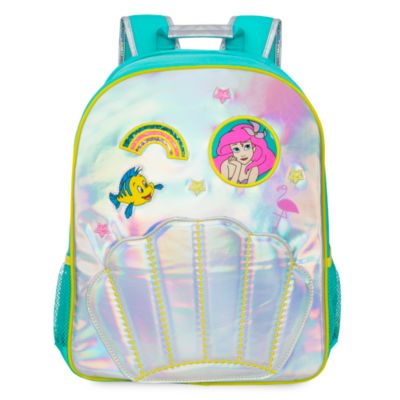 They are obviously themed to the parks but they are also very practical. They have comfortable straps and are big enough to store all your park essentials, but not huge enough to become cumbersome.
They have handy front pockets for things you need to grab quickly, like an autograph book, and side pockets for water bottle, sun cream etc. They often have pockets inside too to make it handy to find things.
Characters love seeing themselves on your bag and often interact with you.
#7

45L Velcro Backpack
Heading into any hostile environment, one needs the appropriate backpack to send a message and serve utilitarian purposes. Meet the 45L Hank Darby Co. Back Pack. Built for the most rugged of terrains, this backpack can have gear strapped on, such as: bottles, mickey mouse and that favorite binky blanket when it gets too warm.
Without losing a corner off that man card, Hank recommends several patches to go along with it to let any purveyors know you're prepared and ready to take on Space Mountain.
#8

Kipling Disney's Minnie Mouse And Mickey Mouse Seoul Go Large 15″ Large Laptop Backpack
I love this back pack because it's lightweight and extremely easy to wash. The fabric is very resistant to stains and continues to appear in newer condition. The inside has a cushioned laptop sleeve and the a separate sleeve for other items. I like having the two dividers because sometimes I take an extra shirt with me on days I'm going to be in the parks a long time. (In case it rains or I get a coffee stain etc.) I can also add my swimsuit in the extra compartment easily. This bag gets major compliments everywhere I take it as well. All of the Kipling backpacks come with a cute little gorilla on a chain as well. It's attached to the backpack.
#9

JanSport Unisex Disney High Stakes
This backpack is extremely durable and great for kids/teens as well. There isn't a lot of "special" about the backpack other than the fun Disney fabric choices. However, if you are looking for another long lasting choice this would be it. Between my son and I we carried this same style as above for over 10 years.
---
The recommendations of products and books within this article where sourced from industry experts. Their names and websites are listed below.
Who contributed to this article?