This post contains affiliate links. Affiliate disclosure: As an Amazon Associate, we may earn commissions from qualifying purchases from Amazon.com and other Amazon websites.
Business trips were fun at first. But after the first couple of journeys, business travels demands for one thing: convenience. Convenience and seamless travel is so important when you have to focus on meetings and presentations. Any extra stress is just too much.
The creators behind these travel gadgets know this, and here we have the very best travel accessories. Check them out, especially that universal power adapter which makes sure you never forget an adapter again!
#1

Etekcity Digital Hanging Luggage Scale
This little handlheld scale is one of my favourite travel companions, as it takes virtually no space and is such a stress reducer! I have a terrible fear of being overcharged for exceeding luggage limitations and this helps me make sure I won't. It is such a great help when packing at home, but I strongly recommend taking it with you so you can ensure you'll be fine on your return flight, especially if you 'd like to go shopping during your trip.
#2

Messenger Bag
A good messenger bag makes all the difference. Not only can you fit all the essentials for boarding in them, laptop, chargers, passports etc. But, you can use them when going to client sites as well. They look smarter than a backpack and work well with a suite as well as more casual wear.
I'm quite fond of my messenger bag, it's literally travelled thousands of miles with me and still looks great today. I can keep it within arms reach and I know it contains everything I need. I can even fit a small change of clothes in it, so if the worse happens and my checked in luggage is delayed, I can at least be comfortable.
#3

Universal Travel Adapter
A flat battery sucks, but with a universal battery charger I can charge my phone, toothbrush and laptop all at the same time with one gadget.
Additionally, no matter what country I'm going to, my charger will fit into any socket.
#4

Turbie Twist Cotton Hair Towel
The Turbie Twist hair towel is an essential business travel accessory. When traveling for work, your personal time is precious. You want to look your best and maximize your time. Smart business travelers will bring a compact cotton or microfiber hair towel with them to save time getting ready in the morning – you never know what kind of towels the hotel will provide. Microfiber hair towels can cut your drying time in half and also reduce frizz. At under $10, Turbie Twist hair towels will change the way you think about drying hair on the go.
#5

The Key Custom USB Flash Drive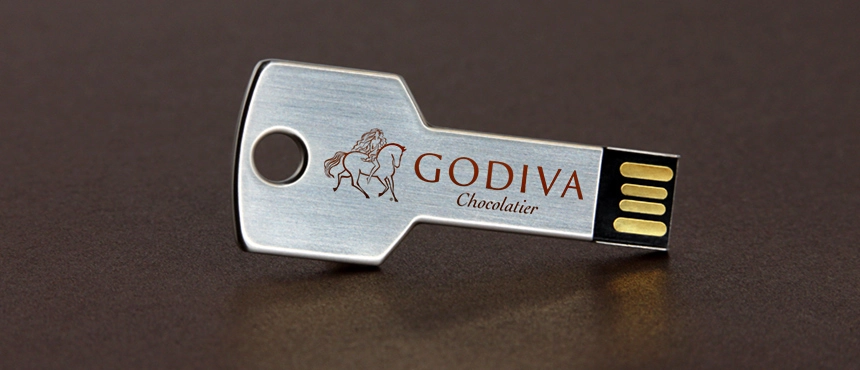 CustomUSB.com, a leading designer and manufacturer of customized bulk flash drives, as it would be a perfect fit for your upcoming piece. USB devices are not only exceptional marketing and promotional items, but have an incredibly high level of utility, enabling road warriors or anyone traveling for business an opportunity to store sensitive information securely (always accessible even when Internet connections may be spotty).
#6

DSPTCH X 3sixteen daypack
Especially for those in creative industries, there's no better business backpack than this daypack in black waxed canvas, a product of DSPTCH's collaboration with New York brand 3sixteen. It's sleek and chic but engineered for functionality, with a suspended laptop compartment, a sleeve for a tablet, and internal water bottle pockets.
It fits close to the back, for a trim silhouette, but offers 23 liters of space — easily enough for an overnight. What I love most about it is that it's unique — a break from all the big brands — but still sophisticated and subtle; it's no surprise that the brand has done special editions for companies like Google, Leica, and Nike. Plus it offers the satisfactions of buying a product designed and manufactured in the U.S.
#7

Sony DPT-CP1/B 10" Digital Paper
Digital Paper is the ultimate tool for business people on the go. Digital Paper combines the simplicity of reading and writing on real paper with the convenience of a digital solution for your workflow. For those that read extensively, take comprehensive notes Digital Paper is a perfect fit. Digital Paper is lightweight, has long lasting battery and allows users to carry all their paperwork with them digitally.
A bit about Digital Paper:
Available in both a new notebook-sized 10-inch model (CP1) and original 13-inch letter-sized Digital Paper (DPT-RP1).
DPT-RP1 model (13inch) available in black and in white color.
Annotate, erase, and highlight PDF files just like pen/pencil on paper.
16GB local storage – Users can carry up to approx. 10,000 PDF documents.
Easy reading even outdoors on the glare free screen.
Long lasting rechargeable battery.
Sony Digital Paper Mobile Application – Smartphone companion app for Android and IOS for easy, convenient transfer of documents, forms and notes..
The Digital Paper companion app on PC or Mac allows two way transfer of single or multiple files to and from Digital Paper via Bluetooth, WiFi or USB
Slim and lightweight design
#8

Anker PowerCore II 10000
The best thing about this power bank is its portability. It's lightweight and has a slim design which makes it easy to carry around. You slip it in and out of your luggage or laptop bag without any difficulty because of its sleek design. It charges your devices really fast because of Anker's fast-charging tech and keeps your phone charged all day.
#9

Stainless Steel Travel Mug Tumbler
This will definitely keep everyone's favorite drink all throughout the day. This will save all the hassle of cleaning your bag because this is 100% leak proof. Who wants to keep their fruit juice ice-cold? Who wants to keep their chocolate drink hot all for hours? Everyone of course! This product is for everyone and is perfect for this hot season.
---
The recommendations of products and books within this article where sourced from industry experts. Their names and websites are listed below.
Who contributed to this article?