This post contains affiliate links. Affiliate disclosure: As an Amazon Associate, we may earn commissions from qualifying purchases from Amazon.com and other Amazon websites.
There are hundreds of pages on retail sites each offering tens of backpacks. That's a lot of backpacks. So when we sifted through all the garbage, low quality options, we were delighted to condense all that into a more digestible size.
Nine backpacks, each hitting the basics right: they've got the practical features, they're easy on your back, and they're not too heavy themselves. What this leaves you is an easy-going holiday experience allowing you to bring more travel accessories than ever before!
---
This product was recommended by Ashley Steinmetz from Trekeffect
The multi-function backpack can carry what you need on an urban adventure or hike through the Redwoods. Made of oxford and polyester materials, this backpack is durable, lightweight, long lasting and water resistant. It even has a special, padded laptop compartment where you can safely store your computer, tablet and digital accessories. Not only is this backpack practical and functional, but it's rather stylish as well and comes in black and pink.
---
This product was recommended by Steve Calvert from Travel Write
Everyone is different but Quechua does a 10 L packable backpack that I rate highly. There is also a 20L version. Both of them pack away so small you can carry them in your pocket when you don't need them. I'm a digital nomad so I appreciate the fact that this is so small and light to travel with. It's a daypack you can carry with you (just in case) on those days when you are not expecting to need a daypack and, of course, on the day that you know you do. The bag is a lot stronger than it looks and there's a 20 L version as well. It can hold more and still packs away tiny.
---
This product was recommended by Tim Mack from Roaming Sparrow
I have been living and working and playing in Vietnam for over 6 months with the bag. To date, I have had no real major issues short of the zippers splitting if I way overpack the bag. Besides this hower. The Havana 41 has been a solid trooper. I keep my camera, an extra lens, and first aid kit in it 24/7. Then in the top compartment, I have room for a towel, some food, and other gear. Its a good travel size as well and I tend to pack it into my large bag when moving locations.
---
This product was recommended by Melissa Teng from Wit and Folly
I have owned the Peak Design Everyday Backpack for over 4 years now and can recommend it for the following reasons:
The build quality is extremely good. After 4 years of heavy use, there are no rips, all zippers are working and the canvas looks nearly new.
I can fit everything I need when traveling. This includes a mirrorless camera, 2 lenses (with 1 zoom lens), laptop, sweater, drone, and much more.
Both sides of the backpack open up which gives you quick access to every part of the bag.
The internal compartments are velcro adjustable so you can change it based on what you are carrying.
---
This product was recommended by Niki Gordon from Chasing Departures
I have the VBG VBIGER Canvas Backpack for my daypack and it's amazing! It's spacious, has a drawstring to keep it closed (I feel like that is way better than a zipper when traveling in larger cities with pickpockets), and it's canvas so travel patches can easily be sewn onto it.
---
This product was recommended by Sam Brilleman from Ultimate Gear Lists
The Osprey Ultralight Stuff Pack is a seriously ultralight and ultra-packable daypack. Weighing in at 3.8 oz (109 grams) – and packing down to the size of an apple – it is small enough and light enough to take on any trip. Put it into your travel suitcase when not in use and then pull it out when needed. With a main compartment of around 18 litres it is easily sufficient for most day uses.
You also get the benefits of a water resistant ripstop nylon shell material and a stash pocket for storing small items like your wallet, phone, keys, etc. Better yet, the stash pocket is located at the top of the bag between the main compartment and your back, meaning it is more secure that a front stash pocket which often has the zipper easily accessible on the front of your backpack. Another plus for travelling!
---
This product was recommended by Ali from F Jackets
Stay convenient while carrying your essential gear on the road. All thanks to this awesome anti-theft college backpack, which features a large capacity to fit your headphones, small devices, power bank, and earphones. Best use for school, colleges, long travel, and daily commute.
---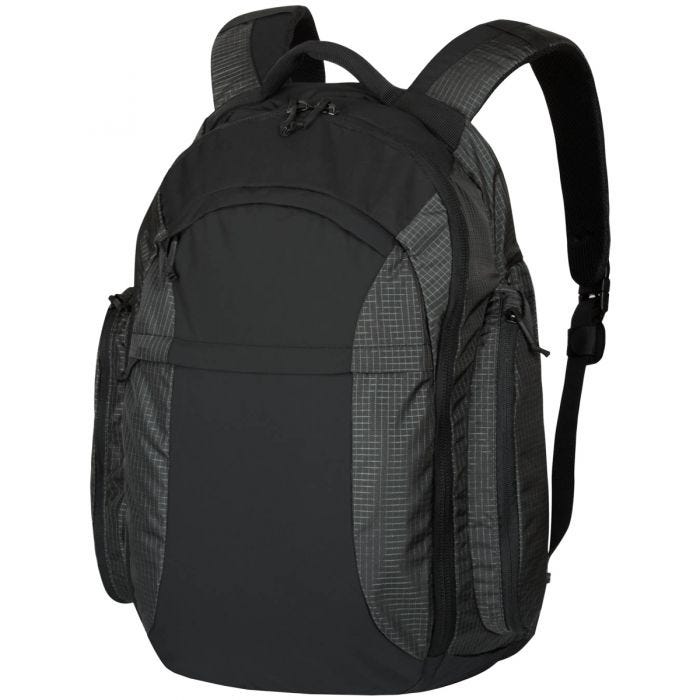 This product was recommended by Lukas from Military 1st
Made of durable yet lightweight Cordura Nylon and with a capacity of approx. 27L, Helikon Downtown is a perfect low-profile backpack for travel and city breaks.
It has a multifunctional design and features a spacious main compartment with stiffened laptop sleeve, safe front pocket for sunglasses or fragile items, an admin pocket and two vertical side pockets, ideal for storing a 0.5L water bottle. Thanks to adjustable, body contour shoulder straps and stiffened back, all padded with breathable mesh lining, this backpack is comfortable to carry throughout the day even in higher temperatures.
---
This product was recommended by Melanie Musson from MobileHomeInsuranceQuotes
This daypack is perfect for traveling because it is made like a wearable suitcase to keep your contents safe. There's a designated spot for a laptop computer, and room enough for some clothing and necessities. The back is padded for increased comfort when wearing.