This post contains affiliate links. Affiliate disclosure: As an Amazon Associate, we may earn commissions from qualifying purchases from Amazon.com and other Amazon websites.
Photographers are fearless people when it comes to getting to the spot where there's even the remote possibility of getting that dream shot. If you doubt that, then check out some of the extremely-close wild safari and vertigo-inducing +1000 feet above ground shots on Instagram!
Respect where respect is due. Now, given that photographers need to be constantly on the move they need a bag that carries all of their gear as gently, organized, and securely fastened as possible. No joking around here, livelihoods are at stake. If carefully transporting your photography gear is what you're after, getting a carry-on camera bag is a must, here are the best options.
#1

Ape Case ACPRO1600
This is a briefcase style bag that holds a DSLR body and several lenses along with an up to 17" laptop for later editing. When the lid is open, it exposes the entire interior for easy access to everything inside. It also includes a deluxe padded shoulder strap.
#2

Think Tank Photo Vision 15
The Think Tank Photo Vision 15 is a messenger style bag with room enough for a DSLR body, multiple lenses and a flash. Padded dividers permit customization of the interior compartment and can support laptops up to 15". The bag is designed as a shoulder bad but can also double as a carry bag thanks to a built in top handle. One last tidbit is retention straps designed to hold a tripod on the bottom of the bag.
#3

ONA The Hamilton Rolling Camera Bag & Duffle
Designed like a rolling camera bag, this bag offers room for your body and up to 7 lenses and accessories or two bodies and a few less lenses. It is perfect for overnight travel as the bag is large enough to allow for a change of clothing. Like all bags they days, this one accommodates a 15" laptop. Since this bag is similar in design like a suitcase, it provides a built in wheels and a retractable handle.
#4

Manfrotto Pro Light Reloader Spin-55 Carry-On Camera Roller Bag
A top of the line bag for for the professional shooter, the Manfrotto Pro Light Reloader Spin-55 Carry-On Camera Roller Bag has plenty of room for a pair of mirrorless bodies with attached zoom lenses, up to 4 other lenses along with a 15' laptop.
Besides the usual padded nylon inserts, the outer case offers added protection with its polycarbonate shell. You can even remove the inserts to convert it case for everyday use. External connections allow for attaching a tripod and other gear. The case is water repellent, but does include a fold out rain protector.
#5

Hazard 4 Pillbox Hardshell Daypack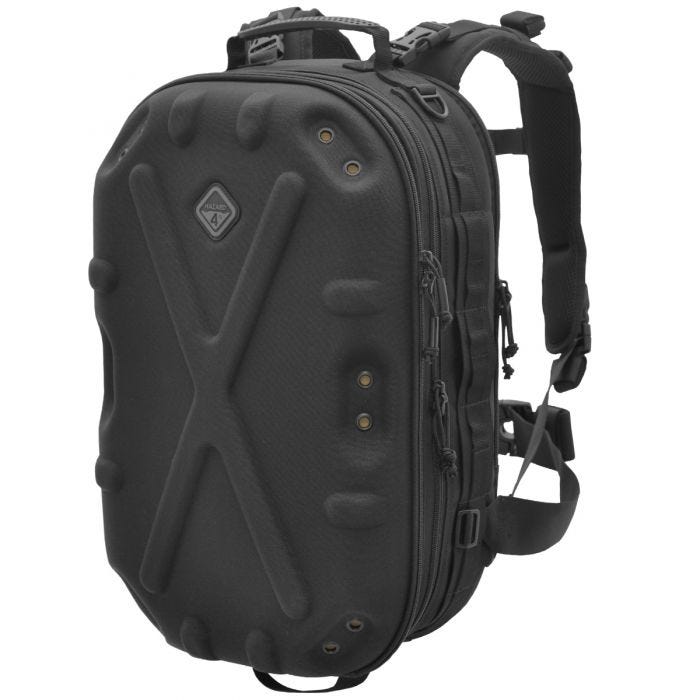 With its uncrushable hardshell Hazard 4 Pillbox provide excellent protection to your camera and gear. It can fit any APS-C or mirrorless camera equipment, and with spacious photo compartment with soft inner lining and movable padded dividers you can be sure your stuff will be secure and ready when you need it.
Moreover, there are additional compartments and pockets, including padded laptop sleeve compartment and admin organiser panels for pens, SD cards, batteries and other accessories. Hazard 4 Pillbox is equipped with ergonomically padded back panel, padded shoulder straps, removable chest strap and detachable wide waist strap – all to make carrying it from place to place as smooth as possible. Add air travel-friendly size and you" get the perfect photographer's bag.
#6

Adventurist Classic Backpack
The Adventurist Classic backpack is lightweight and made with water-resistant 1000D Polyester, so it can hold up through any adventure. It also is perfectly sized to fit as a personal item or carry-on on a flight. (It is padded front and back for more protection for camera gear or electronics.) It is high quality, fashionable, and affordable (at $65), and has been recommended by the Travel Channel, Forbes, Mashable, Woman's Day, USA Today, Disney, ABC, CBS, and more.
#7

Lowepro Pro Runner BP 350 AW II
This is a professional backpack style carry on camera case. It's specifications make it easy to fit in overhead bins, and it has plenty of room to store a DSLR camera with lens attached and 4-5 other lenses or speedlights. It also can handle up to a 13 laptop making it ideal for traveling photographers who want to quickly upload photos on location.
The backpack style makes it easy to carry around in tougher terrain and distributes the weight more than a shoulder side bag. It has changeable shock proof dividers that add cushion to your valuable equipment. One thing to keep in mind is that the backpack can pose a larger security risk in the airport as you cannot visibly see it or anyone who might unzip it.
However, it would be quite difficult to unzip the backpack while you are moving. Some photographers may choose to use a small key lock on the zippers for extra security though.
---
The recommendations of products and books within this article where sourced from industry experts. Their names and websites are listed below.
Who contributed to this article?