This post contains affiliate links. Affiliate disclosure: As an Amazon Associate, we may earn commissions from qualifying purchases from Amazon.com and other Amazon websites.
Travel mugs are essential travel companions, and they have a lot of responsibility.
They can't leak, should fit in cupholders, and keep your beverages at a consistent temperature.
We've gone out and found the best coffee travel mugs for your money. They're also stylish and come in satisfying finishes, from high quality plastics to cool metal. Check them out!
#1

Simple Modern Scout Coffee Mug Tumbler
Not only does this mug look amazing, but it is also one of the most functional in the market, with insulation to keep your beverage's temperature for a really long time without any sweat or burn. It has an inner copper layer for extra insulation, a stainless steel exterior, and a flip lid to prevent any leakage.
#2

Contigo Autoseal West Loop
Contigo makes some of the best travel mugs out there, so they make a great choice if you want to keep your drinks hot for up to five hours and cold for up to twelve hours. Completely leak and spill-proof, and very cool-looking to match.
#3

DYNAMIC SE Travel Mug with Metal Straw and Brush
This tumbler stands out from others because of its metal straws, which make drinking extra secure from spills, apart from ecofriendly. It also comes with a small brush to clean these straws, a sweat-proof exterior, and the ideal size to fit most cup-holders.
#4

Zojirushi SM-SA48-PB Stainless Steel Mug
The travel coffee mug that I highly recommend is the Zojirushi 16-Ounce Stainless Steel Mug. The amount of time that this mug keeps your coffee hot is impressive. You can literally fill your mug up in the morning at work and have it still be hot when you leave at the end of the day. It also has a really nice safety lock that has never come undone despite all the times that I've carelessly thrown my backpack around.
#5

Earthwell Roaster Loop Vacuum Bottle 473ml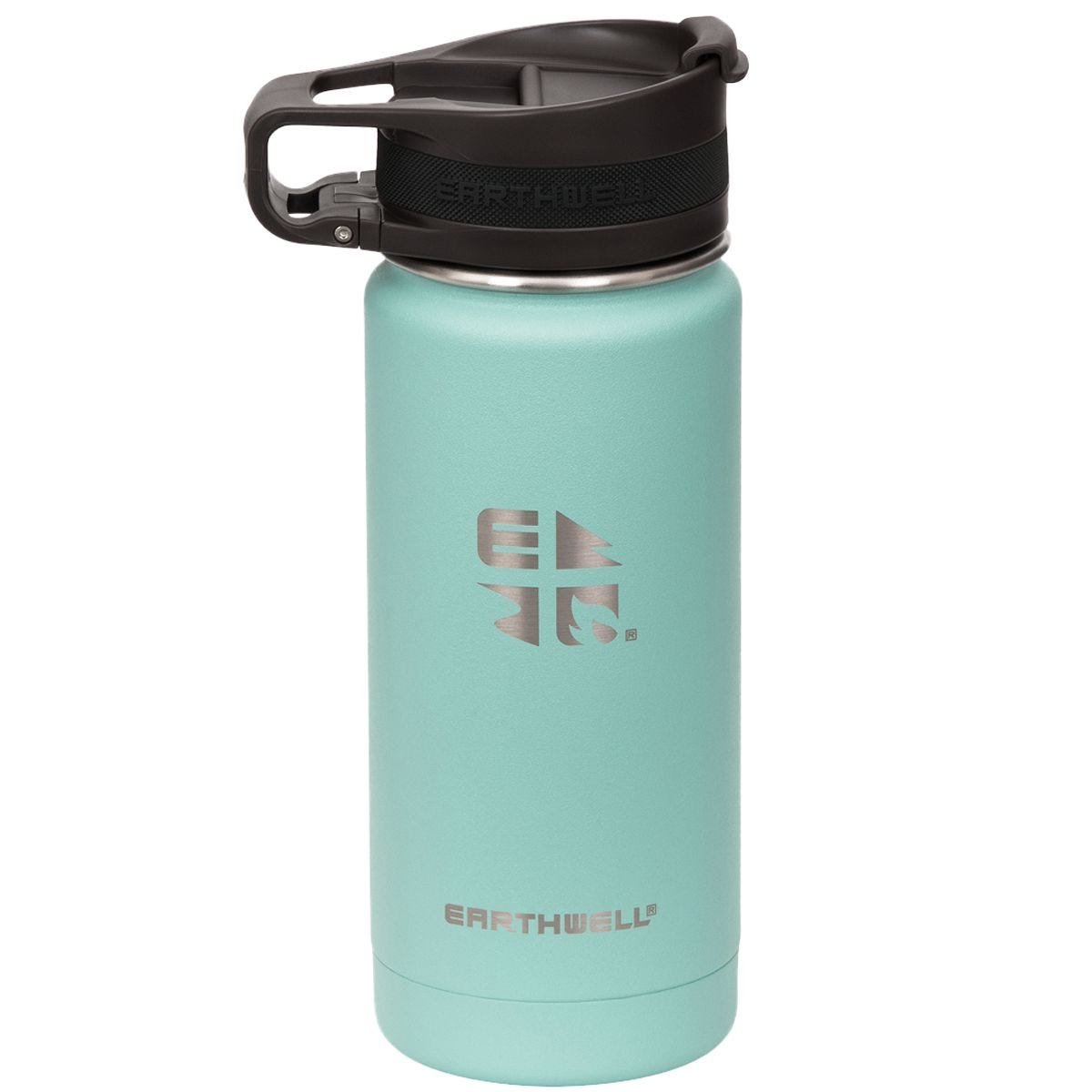 Earthwell Roaster loop bottle is excellent to keep your coffee hot on the go. Thanks to the TempLock double-wall vacuum insulation and multiple layers of the ThermaGrid waffle insulation it can keep its contents hot for up to 10 hours (or iced up to 40 hours). Moreover, it's made of extremely durable and safe 18/8 kitchen-grade stainless steel and comes with a classy EarthGrip powder coat finishing so not only it works great but looks good too.
#6

Ultralight Travel Press
"Every traveler understands the importance of coffee to fuel early mornings and long days, but brewing away from home can be a hassle and no one wants to add extra weight to their suitcase (or daily bag). That's why ESPRO created the Ultralight Travel Press, specifically for travelers in need of a quality cup of Joe.
The Ultralight is the lightest 16-ounce combination French press and hydration bottle in the world. Made with double insulated stainless steel, the press weighs only 9.5 ounces (7.4 ounces as a hydration bottle) and allows coffee aficionados to caffeinate and hydrate anytime, anywhere. Inside, the press houses ESPRO's patented double micro-filters to eliminate sludge and create a cleaner, better cup of coffee every time."
#7

Camelbak Hot Cap 20oz Travel Mug
Sleek, stylish and ridiculously durable for any traveler on the go, the Hot Cap keeps coffee or tea hot for hours on end. Features a strong, leak-proof rotating valve that twists to open or close, allows for drinking from any side, and disassembles for easy cleaning. The universal cap design is compatible with Chute® Mag, Eddy® +, and Hot Cap stainless steel vessels. Recommended for hot beverages up to 195⁰F, 90⁰C.
---
The recommendations of products and books within this article where sourced from industry experts. Their names and websites are listed below.
Who contributed to this article?