This post contains affiliate links. Affiliate disclosure: As an Amazon Associate, we may earn commissions from qualifying purchases from Amazon.com and other Amazon websites.
I found myself wanting to relax this summer, but how can one do that in a way that doesn't involve sleeping all day? Well, one way is to let go of your adult responsibilities and persona, and become a kid for a day. Or month. Here are the perfect tools for this escape:
#1

Kan Jam Ultimate Disc Game
When I first looked at this game, I thought it was pretty silly and almost too simple to be enjoyable. However, after a few minutes of playing, I was instantly hooked. How it works: there are two kans (look like plastic, smaller garbage cans) each containing an open slot in the front.
The goal of the game is to toss the frisbee into the kan (or if you want more points, directly into the front slot). You have a partner who assists you in getting it into the kan so it's a great mix of teamwork and working on your frisbee skills.
#2

Funsparks Slam Ball
My roommate introduced this one to me and I've loved it ever since. The goal is to get the ball onto the net by slamming it, but beware it bounces and can get hard to control! I love games that can be played by small or larger groups and really get everyone involved and active.
#3

The Slyde Grom Soft Top Bodysurfing Handboard
THE MOST FUN YOU'LL HAVE IN THE WATER – The Slyde Handboard is the ultimate beach toy, turning beach days into the time of your life.
#4

Ricoh Theta V 4k 360 Spherical Camera
RICOH's family of cameras is the perfect beach toy for any tech savvy adult. Small, portable and easy to use, the THETA V is an easy way to capture amazing, unique shots and relive your favorite summer memories. The THETA shoots natural 360° still images and videos with high resolution and highly precise stitch image processing.
#5

Float'n Thang
It's a patented new innovating luxury float made of solid closed cell foam. It's durable, and guaranteed not to chip, peel, fade or ever lose buoyancy. It won't deflate even if punctured, dries in minutes, and can support up to 300 lbs, all while weighing just under 3 lbs. The patented Float'n Thang is U shaped to support you under your arms, or can be used in a saddle float position or be elongated to enable you to float on your back.
Oh, I almost forgot to mention, it has 2 built-in beverage holders which encourages and enables you to stay hydrated! Amazon sells single devices for $99, but you can purchase a 2 pack on the floatnthang.com website for $169. We were just named one of Levi Keswick's 2019 luxury gift items for men in the $150-$200 range ($169 2pk).
It's a summer must-have for adults that might need a little relaxation or maybe some low-impact exercise, or just want to have fun and socialize with other adults while cooling off in the water. It's so durable yet so soft to the touch, you can use it on the towel out of the water as well, and be propped up in a comfortable reclined position.
#6

Helix Double Juggle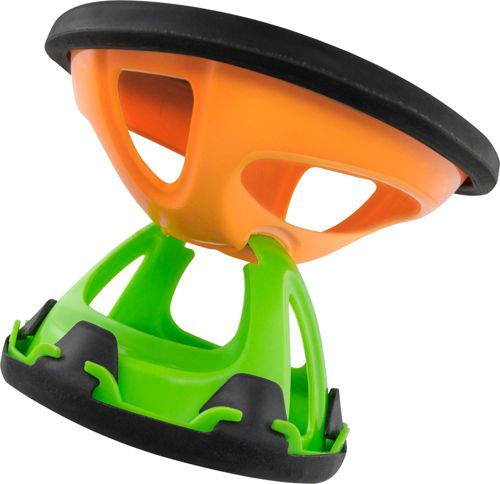 DOUBLE JUGGLE from Yulu Sports:
Double Juggle puts afresh spin on the traditional paddle ball game. New from YULU.
Uses unique bounce technology. Challengeyourself with trick play and skill-based challenges.
Play solo or with apartner!
GREAT SUMMER GAME: Portable, packs easily into beach bag or backpack.
Comes with a double-sided paddle that can also bedisconnected into 2 separate paddles and a soft rubber ball.
---
The recommendations of products and books within this article where sourced from industry experts. Their names and websites are listed below.
Who contributed to this article?