This post contains affiliate links. Affiliate disclosure: As an Amazon Associate, we may earn commissions from qualifying purchases from Amazon.com and other Amazon websites.
Having a stress-free weekend away is completed by a compact yet spacious travel bag that will hold all of your essentials and is easy to carry. Below are five bags that are small enough to be classed as carry-on luggage and possess enough space for your travel necessities and some souvenirs on the way back.
#1

J E M M A – JACKIE 56
This premium travel carry-on carries with it an air of distinguished leisure. In elegant color ways and made with prime Italian, water-proof nylon, this is the perfect bag for someone who loves to travel. The roomy interior can fit a few outfits and up to 4 pairs of shoes in a separate, ventilated compartment. There's also a toiletry bag, laundry bag and a panel on the back so you can slide it onto your suitcase handles.
#2

The SIX: A Carry-on You Effortlessly Push Forward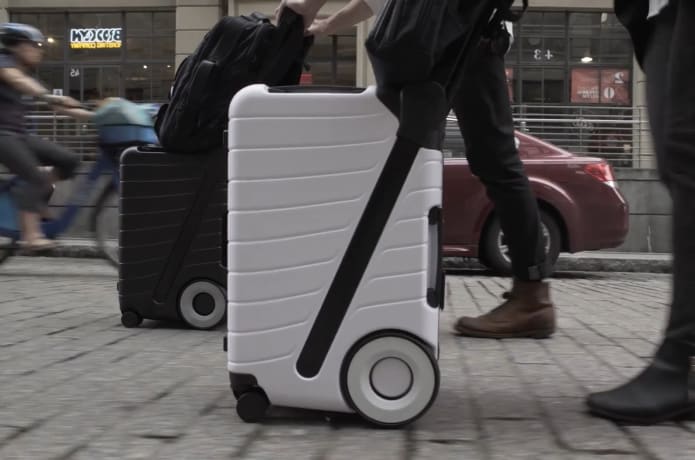 The SIX was created for you, the modern traveler. G-RO's unique take on 4-wheel luggage is the result of unparalleled innovation, incorporating the highest principles of industrial design, engineering and material science. After years of multidisciplinary research and hundreds of thousands of miles of travel, G-RO developed the concept of 'push' luggage.
With the new push configuration, the user's body weight acts as a counterbalance, requiring zero additional energy to roll the bag. It makes maneuvering through crowded places, and navigating through narrow airplane aisles, as easy as pushing a baby stroller.
#3

Briggs & Riley Carry-On Wheeled Garment Bag
Briggs & Riley 2-wheel carry-on with garment bag. It's black but with a subtle orange stripe running through it that makes it easily identifiable on occasion when I do have to check it. Perfect size for a few days away, business trip or long weekend. Multiple pockets to handle stray things like magazines, keys, water bottle in transport…and B&R promises an unconditional lifetime guarantee!
#4

Extra Small Aviator Kit Bag
The extra small aviator kit bag is ideal for anyone who hates checked bag fees. It is small enough to fit under the seat yet so roomy that you can easily pack for a weekend getaway or a much longer vacation. Because of its compact size, nearly all airlines consider the bag to be a personal item. Additionally it is constructed of high quality materials and covered by the Red Oxx No Bull unconditional lifetime warranty.
#5

Landon Carryall Duffle Bag
The best weekend bag for short getaways is the Dagne Dover Landon Carryall. The unique material has 'give' and stretch, so it doesn't break no matter what you are carrying, and has unique pouches and inside organization to help keep everything in order. This is super helpful when taking one or-two-day business trips, as well!
---
The recommendations of products and books within this article where sourced from industry experts. Their names and websites are listed below.
Who contributed to this article?