This post contains affiliate links. Affiliate disclosure: As an Amazon Associate, we may earn commissions from qualifying purchases from Amazon.com and other Amazon websites.
Make your relationship with your close friends even closer by showing that you think about them and their needs constantly, needs such as their traveling gear.
Offer your peeps a gift for the next time they are on the road.
#1

Bodum Vacuum Travel Mug
These days, it is important to travel ethically as well as conveniently, and having a travel mug allows you to avoid buying needless plastic bottles. This one looks good and is also well insulated to ensure that your drink stays hot or cold for a long time. It's served me well on many journeys around Asia.
#2

Sleep Mask and Ear Plug Set
Whether on a long-haul flight, or trying to sleep in a hostel, this will be your ticket to good quality sleep or rest. Plus you don't have to be that person who says: "Do you mind if you guys keep it down?" As I know it can be hard to speak up when you are in a hostel full of people and you are travelling on your own, and you just want to make friends.
My eye mask and ear plugs were so good for me when I was travelling in. Bali, that I didn't even hear the amorous couple in the bunk bed below me, who kept my friend over the other side of the room up all night!
#3

Single & Double Camping Hammock
Who doesn't want to lie in a hammock living the perfect vacation life? Either sipping pina colada by the beach or swing by a farm in the middle of nowhere? Surprise your friends with a hammock which unique enough that you'll surely earn some brownie points.
#4

GoFloats Unicorn Pool Float Party Tube
The water babies out there would surely appreciate you for this thoughtful gift.
#5

Fujifilm Instax Mini 9
Instant cameras are an instant hit with travelers. Ability to create beautiful memories of the trip instantly makes it a great gift for your friends.
#6

OneWorld PD – OneAdaptr
Word's most powerful and safest travel adapter: Meet OneWorld, world's first all-in-one universal travel adapter with built-in USB C PD charger, plus 3 additional USB A ports. The USB C PD port allow you to charge a power the latest USB C powered MacBook Air, MacBook Pro 13/15, MacBook directly without the need of the Apple power adapter.
#7

The Sienna Vela Garment Steamer
The Vela Garment Steamer is a great travel gift because of its portability and lightweight design. It's a great tool to de-wrinkle and sanitize your clothes after they've been stuffed in your suitcase.
In addition, you can sanitize virtually every surface in your hotel room, including bedspreads and pillows (hotel rooms are notorious germ-carriers). It has a Quick-Steam feature that makes it ready for use in under 45 seconds, and provides a steam run time of 14 minutes.
#8

New Moon In Dove Grey Wedge Sandals
OTBT Shoes is the perfect gift for travelers. With innovative genuine ultra light materials, these shoes are designed with comfort and travel in mind. Never pack boring shoes again when traveling. OTBT shoes keeps up with the current trends while supporting your feet so you can roam wherever you want, whenever you want.
#9

Wuru Wool, Premium Blister Prevention & Foot Comfort
So your friend is taking a trip and you want to get them something useful, but not too expensive. Something they won't think of themselves. Wuru Wool is the answer. It's loose New Zealand wool designed to be ripped apart and placed over any hots spots or uncomfortable areas on their feet. Traveling usually means walking.
Lots of walking. Whether your friend is going on a backpacking trip across Europe, or going to explore New York City, having comfortable feet all day makes sure they can focus on their newfound surroundings.
#10

VOLO Hero Hair Towel
The VOLO Hero Hair Towel – the gentlest hair towel ever, designed for healthier hair and an easier, faster dry that helps with frizz. The Hero's plush fabric can absorb up to ten times its own weight in water and cut dry time down by up to 50%!
Best of all – avoid sharing hotel towels with the easy to pack VOLO Hero, featuring a unique, easy-to-use strap that allows you to tuck your hair up with ease.
#11

The One-Minute Gratitude Journal by Pat Wyman
What a beautiful way to find the big meaning in small moments on your trip and remember even years later the things you were most grateful for and what made this trip so remarkable.
Take just a moment a day to look for the moments that matter on the trip and what you're grateful for…it makes the travel and the trip all that much more meaningful.
#12

Cacala 100% Cotton Pestemal Turkish Bath Towel
Turkish Towels are a fantastic travel gift because they're versatile and incredibly useful! They're made of thin but highly absorbent fabric which means they dry quickly and pack down small. In addition to towels, your friend can use them as a picnic blanket, tablecloth, or even a shawl.
#13

RunPhones® Wireless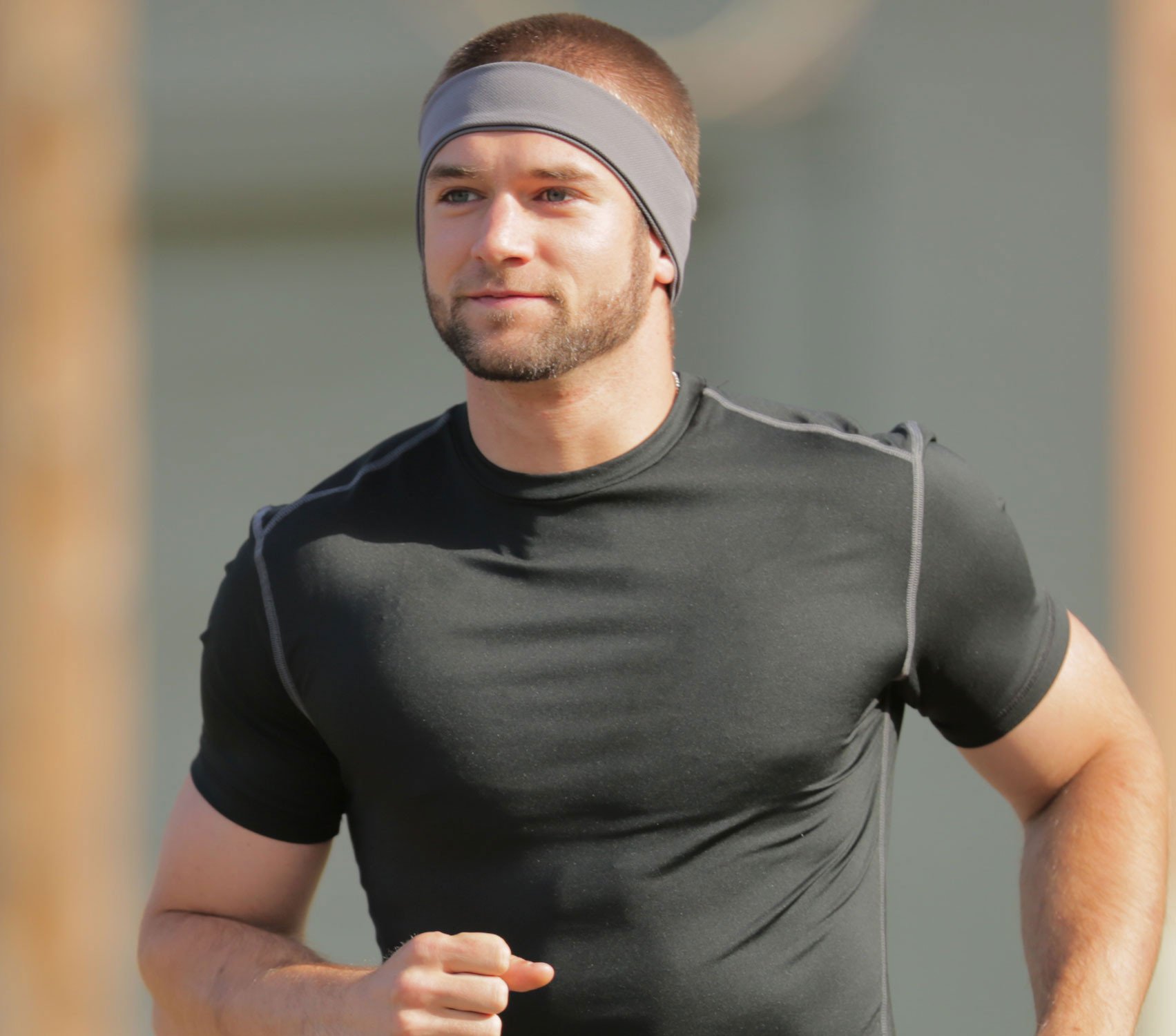 They are tiny headphones in a soft comfortable headband that are wireless and stay put while sleeping, meditating, or traveling on a plane. We also have a version for fitness that wicks away moisture
#14

Landmass Scratch Off World Map Poster
This fun poster/map is for documenting travel both in the US and around the world. It would be suitable for any type of traveler.
#15

50 States, 5,000 Ideas by Joe Yogerst
A great book for ideas of where to travel in the US and interesting things to see and do when you get there.
#16

Destinations of a Lifetime by National Geographic
A great idea book for travel all over the globe.
#17

Asiago And Pepper Jack Cheese Whisps
cheese crisps—light and airy crisps made from 100 percent true cheese, are a keto-friendly, low carb snack! It's also high in protein, and is a perfect snack to carry with you on your way to the gym or while traveling.
#18

Physix Gear Compression Socks
The worst thing that can happen when you're traveling a long way is sore feet, these socks will make the trip more enjoyable and less stressful for your friends .
they compress the leg and and support the ligaments of the foot + they are Double stitched with Anti-Bacterial Fabric so you don't have to worry about getting feet acne.
#19

Adventurist Classic by Adventurist Backpack Co.
The Adventurist Classic is a great gift for friends that love to travel (or travel for work) or for friends that want a gift that gives back. The Adventurist Classic is made with ultra durable and water-resistant 1000D Polyester and synthetic leather.
It fits perfectly underneath the seat of a plane as a personal item or carry on, and is a great size as a daypack for travelers.
#20

Anti Wrinkle + Energizing Eye Masks
Did non-stop traveling and jet-lag leave you suffering from dark circles, puffy eye bags and general fatigue around your eyes?
Perk up your eyes as if you've just had 8 hours of sleep with these eye masks! The collagen and minerals of this eye mask revitalize and rejuvenate the delicate area around your eyes, leaving you looking more awake and youthful.
#21

Universal Travel Adapter
Contributor: Priyadarshini Rajendran from Glorious Sunrise
A universal travel adapter is the most useful gift you can give a friend who loves traveling. It saves them from facing situations where they cannot charge their phone for emergency or laptops because they are in a different country with different electrical outlets.
This adapter has different electrical pins that they can connect to in any country that fits their standard. Saves the day!
#22

Trtl Super Soft Neck Support Travel Pillow
Whether they're on an overnight flight, or resting during a long road trip, every traveler needs a comfortable travel pillow. With the Trtl Pillow your friend will love being able to ride in comfort. This pillow, which is more like an ultra-comfortable scarf, has a hidden support structure that gently cradles the head.
#23

Epicka Universal Power Adapter
Everyone who travels knows the hassle of having to pack a bunch of extra cords. And even worse is packing them, only to find out they don't match the outlets in your hotel room. Save your friends the hassle with this super convenient power adapter so they'll never have to worry about not being able to plug up their electronics again.
#24

catstudio Thermal Bottles
Whether you're heading to Florida for a girlfriends' trip, to Las Vegas or Napa for a bachelorette or bachelor party, a road trip across the country, or an annual beach trip to Cape Cod, catstudio creates tangible keepsakes that are thoughtful, and meaningful bringing smiles, laughter, stories and memories. Enjoy the adventure!
#25

SPOT X
The device operates through satellite networks outside of cellular range. This means that travelers can use it while exploring remote places or in foreign countries if they don't want to pay for international cell service.
In addition to two-way texting, it has tracking capabilities so travelers can share a link so loved ones back home can follow their adventures.
#26

Custom Molded Earplugs
Decibullz creates DIY moldable earplugs and earphones. You mold them — much like you would a mouthguard — to the exact shape of your ear. I've included some information below.
Decibullz Custom Molded Earplugs are easily and quickly fitted to the exact shape of your ear. This creates a perfect fitting, low-profile earplug that will never hurt, never fall out and provide superior noise isolation. For a more comfortable fit sleeping, working, or everyday life.
#27

The Cocktail Bitters Traveler's Set
It's a set of five-20mL cocktail bitters. TSA-friendly, it's a great set for spicing up in-flight drinks, or as a companion on your next excursion. There are five flavors included: Celery, Old-Time Aromatic, Orange, Creole and Jerry Thomas' Own Decanter Bitters.
---
The recommendations of products and books within this article where sourced from industry experts. Their names and websites are listed below.
Who contributed to this article?