This post contains affiliate links. Affiliate disclosure: As an Amazon Associate, we may earn commissions from qualifying purchases from Amazon.com and other Amazon websites.
This article showcases our top picks for the best travel gifts for moms. We reached out to industry leaders and experts who have contributed the suggestions within this article (they have been credited for their contributions below).
We are keen to hear your feedback on all of our content and our comment section is a moderated space to express your thoughts and feelings related (or not) to this article This list is in no particular order.
This product was recommended by Mindy Yang from Perfumarie
Mom can travel and take NoMo anywhere. This version with a travel pouch comes with a refill AND a handy funnel, so mom and grab her NoMo and go! We love it for the whole family, especially for extended holidays! Charm only your own species with the fresh scents of Florida orange, Sicilian lemon, French lavender and insect-repelling peppermint, geranium and cedarwood. As a fine fragrance: spray NoMo as you would your favorite perfume. Against insects: spray generously on legs, feet and all exposed skin. Reapply every 2 hours to maintain protection. For best protection, layer with NoMo shower gel and NoMo body crème.
---
This product was recommended by Brett Manders from flightdeckdoor
This would be a great gift for any Mom travelling or planning to, as it explains a great deal of what they will see and hear during a commercial airline flight. Flying is done with such regularity now, we often take it for granted. Since 9/11 the Flight Decks of airlines has been off limits to the travelling public. This will demystify the art of airline travel and who doesn't have a question, they would like to ask a pilot? This will give you the answers in a simple easy to read book with no technical jargon.
---
This product was recommended by Olga Horvat from Royal Dogs Gallery
When Dogs Fly is designed to quiet your mind with 30 exquisites illustrations and inspirational quotes. Choose from a variety of humorous, whimsical, inspirational, patriotic, or mind-intriguing patterns of dogs and airplanes. It can help a mom unwind and relieve her tension during this stay-at-home time.
---
This product was recommended by Lucy Reyes from Cheers to Life Blogging
Regardless whether traveling alone or with your family, travel organizers helps keep everything super organized. It also keeps things from getting lost (especially the smaller items). When arriving to the hotel, you can easily unpack the organizers from the luggage but still keep everything inside them throughout your trip. Oh and who said moms pack light? Because I sure don't and organizers like these help me pack whatever I want because they require less space. So overall, it's an awesome gift for any mom who will be traveling anywhere.
---
This product was recommended by Teka Thomas from Vrypac LLC
Out sleek backpacks cut a striking image, but are very practical as they hold the daily necessities. They are great for athleisurewear and travel as they align with your body and stay out of your way.
---
This product was recommended by Bryan Sarlitt from Nomader, Inc.
The uniquely portable Nomader® Collapsible Water Bottle makes on-the-go hydration incredibly easy and sustainable. Designed with a flexible BPA-free silicone body, the reusable Nomader bottle can be easily rolled-up and stowed away when not in use, yet it's as comfortable to drink from as a hard-sided bottle. This innovative travel water bottle is leakproof, freezable, dishwasher safe, and backed by a lifetime warranty. Affordably priced and available in a variety of stylish colors, the eco-friendly Nomader bottle is the perfect gift for moms who enjoy traveling, hiking, working out, and keeping healthy.
---
This product was recommended by Egle from Tinggly
Tinggly is an experience gift company. One gift buys you an entire collection of amazing experiences for the recipient to choose from. The recipient can then choose the one experience they want, and book it with just a couple of clicks. Simple! Also, there is no expiration date, so the recipients can book their dream experience at any convenient time.
---
This product was recommended by Oleksandra Koval from WoodyWoodUA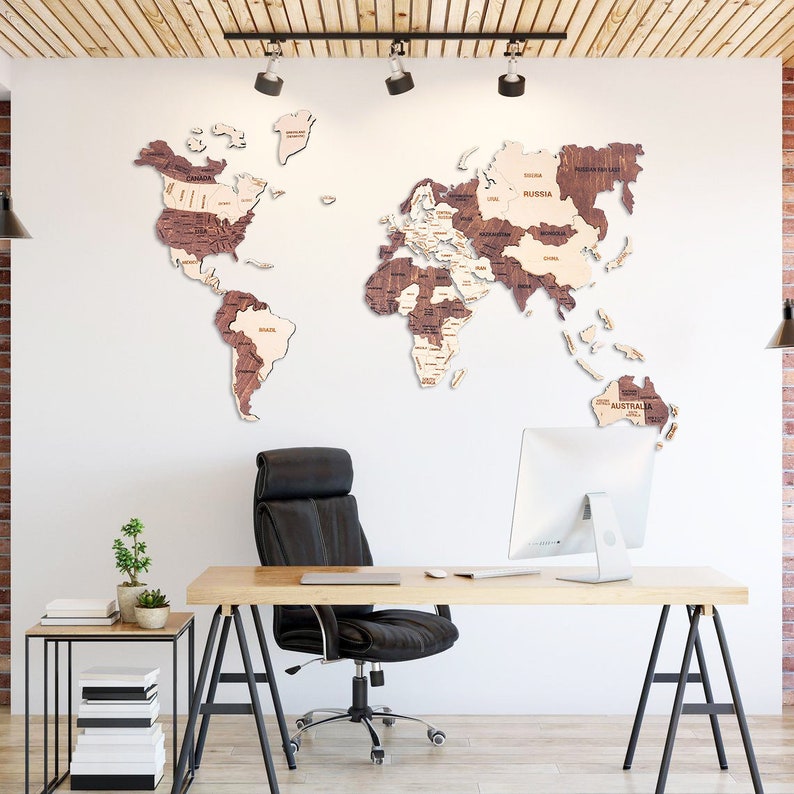 You are a real traveler or you are only dreaming to become, then for sure you need some place or thing to keep your memories and emotions. And what can be better than a natural wooden map with pinged places of your journeys. Such map is a perfect home decor, that can decorate the walls of your living room, bed room or even office. It is also a perfect gift for any occasion. Show your love and care to your family, friends, beloved or just colleges. Buy a present for emotions and be sure that it will be appreciated!
---
This product was recommended by Ellis James from Ellis James Designs
The Ellis James Designs Makeup Train Case fits everything your beauty regime needs, including your hair straightener! This dual-purpose travel and organizer bag has enough space for your favorite cosmetics and more. No need to worry about what you can't bring with you; bring it all! Classic in design and functional in purpose, it's a beautiful addition to any vanity or luggage. Whether for adventures or for home organization, it's the perfect gift for travel and adventure-loving moms.
---
This product was recommended by Karen Rosenblum from Spain Less Traveled
Packing cubes are a lifesaver, especially for those who are trying to travel light and save on baggage fees. The travel company Flight 001 makes my favorite packing cubes out there. They're durable, stylish, practical, user friendly, and pack easily and evenly. I've taken my set around the world and back several times plus on a transatlantic move. Totally worth the investment for moms who want to trendy, AND organized. These packing cubes will last forever!
---
This product was recommended by Greg Waloszczyk from Trouvaille Global Ltd.
Having a unique mug you coloured yourself and getting that sometimes much needed motivation from the prospect of an upcoming trip is wonderful. Each set includes a mug with world or USA map along with a special green ceramic pen to color in visited places. Ink becomes permanent after baking and is microwave and dishwasher safe. Sustainably produced in Europe.
---
This product was recommended by Rebecca Adams from My Alchemy Skin Care
Keep mom looking beautiful with a naturally glowing complexion at any altitude. This little pouch is all she'll need.
---
This product was recommended by Rebecca Adams from My Alchemy Skin Care
Conditions hands while it sanitizes plus has a garden-gorgeous aroma. Perfect to carry with you when hand washing isn't possible. Protects mom against germs wherever she is.
---
This product was recommended by Sherry Trautman from Traveling Michigan
I believe every smart mom needs a secure way to carry her credit cards and belongings while traveling. This lightweight crossbody messenger bag has RFID blocking for her credit cards, slash resistant side panels and a slash resistant shoulder strap. Plus, it fits a water bottle in the side pockets! This stylish bag comes in a variety of colors, the shoulder strap is adjustable and several compartments are lockable which is perfect for travel and everyday use.
---
This product was recommended by Rebecca Green from Bleat PR
The ultimate photography tool for the budding or professional photographer, the original LensPen is designed to remove fingerprints, dust and grease and is perfect for keeping camera lenses whilst camping. It comes with a handy retractable dust removal brush, and a special non-liquid cleaning element designed to never dry out. The full size LensPen comes with a round cleaning tip that measures 12mm in diameter – the cleaning tip is slightly concave to match the slightly convex shape of a lens.
---
This product was recommended by Erin Toohey Naso from The Hanger Valet
The Hanger Valet sold exclusively on the company website, is offered in two sizes – adult and child. For your guide, the adult size is ideal.
---
This product was recommended by Melissa Edwards from Dunn Pellier Media, Inc.
Hocsocx's CompressSocx are renowned for their exceptional comfort and ability to stay in place and not ride up or fall down. The extensive collection of fashion and basic compression socks are made from a breathable blend of polyester, nylon and spandex. Compression by design helps blood flow to the muscles, aiding in muscle recovery for athletes, and energizing tired, achy legs and feet for those that sit or stand for long periods of time – great for travel! Compression has also been shown to help with reducing spider veins, varicose veins and other blood flow insufficiencies. The socks provide a physical barrier that can also help prevent buildup of sweat, germs and orders, and can help in extending the life of your shoes. The Hocsocx collection is available in Women's, Men's, Boy's, and Girl's sizes.
---
This product was recommended by Lina Buk from Nail Art Gear
Airplane travel is stressful enough when you're well-rested, but when you can't get any sleep, it can feel like a long-winded nightmare. For only $23, you can get your hands on this Bluetooth sleep mask from Joseche to help you catch some z's while soaring through the sky. The eye mask feature perfectly blocks out light while the thin, built-in Bluetooth speakers allow you to cancel out travel noise with your favorite tunes. The battery lasts for up to 9 hours – perfect for your long flight!
---
This product was recommended by Olivier Ganeff from Cruise & Sea
This product would make a great gift and comes in very handy for organized moms who like to keep things charged and ready to go. It's one of those things you don't know you need until you have one. It's easy to pack, small, compact and lightweight and takes up very little luggage space. Besides being perfect for cruises (NO SURGE PROTECTION to adheres to cruise lines safety & security policies), it's also ideal for any kind of travel. Perfect for private boats, RVs, trailers, hotels, resorts, dorm rooms and anywhere at home in areas lacking outlets like the kitchen, bathroom, office, garage and bedside.
---
This product was recommended by Karen Block from Great Useful Stuff
Moms have lots of devices they can't travel without. Our Travel Media Pouch offers a streamlined alternative to traveling with electronic devices from smartphones, earbuds, smart watches and e-readers and all of their charging cords, buried in luggage! Keep ALL of your family's necessary travel gadgets together in one easy-to-use travel bag. Our Travel Media Pouch is the best case to keep Mom's favorite electronics accessible, safe and secure while traveling.
---
This product was recommended by Karen Block from Great Useful Stuff
This travel valet prevents busy Moms from forgetting their essentials like car keys, cellphones, passports, sunglasses and a few cosmetics while traveling. Simply unfold, and set it out on any surface to keep things all in one place. The bright yellow interior will catch your eye so it doesnt get left behind in hotel rooms!
---
This product was recommended by Ashley Phillips from Ashley Phillips Communications
Lightweight and easy to dress up or down, these comfy flats are great for travel. These sustainable shoes are made completely from ocean plastic utilising Giesswein's 3D-Knit technology which makes extra-smooth and soft plastic yarn into a lifestyle shoe. The shoe also contains a sturdy support sole, which is biodegradable. Using these new technologies – Giesswein is making sustainability fashionable and helping us all to reduce our environmental footprint and put our best foot (and shoe!) forward.
---
This product was recommended by Ashley Phillips from Ashley Phillips Communications
What's a better gift than the WORLDS LIGHTEST SNEAKER at 160g! Stylish, comfortable and lightweight these sneakers are great for the fashionista or guy on the go! Machine washable also means they can be used for any adventure without worry. They feature a thin layer of our unique 3D-Stretch Merino wool material, and a sole made of EVA material which makes them extra lightweight. Since they're made of Merino wool, our Wool Sneakers are both temperature- and moisture-regulating–which means sweat-free feet. Your search for the perfect socks can also finally come to an end…you can wear our Wool Sneakers without socks, going totally barefoot!
---
This product was recommended by Claudia Montez from Isabelle Grace Jewelry
Keep mom safe on travels with the Travelers Ring from Isabelle Grace Jewelry featuring the St. Christopher medallion. St Christopher is well know as the patron saint of travelers. Worn for safe travels and protection from harm. This gorgeous ring looks beautiful worn alone and pairs wonderfully with many of our other stacking rings. This ring is hand made in our studio at the time of order in sterling silver or 14kt gold filled. Medallion is 9mm x 13mm wide. $58
---
This product was recommended by Jennifer Cosco from MomRemedy
This travel size MomRemedy Everything Household Cleaner can go in your purse, diaper bag, beach bag, and vehicle so you will never be without your magic spray! Great for use on the go for messes and stains. It's hydrogen peroxide based and non-toxic so you don't have to worry about keeping your surroundings clean and your family safe.
---