This post contains affiliate links. Affiliate disclosure: As an Amazon Associate, we may earn commissions from qualifying purchases from Amazon.com and other Amazon websites.
Traveling can be stressful and to ease that stress you want to make sure that your essentials are with you at all times. Smart, stylish and convenient, the below list details carry-ons that are easy to transport, lightweight and can fit in all of your essentials and then some!
#1

The Everywhere Bag
It is the perfect sized-personal item that fits under the seat in front of you. It comes in a variety of colors and you can get it engraved so it's personalized. There are plenty of pockets for easy access to your things during the flight, and the material is high quality and sturdy. It also has a sleeve so it fits perfectly on your roller bag. This is bag is a game-changer for frequent travelers.
#2

Lo & Sons Catalina Deluxe
I've actually been pulled aside before to put this in the metal container when you give them your ticket and it fit, no problem! It's super flexible which makes it easy to put lots of clothes in. They have tons of fabulous pockets on the inside so you can keep everything organized. It also has one of those zippered pockets on the outside so you can slip it over your luggage if need be.
My favorite part is the separated, zipper shoe compartment on the bottom. As silly as that sounds, I'm a huge germaphobe and hate mixing my shoes with my clean clothes. It also gives me more space to fit everything which is key to an excellent carry-on. I highly recommend!
#3

J E M M A – EMMA Traveler 39
The EMMA Traveler 39 is the 2-in-1-fits-everything bag with a removable chic clutch. Complete with a carry-on sleeve and rendered in stunning Italian leather, it features a clever storage system including a removable center that allows for extra storage to fit up to a 17 laptop.
#4

J E M M A – JACKIE 56
This premium travel carry-on carries with it an air of distinguished leisure. In elegant color ways and made with prime Italian, water-proof nylon, this is the perfect bag for someone who loves to travel. The roomy interior can fit a few outfits and up to 4 pairs of shoes in a separate, ventilated compartment. There's also a toiletry bag, laundry bag and a panel on the back so you can slide it onto your suitcase handles.
#5

The Carry-On
The Carry-On from Away is the best carry on travel bag because it's lightweight yet durable. The polycarbonate case protects my valuables without weighing the bag down. It's also incredibly convenient that the bag comes with a built-in portable charger. Having the charger for my devices always makes me feel more secure while traveling. Away's Carry-On is perfect for weekend getaways, too.
#6

CabinMax Lyon Carry On
Kate Sullivan from Secret Fares: As a travel pro, I've used a LOT of different bags, and the best carry-on I've found is the CabinMax Lyon Carry On. It's guaranteed to meet cabin criteria on nearly every airline, including the incredibly restrictive European budget airlines like RyanAir. It's also incredibly lightweight, which means you can pack more stuff without worrying about going over airline weight quotas. Better still, it has hidden backpack straps along with wheels, meaning you can easily maneuver in any circumstances, from a crowded airport to bumpy cobbled streets. It even has a 3-year warranty. I swear by it for all my travel!
#7

Osprey Packs Porter 46 Travel Backpack
Charles from TripTins: I have actually been traveling for the last 4+ months now and have been using the Osprey Porter Series 46 travel bag. There are several reasons why I am suggesting this product:
Size: It is not too big and not too small. It fits everything one would need for a trip whether it be a one week trip or a multi month trip like mine. I have never had an issue with carrying it onto airplanes (and I have taken 20+ flights with it), and it always fits in the overhead bins.
Compartments: Unlike other travel bags out there, the Osprey Porter has multiple compartments to put belongings in. There is the main compartment with two side zippers, a laptop compartment, and two other zippered sections that can make accessing items very easy on the go.
Style: What I also love about the bag is you are not stuffing all your belongings into a small opening. The bag actually zips all the way around, making it a great dual purpose bag (somewhere between a backpack and suitcase). You can also secure the bag with a couple straps when you are on the go.
#8

Samsonite Winfield 2 Hardside Luggage
The bag is a stylish, durable carry-on that gives you the convenience of wheels without having to sacrifice size. Made to easily travel wherever you need to go, it can take the harsh treatment that goes with being on the road.
The exterior of this model is made of a lightweight shell that easily hides any scratches or scuffs. It has a custom design so that it isn't just a plain carry-on. The side-mounted TSA lock ensures that your stuff is secure while you travel. There are two handles, one for lifting your bag and one that is retractable for easier movements. The wheels are multi-directional so that you can change direction quickly when running to catch a cab or looking for directions.
The inside of the carry-on has pockets to help you keep your clothing, accessories, and other items organized. You can use the cross strap to keep your clothes from moving around as you go from place to place. The interior divider can keep other items from falling into the clothing area so that items like toothpaste, lotions, and other bathroom supplies don't spill all over your clothes.
The overall dimensions of the Winfield 2 are 23.0 inches by 14.5 inches by 9..5 inches, making it able to fit into smaller spaces. This is larger than a few airline carry-on standards, so make sure to check the requirements before bringing your Winfield bag on your travels. The large dimensions do make it easier to fit more into your carry-on, which is perfect for longer trips or trips that require a more diverse range of outfits (such as places that are hot in the day and cold at night).
#9

Kelty Redwing 44 Backpack
The Kelty Redwing 44 is the largest backpack allowed as a carry-on (22 x 14 x 9). I've successfully worn it onto dozens of flights and have never had to check it. It has a proper hip belt that offers great back support and allows the bag to be worn for long periods at a time. It is front loading and the weight distribution is awesome. It has so many great little features including laptop storage, water bottle holders that can actually fit water bottles, an organization pocket, air panel for back airflow, extra side pockets, and more. I'd recommend it to anyone who is looking for a great carry on bag.
#10

TUMI – Voyageur Madina Cosmetic Bag
Kira Brereton from KiraBrereton: I love the TUMI carry-on because I never have any problems with carrying my luggage on board, it is sturdy and has convenient compartments that help me keep my clothing organized.
#11

International Office 4 Wheeled Carry-On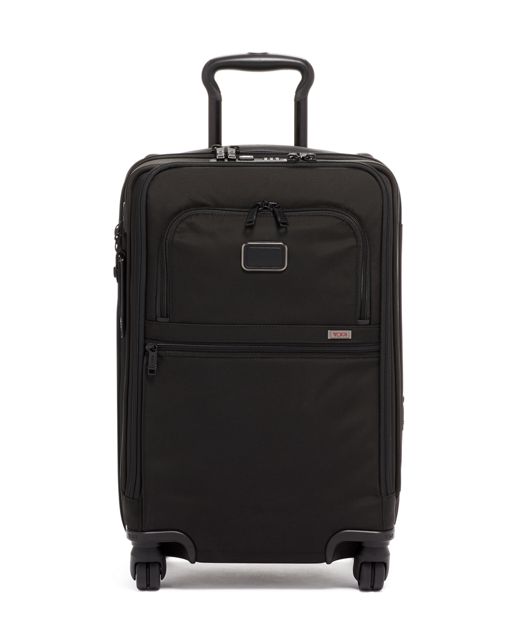 Kira Brereton from KiraBrereton: I am a fan of the TUMI Cosmetic Kit because it has handles, a hanger, 6 compartments and it fits everything!!! I normally need to carry products for both curly and straightened hairstyles and this bag works wonders for me. It also fits all of my other far less important toiletries lol.
#12

Lo and Sons Catalina Tote
Kira Brereton from KiraBrereton: The Lo and Sons Catalina tote is a new luggage fav of mine. It is great for my electronics, shoes (there is a separate lower compartment) and in-flight essentials. I also love that it has a pocket that fits over the handle of my carry-on suitcase making it easy to transport everything with one hand.
#13

G-Ro Carry-On Classic
Justin Walter from Around The World with Justin: I've been traveling my entire life and hands down the best carry on travel bag/luggage I've ever had is the G-Ro Carry-On Classic. For starters, just look at its wheels. Sometimes size does matter and in this case the G-Ro's wheels are huge, don't take up any room in the bag and wont break off like normal carry on wheels. Its sleek design offers smart features like phone charging, security locks and even comes with GPS location services. Every time I use this bag, no joke travelers all over the world stop me and ask where did I get it. I then gush over it as the best carry-on I've ever had, because it truly is.
#14

Jansport Big Student backpack
Erika van 't Veld from Erika's Travelventures: What started for me as a staple backpack when I was a student at university, has stuck with me during my travels. It's a perfect balance of being just large enough to stuff a week's worth of clothes into, but somehow still small enough to fit under the airline seat in front of me. The two large pockets are perfect for organizing shoes, clothing or holding a laptop. There are also many small compartments in the front to hold little things like valuables, sunglasses, and pens for immigration. I have personally embarked on several week-long trips, to Peru, Morocco, and Eastern Europe, carrying only this Jansport Big Student backpack.
#15

Black Garment Luggage Carry-On
This carry-on approved roller embodies the brand's balance between function and style with an innovative design allowing you to travel with all of your delicate pieces, wrinkle-free. It also gives maximum packing space and makes sure you fit everything you need with it's special compression system. Your worries of carrying your garment bags with you will wash away with this high-tech piece of luggage.
#16

Gray Training Duffel
Lightweight and waterproof, this duffel was created to be the most stylish and functional bag for a weekend trip. Completely packed with a laundry and shoe bag, it has all of the compartments you need to pack to the fullest. Don't fret about using a shoulder bag as a carry-on because Hook & Albert has mastered the standard traveling duffel without the bulk.
#17

Women's Bordeaux Leather with Gold Hardware Weekender Bag
Weekend trips made quick, easy and stylish with the ultimate travel bag. Lined with two accessory compartments, shoe pockets, and other storage space, it not only looks good in pebbled leather on the outside, but meets all of your carry-on needs on the inside, as well.
---
The recommendations of products and books within this article where sourced from industry experts. Their names and websites are listed below.
Who contributed to this article?