This post contains affiliate links. Affiliate disclosure: As an Amazon Associate, we may earn commissions from qualifying purchases from Amazon.com and other Amazon websites.
For business trips, you need as much convenience as possible and that starts with the luggage that you select. Sleek, lightweight and having various compartments are just some of the things required for trips where work comes first. Below is a list of leading carry on luggage options to make your next work trip as straightforward as possible.
#1

Duchamp London Getaway Backpack
This expandable backpack suitcase is lightweight, multi-purpose and holds up to a week's worth of clothes and shoes – ideal for those who want to travel hands free.
The bag expands from a total of 4 wide to 12 wide and fits perfectly in the overhead bin.
The bag includes a laptop and iPad compartment, as well as a battery pocket with a built-in USB port for charging devices on the go
Allows you to travel hands free and with ease. Once the bag has reached its full capacity, it still fits in the overhead bin on flights. Highlights include: two expandable zipper compartments, tech-friendly pockets, side-security straps with padding, a USB port and cable, a battery pocket, a bottle zip pocket, and a comfortable mesh covered back.
#2

Speck Travel 22-inch Carry-On – Black
This high-quality luggage designed for the bleisure traveler, the person 25-35 who is taking 6 plus trips a year for business and leisure.. Speck Travel wants to inspire this community of bleisure to squeeze every bit of awesome into their trips by creating a stress-free product that encourages these travelers to extend their business trip into a weekend stay with friends, in essence, taking more with you but with experiences, not physical items.
The 22-in carry-on is essential for those spontaneous work or play trips. This chic and compact carry-on is designed to accommodate most airlines overhead space. Priced at $200, the 22H by 14W by 9D carry-on features a light and durable polycarbonate outer shell created to protect against TSA and turbulence, a sturdy mesh divider equipped with 3-pocket organization to keep hurried travelers organized, easy glide retractable handle, 360 shock dampening double spin wheels for a smooth transition from the airport to hotel, and an integrated TSA lock to keep valuables safe and secure-so that travelers can focus on what matters most.
In addition to the high quality products, Speck Travel is creating a platform for the community of bleisure travels by luanching with a community of seven like-minded business ambassadors including recording artist Kate Voegele, as well as entrepreneurs like Laura Lawson Visconti and Peter Voogd, who are part of the community of bleisure travelers sharing how Speck Travel helps them carry the tools they need to make their bleisure lifestyle a reality. To check out the community of Speck Travelers visit their Instagram @SpeckTravel.
Right now, the Speck Travel product lineup is comprised of high quality luggage and backpacks designed with the professional traveler in mind, giving them confidence that all their essential gear is protected whether they are on a quick turnaround trip, or thousands of miles away from home-but I think our community comes to life once they nail the big presentation and set off in search of the best hole-in-the-wall restaurant or an eclectic street market where they make lifelong connections says Robert Hales President of Speck. With almost 20 years of experience in helping consumers stay mobile and protect what matters most, our next venture is protecting bleisure travelers on the go.
#3

AmazonBasics Hardshell Spinner Suitcase
This suitcase is the perfect size for business travel since you can carry it with you while still having plenty of room for everything you need. The brushed hardside gives it a professional look, while its 360-degree rotating wheels make it comfortable to take anywhere.
#4

Travelpro Platinum Elite 21" Expandable Carry-on Spinner Suiter
Full of pockets, zippers, and compartments, this carry-on comes with a USB port and powerbank pocket, perfect for charging your laptop and tablet without any hassle. Its inner compartments ensure your clothes stay neatly folded, and its dynamic wheels and adjustable handle make moving easy.
#5

American Tourister Belle Voyage Softside Luggage
This brand has amazing designs, and this carry-on is perfect for short business travels thanks to its light but resistant materials. With plenty of pockets and compartments, as well as beautiful accents and details, this suitcase is made for traveling with style.
#6

Vera Bradley Iconic Grand Weekender Bag
Carry everything you need in this perfectly divided carry-on, with a pocket for everything from your charger to your passport. It has lots of space on the inside, perfect to pack everything you might need on a business trip. You can carry it as a handbag, a duffle, or even attach it to your suitcase by a special sleeve it has on the back.
#7

Samsonite Winfield 2 Hardside Luggage
With a hardshell exterior and smart divisions on the inside, this suitcase stays within the weight and size of most air travel restrictions. It's easy to move thanks to its multidirectional wheels and adjustable handle, and stays safe with side-mounted TSA locks.
#8

The Blue Smart One Carry On
The tech features in this carry on luggage are not only impressive but highly practical and useful because they help keep your luggage safe as one travels for business. It has GPS, remote locking, and a charging mechanism.
#9

Traveler's Choice Bell Weather Expandable 20″ Spinner Luggage
Sleek aluminum handle system with push-button locking provides multiple-stage height adjustments for optimal comfort. Smooth 360-degree dual spinner wheels provide effortless maneuverability and stability
#10

J E M M A – EMMA Traveler 39
The EMMA Traveler 39 is the 2-in-1-fits-everything work bag with a removable chic clutch. Complete with a carry-on sleeve and rendered in stunning Italian leather, it features a clever storage system including a removable center the allows for extra storage to fit up to a 17 laptop or thicker items like binders/books/folders.
#11

TUMI – Voyageur Madina Cosmetic Bag
Kira Brereton from KiraBrereton: I love the TUMI carry-on because I never have any problems with carrying my luggage on board, it is sturdy and has convenient compartments that help me keep my clothing organized.
#12

Shacke Pak – 4 Set Packing Cubes
Kira Brereton from KiraBrereton: I adore the Shacke Pak packing cubes because they are stylish, keep my packing under control and act sort of like compression bags to keep my clothing nice and compact in my suitcase.
#13

International Office 4 Wheeled Carry-On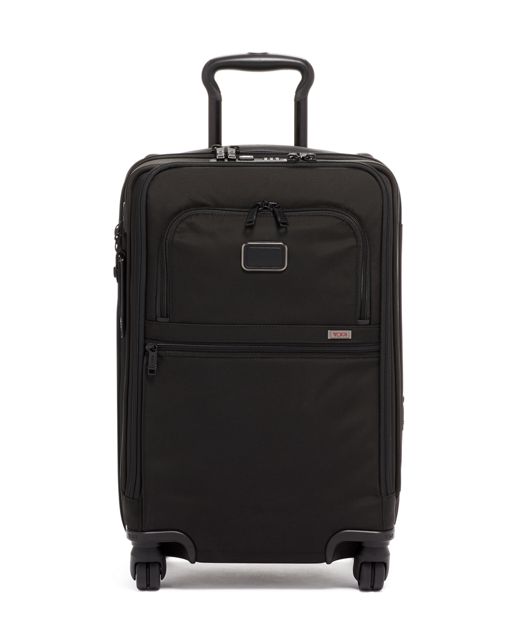 Kira Brereton from KiraBrereton: I am a fan of the TUMI Cosmetic Kit because it has handles, a hanger, 6 compartments and it fits everything!!! I normally need to carry products for both curly and straightened hairstyles and this bag works wonders for me. It also fits all of my other far less important toiletries lol.
#14

Lo and Sons Catalina Tote
Kira Brereton from KiraBrereton: The Lo and Sons Catalina tote is a new luggage fav of mine. It is great for my electronics, shoes (there is a separate lower compartment) and in-flight essentials. I also love that it has a pocket that fits over the handle of my carry-on suitcase making it easy to transport everything with one hand.
#15

OneNine5 Eco-Conscious Travel Wash Bag/ Dopp Kit
OneNine5 have reimagined a travel essential – the wash bag/ dopp kit. Made from a water-resistant fabric, the durable bag is also manufactured with a lining constructed from 100% recycled plastic. With carefully considered compartments to fit all your essential toiletries, they've designed a reusable TSA clear liquids bag for regular business travellers to breeze through airport security, hassle-free.
#16

Gladstone Leather Briefcase
Naomi Rose from Pad & Quill: We're Pad and Quill, and we make tech-oriented leather goods! One of our most popular leather bags is our Gladstone Briefcase. There's plenty of room inside for everything you need on a commute, and then it becomes the perfect briefcase for the office.
It's our famously durable full-grain leather paired with hand-pounded copper rivets at key stress points. We're so confident in our craftsmanship, we back it up for the next 25 years.
---
The recommendations of products and books within this article where sourced from industry experts. Their names and websites are listed below.
Who contributed to this article?