This post contains affiliate links. Affiliate disclosure: As an Amazon Associate, we may earn commissions from qualifying purchases from Amazon.com and other Amazon websites.
A laptop is a great item to bring on travels. Being able to write, research things to do, or even work remotely allows you that extra flexibility while you travel. We know that laptops are expensive items that we can get nervous about while travelling.
These backpacks are the answer to your worries. Their dedicated laptop sleeve will fit any laptop and protect it from bending, or scratching by separating it from all your other items. For this list, we also made sure these backpacks fit our criteria for a travel backpack. Ventilated backs? Check. Padded straps? Double check. Waterproof & durable material? Double check.
So all that's left for you to do is pick your favorite design at the budget that works for you. We've made sure to give you a spectrum of options so you will find a backpack that's perfect for you travels on here instead of scrolling through hundreds of pages online.
---
This product was recommended by Osama from Outfitrs
Fantastic backpack. Great size – not too big, stands up for easy "live out of" convenience, and lots of compartments highly recommanded.
---
This product was recommended by Majid Fareed from James Bond Suits
This is high quality backpack for travelers. It has huge space without being ugly bucky and it is very beautifully designed, it has multiple pockets you can carry your 15.6 inch laptop easily in it with more accessories. It is water-resistant and anti-theft too.
---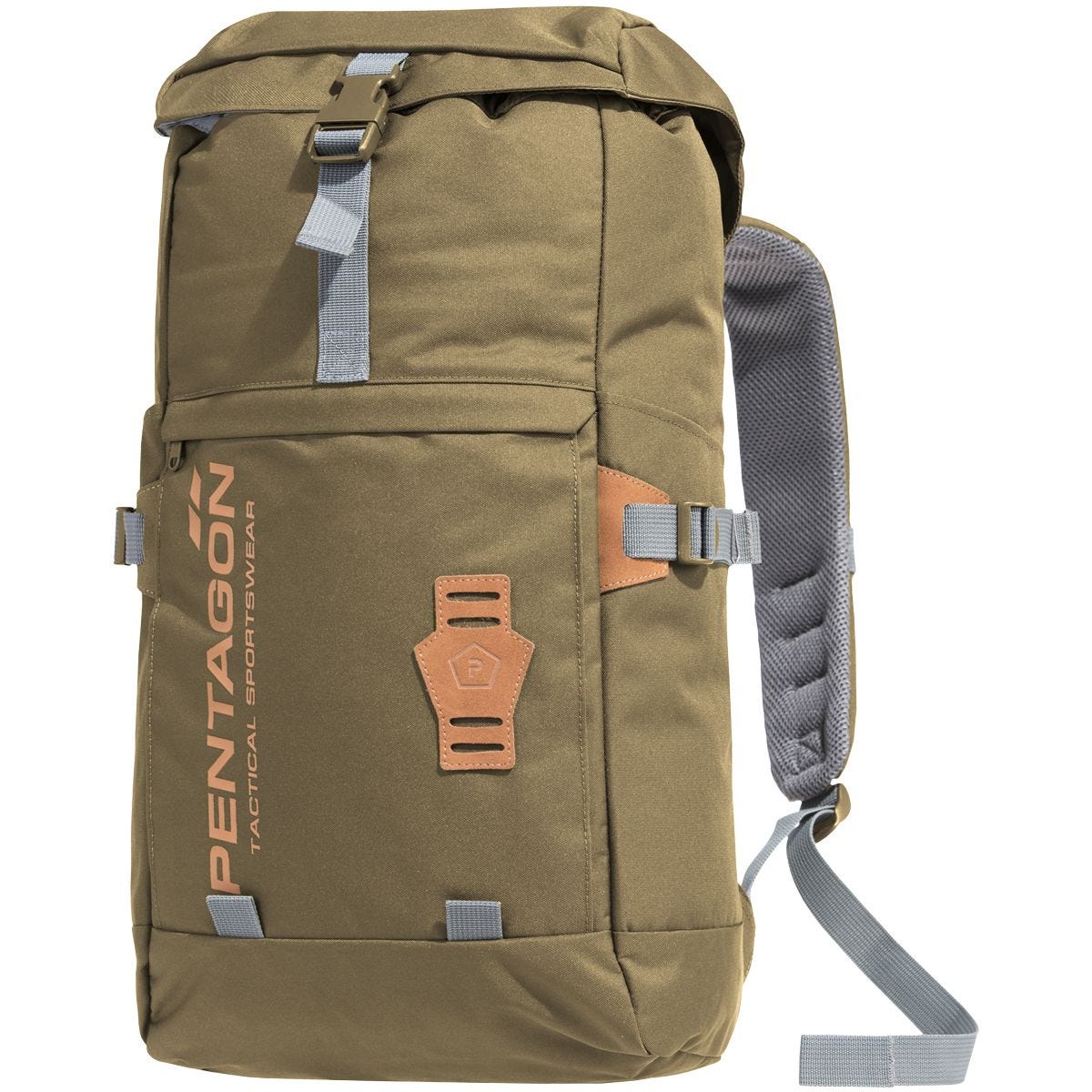 This product was recommended by Lukas from Military 1st
Pentagon Akme is a multi-functional, 22L bag with a large main compartment, safe and generously padded laptop sleeve, an internal zipped pocket and external side bottle pockets. Its fully adjustable wide shoulder straps and mesh-padded back offer maximum carry comfort. Waterproof and super durable, Pentagon Akme is a perfect urban bag to carry your laptop between business meetings, classes or on weekend excursion.
---
This product was recommended by Peter Koch from DollarSanity
I use the Osprey Farpoint and I really like it: Using it already for 3 years and it was the best investment ever. I have a 13 laptop and it fits in easily, it is carry on size and has enough space for everything else. Technically it is bigger than a lot of airlines allow but it covers over 90% of airlines size limitations for a carry-on. Just don't overload it and you'll be fine.
---
This product was recommended by Cameron DeJong from CamJon Travel
After taking one trip to get used to this bag I can say with certainty that it is the best bag for a laptop. It envelopes the laptop in a padded compartment immediately accessible when you open the TSA-lock zipper enclosure. The bag is made to be cut/tear and water resistant and has survived a rain storm going from the airport to the too far away Uber line.
Another great part of this bag is that it feels lighter based on the way it balances the laptop and everything else inside. I am able to fit one day's worth of clothes (in case of a travel issue), my medication for diabetes, laptop, tablet, headphones, cables for technology, journal, and gum/snacks without any issue.
---
This product was recommended by Amy Oztan from Amy Ever After
I searched far and wide for a good-looking, practical laptop backpack that didn't look like a backpack (I had spreadsheets!), and finally found it with the Knomo Gilbert.
I had the following requirements: the perfect bag had to fit my 13 laptop, have hideable (but easy to attach) backpack straps, fit over my shoulder when I wasn't using it as a backpack, have plenty of compartments, and have a sleeve for putting it over a suitcase handle. The Gilbert has all that and more!
---
This product was recommended by Ashley Steinmetz from Trekeffect
It's lightweight, water resistant, durable with a padded laptop compartment and has enough space to not just carry your laptop and chargers but also clothes and accessories for a weekend adventure.
---
This product was recommended by Sarah Vandenberg from Vandenberg DC
For the past three years, I've been using the Hedgren Three-Way Backpack both for travel and for day-to-day. I'm a digital nomad and am on the road nearly constantly, and need a backpack that's lightweight, comfortable, and built to last. I've taken this backpack around the world and love that it's convertible to use as a messenger bag and as a backpack, it has multiple storage slots sized perfectly for things like my laptop, a notebook, passport, pens, etc., and it can unzip to expand if I need more room to carry camera equipment as well.
---
This product was recommended by Dominyk from Chraville
Now, I suggest this backpack out of many that I've used before because this one has one extra perk and that's so that you can pass through checkpoint more efficiently. If you travel with laptops and other electronics, then you'll know how cumbersome it can be to remove your electronics from your backpack at every checkpoint.
With that being said, you may ask why not just get ANY TSA Backpack? Well, the layout of the compartments is top-notch. You can see all that's in your bag easily without digging around and the bag stands upright and doesn't topple over when you put it to stand. On top of that, it has a professional look so it would be suitable, no matter the occasion.
---
This product was recommended by Anna from LaTravelista
It is light, it is cool, and it has lot of capacity. Mine has been constantly on the move for more than 3 years and it is still in a good condition. Also, it is easy to wash, I put it on the washing machine many times and it survived.
---
This product was recommended by Ninad Maneghatta from G for Gadget
I am recommending this for the following reasons, This backpack has a huge 40-liter capacity which is perfect for travel. It can hold any laptop, including a 17 laptop. Not just that, it has multiple mesh pockets for holding things like cables, documents, and tech gadgets. Since it is specially made for Area 51M laptop, it is of huge capacity and can hold multiple pair of clothes easily.
---
This product was recommended by Noman Asghar from FanJackets
It's a highly stylish and modern backpack that has a space for 15.6 laptop, tablet and files. It has multiple compartments with zipper pockets so you can easily keep things as you want. Provided with comfortable shoulder strap and multiple adjustment strap to fit perfectly to the body.
---
This product was recommended by Tim Bigknee from SightsAndInsights
This is the ideal backpack for anyone traveling with a laptop. The bag fits a 15.6 inch laptop, as well as other essentials. It has a sturdy handle, charging port, and anti-theft password lock, so that you can enjoy a care-free journey.
---
This product was recommended by Melanie Musson from InsuranceProviders
You can keep your laptop and other electronics and travel items nicely organized in this backpack thanks to its many pockets. The laptop pocket is padded and the backpack itself is waterproof, so you can rest assured that the contents will remain protected. This bag's classic design is appropriate for business or leisure travel.
---
This product was recommended by Torben Lonne from DIVE.in
I love this backpack because it's eco-friendly, durable and most importantly – lightweight. It comes equipped with a 7-watt removable waterproof lightweight solar panel while maintaining the classic backpack look and feel. You can charge any smartphones, tablets and any 5V device to the 10,000 mAh battery.
The lightweight nylon build allows you to keep laptops of up to 14 inches safely inside. The backpack is spacious and has multiple internal pockets for storing clothes, accessories, food and anything else you can think of to fill the 36L capacity. This backpack is lightweight and practical, ideal for digital nomads, travelers, and hikers who need to power devices while on the move. The backpack, including the solar panel, weighs just under 2 lbs making it very light for its size and capabilities Also, the 10,000 Mah battery will ensure that you never run out of juice during your adventures.