This post contains affiliate links. Affiliate disclosure: As an Amazon Associate, we may earn commissions from qualifying purchases from Amazon.com and other Amazon websites.
Your travel photography while travel doesn't have to be compromised. It simply doesn't make sense why you have to leave behind your best gear while you're at the most breath-taking destinations.
These backpacks solve your qualms. They provide numerous and secure compartments that fit all the photography gear you'll ever need, and more. Investing in the right backpack for your cameras is crucial to keep your camera safe. That's why we're recommending only the best options on the market.
---
This product was recommended by Cory Varga from You Could Travel
We tried so many backpacks for our photo equipment but nothing came close to our Thule backpack. Compact, with the right compartments for a camera, lenses, a drone, a laptop, hard drives and extra batteries, as well as space on the side for a small tripod, this is by far the coolest backpack for photographers. It's well-padded too, so your equipment will be safe.
---
This product was recommended by Paige Elizabeth Gribb from Paige Gribb Photography
As an American photographer based in France, I take a lot of international flights! So far, the best backpack I've found to get all my equipment safely across the ocean is also the cheapest camera backpack I've ever used: the Amazon Basics DSLR Camera and Laptop bag. It keeps everything safe and organized and it has room for accessories and my computer. Plus, it has a hip and chest strap so you don't kill your back while you run through the airport!
---
This product was recommended by Kathryn Frazer from Adventures of A+K
The Wandrd PRVKE is the ultimate backpack for traveling photographers and videographers. With the added camera cube, we are able to fit two laptops, a DSLR camera, a mirrorless camera, and all of our camera batteries and supplies, with room to spare!
The backpack zips up in the back and has a passport pocket, which is added security when traveling abroad, and it has side camera access so you can easily access your cameras. The Wandrd PRVKE gives us peace of mind while traveling with our gear, while also making it easy for us to capture the moments.
---
This product was recommended by Loredana Gogoescu from Destguides
As I travel a lot and enjoy taking photos on my travels, it took me a long time researching travel backpacks that were also suited for my photography gear and weekend trips in Europe (I am based in London, UK).
I decided to purchase the above 30L Peak Design Everyday Backpack because it not only fits within the requirements of the 1-bay only carry-on policy for budget airline carriers in Europe, like Easyjet and Ryanair, but it also packs everything I need for a weekend trip in Europe. Most importantly, though, it is made of high-quality materials, is affordable and securely holds and transports my Sony camera gear safely to my final destination. Not sure what more I could ask for?
---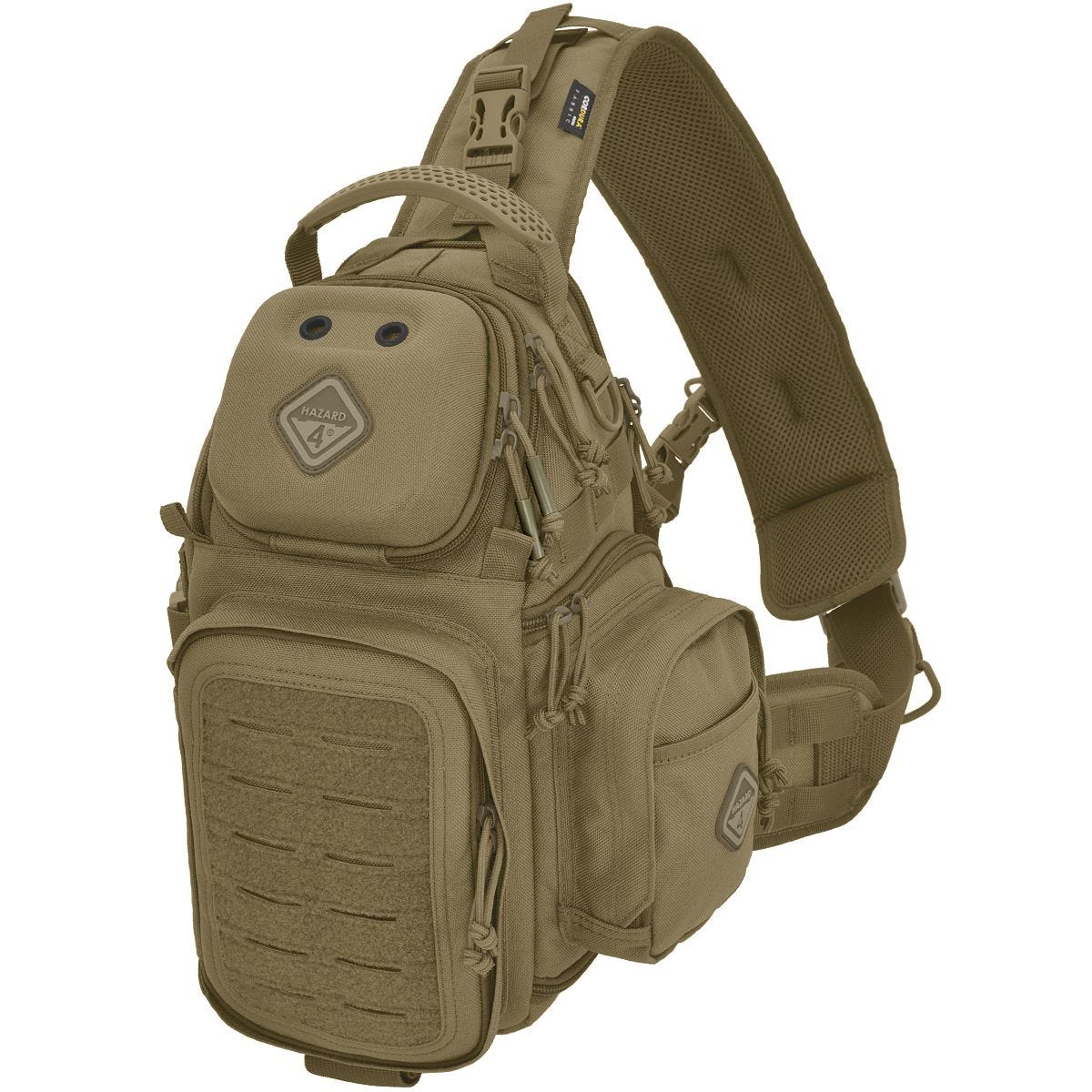 This product was recommended by Lukas from Military 1st
Hazard 4 Freelance is a professional sling bag designed for carrying cameras, tablets or drones. It has a large, heavily padded main compartment with lockable zippers and two access points, external semi-hard case compartment for small valuables, and functional admin compartment with clamshell opening, multiple loops, pockets and transparent windows. The bag fits most of the tablets up to 10.5 in size and most SLR's or mirrorless systems with extra lenses, and rotates around from lumbar area to chest for fast gear access.
---
This product was recommended by Liz Brown from Sleeping Lucid
Kenora is the perfect travel backpack for travelers who want to carry their camera and other valuables around in a bag with wide compartments, memory card storage slots, and soft interior lining.
---
This product was recommended by Stacie May from Lucky Watcher
Not only is this backpack a great price compared to other camera bags, but it has a customizable padded interior. It comes with side straps to secure tripod and it can carry and protect 2 camera bodies, 4 lenses, and a 17 inch laptop in addition to smaller accessories. You'll always have enough space for your photography needs.
---
This product was recommended by Robin Tuck from Elite Jetsetter Travel Blog
Shimoda backpacks are designed for travel and adventure photographers, with removable and fully customisable camera equipment inserts that allow for a modular design. We love the Explore 60L, because it has 15L of adjustable volume with a floating compartment lid, as well as removable compartments.
That means you can easily adjust how much of the bag is used for camera gear or travel gear It's also highly weatherproof with a dry bag seal, has top, side and rear access for quick access to camera gear, waterproof zippers, and is extremely comfortable for hiking and outdoor adventures. Finally, you can buy inserts that specifically match your camera size (mirrorless versus DSLR). It's easily the best travel photography backpack I've ever come across.
---
This product was recommended by Kate Hampson from Kate Bunny Hampson
Love this backpack. I'm a wedding photographer who carries a lot of heavy equipment and the padded shoulder straps are heaven. It also has a front opening so it can be swung round and opened while still on one shoulder. It has many compartments with adjustable cushions to protect the camera and lenses. There's a rain cover which is genius, and it's durable. I also love how there are many small pockets and compartments so I'm not losing batteries all over the place! It is small enough to fit under the seat in front of you on a plane and good for a hiking backpack if needed.
---
This product was recommended by Kate Hampson from Kate Bunny Hampson
Fits a lot of equipment in a small space and doesn't scream camera bag. I'm a wedding photographer and I can carry the following in this bag with a little room to spare – 3x DSLR Body, 5x Prime Lenses (could fit one more), 1x 70-200mm, 3x Speedlite, batteries/chargers/cards, and 15 laptop. It does have a cable lock if you're worried about pickpockets on the go.
The Airport Commuter is my second camera bag from Think Tank. While there are many styles of camera bags, including backpacks, Think Tank is particularly adept at identifying the needs of urban and mobile photographers, at home or on the road. The workmanship is of the highest order – heavy fabric, self-healing, water-resistant zippers and efficient use of space. Think Tank caters to travelers, with a well-defined shape, stiff outer construction and three handles. It fits in an overhead compartment on a plane and just about under the seat in front of you.
The harness is fairly simple, but effective. Best of all, the harness can be tucked out of the way until you need it. You can carry it by one strap for convenience, or two for comfort. In either case, the weight is borne by your hips, not shoulders, and it stays put better than any shoulder bag. In practice, all your gear is in one layer, not stacked up as in a shoulder bag.
---
This product was recommended by Bianca Malata from Its All Bee Travels
It's the best backpack to protect your photography investment. My husband and I travel a lot and it means that I can fit in my camera equipment and squeeze in his drones too. I also love that it doesn't look like a typical camera back or draw too much attention from those that know just how valuable camera equipment is and might want to get their sticky fingers and make off into the sunset.
---
This product was recommended by Melanie Musson from BuyAutoInsurance
This waterproof backpack is designed with a flexible storage system so that you can arrange your photography equipment as your desire and be sure that everything will stay in place and remain protected from the elements. It's expandable from 15L to 30L so it's perfect for a hike where you want to carry just a couple of lenses and a camera body and it performs equally well at maximum capacity with space for up to six lenses and two camera bodies.