This post contains affiliate links. Affiliate disclosure: As an Amazon Associate, we may earn commissions from qualifying purchases from Amazon.com and other Amazon websites.
Backpacks are beloved travel kit by long distance travelers. Their versatility, low weight and capacity means you're able to bring more with you in more comfort to far away destinations.
Now, the above is only true with a good backpack. There are, sadly hundreds of bad options that have uncomfortable straps that wear out, low quality zips that constantly get stuck… you get the picture. So it is very important to prioritize investing in a quality pack that will bring you years of use.
The backpacks we've been recommended by adventurers and long-distance travelers have also been tested for waterproofing, variety in compartment size, sufficient padding to lighten heavier loads, and quality materials that will last. While everything in list hits such essential features, be sure to read the descriptions of each product to make sure the size and other specs suit your needs!
This product was recommended by Linda Morgan from MotivationNook
This travel backpack comes in three colors for optimal style and it has padded shoulder straps for maximum comfort. It's ultra-flexible and lightweight, with a removable sternum strap and waist belt. The knapsack has a zippered laptop sleeve as well as a main compartment with zippered mesh space, an optional midway shelf, and internal/external compression straps. It also contains various pockets for easy access and has an expandable storage space. With the size, comfort and space of this bag, it's the perfect fit for your travels.
---
This product was recommended by Osama from Outfitrs
Excellent product. Lots of useful compartments. Suggestions: add some D links at top and bottom to facilitate attaching stuff below and above. Also could be a little wider to make best use of hand luggage limits.
---
This product was recommended by Lukas from Military 1st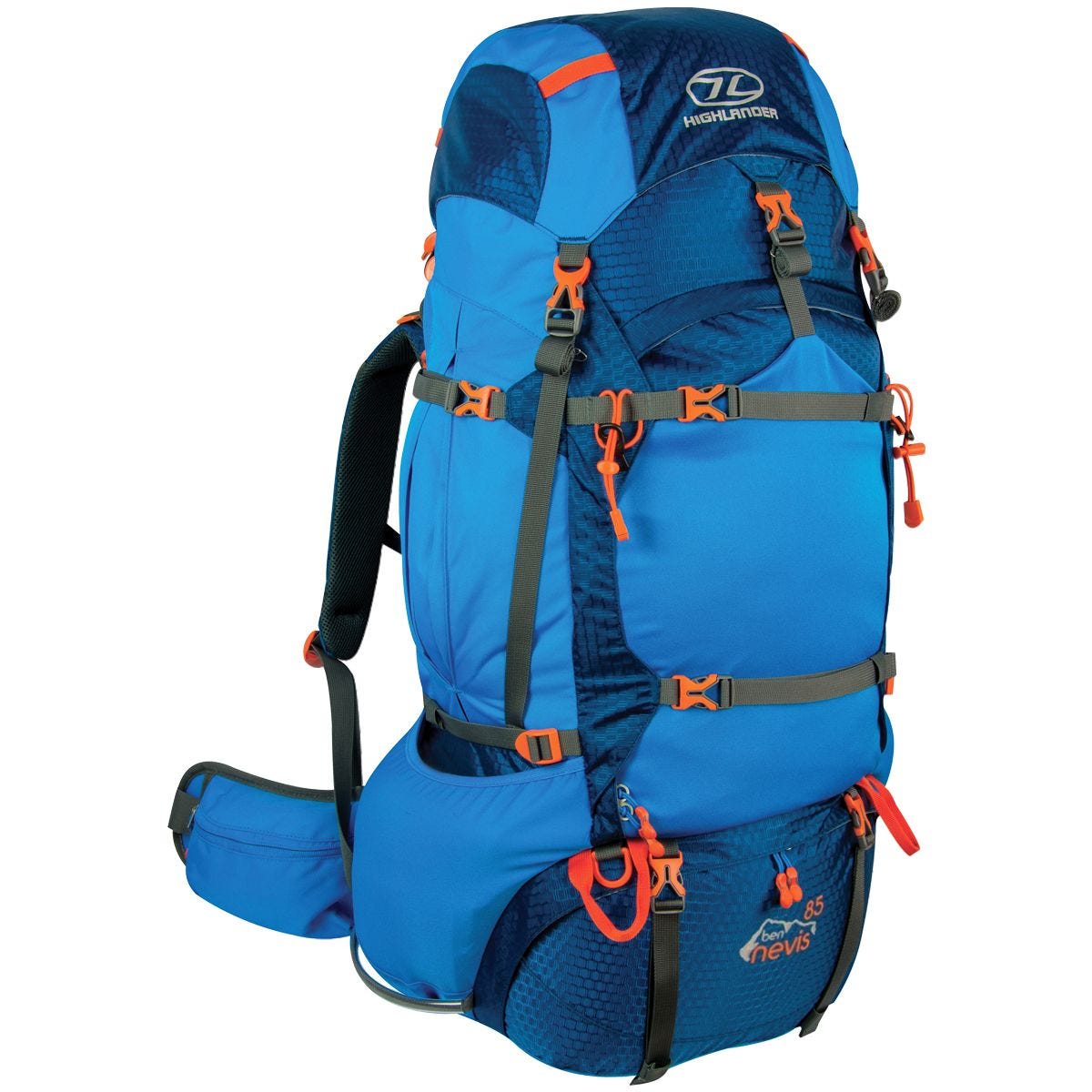 Made of durable 450D Nylon Honeycomb Ripstop, Ben Nevis Rucksack from Highlander has 85L capacity and offers plenty of storage and organisation features. It has a large main compartment which can be divided into two separate chambers, with inner slip pocket, snow collar and practical L shape front access zip. Its adjustable and detachable floating lid comes with internal and external zip pockets. There are also elastic pockets on both sides and front made of elastane.
The backpack features adjustable and heavily padded shoulder straps with a removable chest strap, padded waist belt with handy zippered pouches, and T3 Tri-Active Adjust back system for a better fit. There are also attachment loops, adjustable pole park system for walking sticks and integrated rain cover.
---
This product was recommended by Sophie Anderson from Cruise Agency Australia
Different sizes available, but the link is for the 30 one; large enough even for long trips, but not so large as to be a huge burden on those trips. Simple but very reliable design and lots of room. Most importantly, it holds up to the beating a long trip puts on it!
---
This product was recommended by Sumitra Senapaty from WOW Club
The best thing about this large bag is that it can turn into a shoulder bag or a hand bag with minimal effort. It has plenty of compartments, including one that will safely and securely hold a 15" laptop. Another thing that's nice about this bag is the ease of getting in and out of compartments quickly. It's a MUST when going through TSA lines.. Plus, it's stylish with nice leather accents!
---
This product was recommended by Melanie Musson from MyCarInsurance123
This backpack is equipped with MOLLE, so you have endless options with attaching additional pouches and organizers onto the outside. The bag itself is loaded with pockets so you'll have a place for everything and you can keep your important documents readily available. It has comfortable and adjustable shoulder straps and a belt to help distribute the weight evenly between your shoulders and hips.
---
This product was recommended by Liz Brown from Sleeping Lucid
The Hynes Eagle Weekender Backpack is equipped with compression buckle straps making it adjustable and easy to carry. It also has a 38-liter capacity easily making it the best choice for your long travels.
---
This product was recommended by Yoann from Where Can I FLY?
For my year long world tour, I went with a light and multi usage cabin luggage backpack, that has the following features: an extra carrying pouch to keep valuables close to you, a large main storage area for most clothes, and smaller storage areas for extras such as medicine. At the same time, it can both be used at a location to location travel bag, and also as a sports bag for local entertainment and activities, without making you too visible, even when carrying laptop and all valuables with you.
---
This product was recommended by Jennifer Willy from Etia
Incase Icon Pack is made from patented "Woolenex," abrasion-resistant fabric that's woven from two different thicknesses of polyester fiber.
---
This product was recommended by Simon Hansen from Family Travel Planet
The Eagle Creek Global Companion is ergonomically shaped with padded shoulder straps and hip belt with an external pocket, along with moisture-wicking backpack straps, back panel and hip belt which makes it ideal for long-term use and comfort. With this backpack, travelers can roam around as long and as comfortably as they like.
---
This product was recommended by Nikunj Madhogaria from DealTohPagalHai
This backpack is honestly a freaking tank! I keep this in the back of my car filled with emergency supplies and to use as a bug out bag. All of the times I've used it, it has been so comfortable to wear and would fit well on almost anyone. Even my friend wore it fully loaded and commented on how comfortable it was to wear. On extended hikes the bag did its job well. I love the passthroughs on the sides; they're great for a collapsible bow or a fishing pole.
Something that is very important and that I like a lot about it is that it is able to configure to a wide variety of uses. There is a lot of adjustability to change the size of the bag when not all of the available 50L is being used. It's also water resistant as I found out when I took this on a canoe trip and set it down on the floor which always gets soaked, not a drop inside the pack.
Another great use for this is travel because I'm fairly sure this meets the requirement for a carry on bag to put in the overhead. Also, you can remove the hip belt, though I would not recommend doing that. Overall, I would recommend this to anyone in search of a good high quality backpack that you can actually use and can stand the test of time.
---