This post contains affiliate links. Affiliate disclosure: As an Amazon Associate, we may earn commissions from qualifying purchases from Amazon.com and other Amazon websites.
Traveling light can be difficult when there's so much that you want to take with you. Whether you're embarking on a short trip or you're going to be away for a while, taking everything you need without it weighing you down can be a challenge. Below are ten backpacks that will carry all of your items effortlessly.
#1

Nike Unisex NSW RPM Backpack
Nike's Skateboarding Backpack has almost everything you could want from a backpack. The synthetic exterior makes it incredibly durable.
It also has a lot of compartments and places to hang items that you want to access quickly. There are pockets on both sides so that you can carry bottles of water (that you are likely to need if you are out on your skateboard). The Nike SB backpack also comes in over a half dozen colors and patterns. The buckle straps give you a way to carry your skateboard, freeing up your hands for other needs.
The interior gives you plenty of space for most of your needs. The back part of the interior has an area for mobile devices, with space for up to a 15-inch laptop. This makes it safer to hold your belongings with a bit of added cushioning. The material between the inside and outside can also keep water and other liquids from seeping through to the items you are carrying unless it gets soaked.
There are also two zipper areas for carrying larger things, making it easy to store your mobile phone close to your back, and books and binders in their own area. This means that your papers will be at less risk of being crumpled when you have to remove your laptop or tablet.
There are two side pockets that have zippers so that you can store pens, pencils, keys, and other small items you would usually keep in the front pocket. Both sides also have zippers so that you don't have to worry about anything falling out when you are on the go.
#2

ISM: The Classic Leather Backpack
The ISM backpack is the perfect mix of premium materials, design details, and everyday travel functionality — like a separate laptop compartment and leather flap for charging your phone on the go. It comes in two sizes so that you can carry a bag that fits you and your needs.
#3

ZOMAKE Ultra Lightweight Packable Backpack
The Zomake foldable backpack is a must have item for an active traveler. Featherlight, it folds into a tiny ball and takes almost no space in your suitcase. Once you get to your destination, it unfolds into a generously sized bag. The backpack is inconspicuous and is an ideal way to carry camera equipment or other valuables without attracting attention. It is water-resistant, and your items will remain dry in light rain.
Additionally, the Zomake doubles up as a hiking bag and is perfect for day hikes. The bag is also surprisingly well made. I was gifted the original bag seven years ago, and it held up for dozens of trips on five continents. I bought a new one in 2017 – and it is holding up just as well.
#4

REI Co-op Flash 22 Print Pack
Whether you use it as a book pack or gym bag, the Flash 22 is designed to hold plenty of gear and is made with super lightweight, breathable fabric, lightly padded back, stash side pockets and loops for hooking on extra supplies.
#5

Arc'teryx Granville 20 Backpack
At just 30oz, the new Granville is designed with a laminated and highly waterproof AC2 fabric that shields against the elements. It's finished with smart internal organization and an urban minimalist look.
#6

Arc'teryx Granville 16 Zip Backpack
This backpack features a slim, urban profile but is built to fit a laptop and all your other daily essentials. The main compartment is accessed by a WaterTight™ zipper, a padded sleeve secures a 15 inch laptop, and a stretch mesh zippered pocket easily holds documents, chargers and cables. An external WaterTight™ zippered pocket also securely holds keys, wallet and smaller belongings.
#7

Pentagon Artemis Bag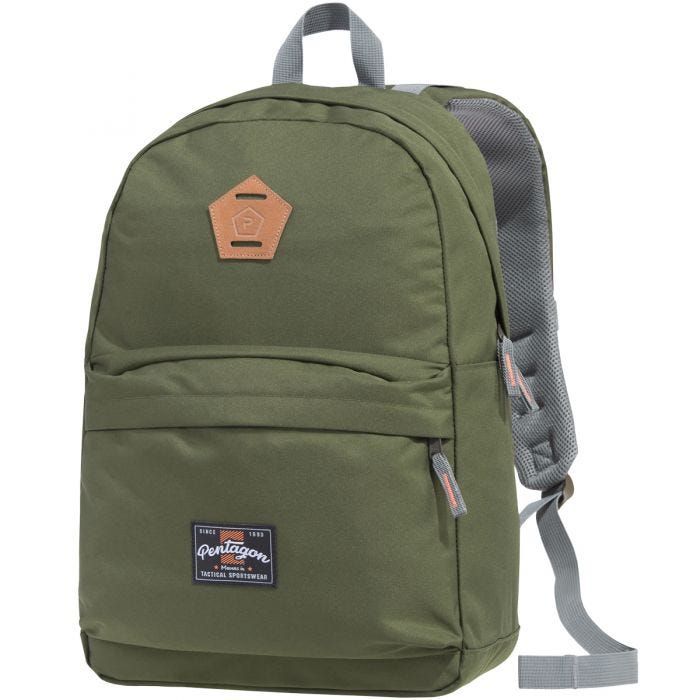 Pentagon Artemis is a multi-functional and waterproof backpack, featuring one large compartment with padded laptop sleeve, handy front pocket for everyday essentials, padded inner pocket for small belongings as well as adjustable and padded shoulder straps, durable carry handle and airmesh back. Comfortable to wear and with a surprising amount of space, this simplistic, compact backpack is perfect for commuting or weekend city breaks.
#8

Everlane's Modern Snap Backpack
Everlane makes high-quality items, that look nice, and are at an affordable price. I like the closing feature on this bag because it's easier to stuff with the bag with more items if you find yourself bringing back more than you left with. In general, though its really lightweight and is very comfortable to wear!
#9

GORUCK GR1
Inspired by military rucksacks and designed to work in any environment in the world, the GR1 is both functional and versatile. With painstaking attention to details, from silent zipper pulls to rainproof special forces grade materials, and backed by GORUCK's SCARS Lifetime Guarantee, the GR1 is the world's best travel backpack.
#10

Berkeley Northface Backpack
Technically it's a kids bag, hence the small size, however it fits petite adults perfectly as well. The main compartment has a sturdy knit frame, so it can fit many items and keep its shape. There is also a small compartment for keeping valuables and other things you need at your fingertips during travel. It's the perfect day bag for packing snacks, water, a book, and maybe a towel for the beach. It's also a perfect carry-on bag that has room for my laptop, camera and other valuables, along with a change of clothes.
---
The recommendations of products and books within this article where sourced from industry experts. Their names and websites are listed below.
Who contributed to this article?