This post contains affiliate links. Affiliate disclosure: As an Amazon Associate, we may earn commissions from qualifying purchases from Amazon.com and other Amazon websites.
This article showcases our top picks for the best carry ons for adventure travel. We reached out to industry leaders and experts who have contributed the suggestions within this article (they have been credited for their contributions below).
We are keen to hear your feedback on all of our content and our comment section is a moderated space to express your thoughts and feelings related (or not) to this article This list is in no particular order.
This product was recommended by Melanie Musson from QuoteCarInsurance
Eagle Creek luggage is designed for adventure. It's made from ripstop nylon and the wheels are large and even have tread. You'll be able to take this bag from the airport to the gravel road, and across the grass more easily than you could with a more traditionally styled piece of luggage. The outer pockets can easily hold bulky items like jackets and then cinch down secure them. This carry on duffel can accompany travelers on their adventures for years.
---
This product was recommended by Gerardo Juarez from Sheep Buy Inc
Firstly, this luggage rolls with complete ease on different floors and carpets, also, it won't cause any pain for your back or arms while traveling. It's really weightless! Its capacity and room is enough for adventure travel, it's one of the best for such travels.
---
This product was recommended by Jeremy Ong from HUSTLR
This luggage has a unique style and lightweight, you can roll this one on heavy carpets without any troubles. Not to mention that it's very sturdy so it's appropriate for adventures and tough trips, and also, you won't struggle with zippers at all. Definitely recommended.
---
This product was recommended by Lukas from Military 1st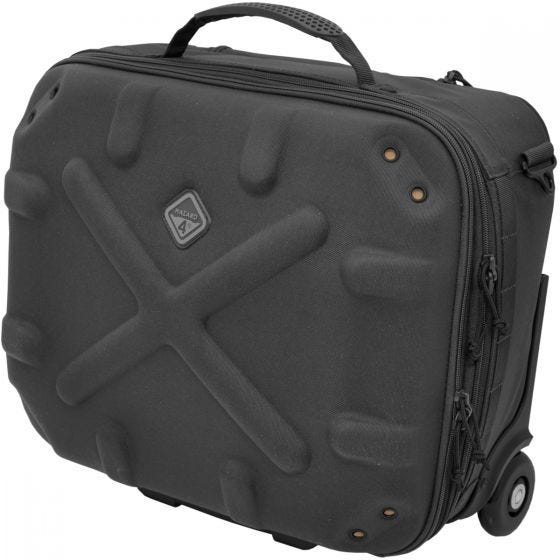 Airstrike Tech from Hazard 4 is a professional airline rolling carry-on with exclusive shell, offering plenty of space, safety and convenience. It features 12.6L (766 cu in) main compartment with movable padded dividers for organising your travel gear, multiple organisation pockets throughout and padded 17 laptop compartment. This rugged luggage is perfectly suited for the most demanding travel and travel abuse, with Invista 1000D Cordura shell which is double PU-coated for added impact and water resistance, as well as all-terrain, smooth-rolling wheels and big bottom glide-rails. It also comes with quality telescopic locking pull handle, various handles for carrying and luggage manoeuvring, and metal shoulder strap mounts.
---
This product was recommended by Erin Drummer from Wild Aisle Photography
The versatile backpack/duffle combo is perfect for trips where there's a lot of walking or uneven terrain where a roller bag just won't work. The bag is super durable and waterproof, making it the perfect companion for any adventure, near or far.
---
This product was recommended by Emmanuelle Rienda from Vegan Fashion Library
The Sweet TraveLife offers dynamic carryon luggage with unique world map design made for the avid traveler and trendsetter— Vegan, cruelty free, durable, lightweight, easy glide wheels. Our luggage allows for travelers to mark the locations that they have traveled to, thus invigorating their experiences and providing them with an exciting reminder of the places they have been to and those they have left to enjoy. Beyond offering an ethical option to travel luggage, we also give a percentage of profits to companies that help our environment, ecosystem, animal sanctuaries, and animal rights.
---
This product was recommended by Amelia Miller from Essay River
The best thing that travelers can enjoy about any bag is that they can carry it as a backpack when on mountains or on wheels when in a steady place, which is solely provided by Eagle Nest. The bag packs very compactly and still stays easy to carry, isn't it amazing? Gazillions of pockets, inside and outside provide even more room. Be it water bottles, towels, clothing or even tech equipment everything can go inside and fit perfectly. I can bet on the padded sides of the bag that to keep everything unbroken in case anything bad happens. Its extremely water-resistant surface makes it the favorite item for the travelers who love adventuring. This product ensures that you enjoy your travel without worrying about your luggage.
---
This product was recommended by Ryland Life Equipment from Ryland Life Equipment
Handmade in Rhode Island and available at Ryland Life equipment, the Lotuff Leather Working Tote is a classic handbag distinguished by its functionality and quality. Delivering full continuous handles,added leather side panel and bottom for structure, and a functional zipper pocket. Unlined and easy to carry, this vegetable-tanned leather tote will be your new go-to bag for weekends away or delightful adventurous trips with the family.
---
This product was recommended by Ryland Life Equipment from Ryland Life Equipment
Available at Ryland Life Equipment, the FPM Milano Bank Spinner 53 is the perfect carry on suitcase featuring soft Italian leather handles, two solid Butterfly locks for safety and protection, and strong hand-mounted rivets. The wavy surface of the aluminum guarantees more resistance against impacts. Made in Italy, the Bank Spinner 53 is perfect for those looking for the ultimate luxury travel accessory.
---
This product was recommended by Brandon Wachs from SHARK EYES
I purchased this pack for a recent surfing weekend and I wasn't disappointed. The convertible design allows you to carry it as a tote, a shoulder bag or a backpack and the straps can be tucked away with a zippered closure when you're not using them. When I go off on an adventure, I still like to check in online now and again and the padded laptop compartment protects my machine from any bumps. This pack is super practical and I think the vintage style looks awesome.
---